This winter I was fortunate enough to go on a little getaway to the Caribbean. Me and my family took a Caribbean Cruise and one of our stops was St Kitts. I had been to St Kitts before and I absolutely love this island! But today we decided to do something different and take a Catamaran Adventure from St Kitts over to its twin island of Nevis.
St Kitts and Nevis are known as twin islands because they are two islands that make up one country.
Nevis is a smaller island that lies about 2 miles south east of St Kitts. They are seperated by a shallow channel known as 'The Narrows".
We booked our Catamaran excursion on our Carnival Cruise Ship, The Liberty. The excursion we did was called the Catamaran Fan-Ta-Sea & Nevis Beach Break. If you are on a cruise and it offers this excursion, I highly recommend it! Note: there are several Catamaran tours to choose from other than this one.
This is an all day excursion running about 6 hours. The total cost is $124.99 for adults and $90.99 for kids. The cost includes snorkeling gear, lunch, and drinks including unlimited Rum Punch, beer, or soda. This is by far one of the best bang for the buck excursions!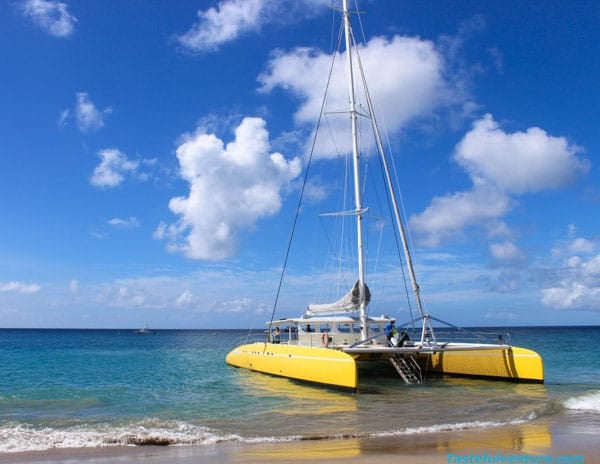 The first stop we took was to snorkel near St Kitts. The snorkeling is amazing here, so many colorful fish to see!
The picture below is from snorkeling in the water and looking up at the Catamaran.
After an hour or so of snorkeling, we worked up an appetite. We boarded the Catamaran and enjoyed a nice lunch which included chicken, hot dogs, salad, and beans.
Next stop… Nevis!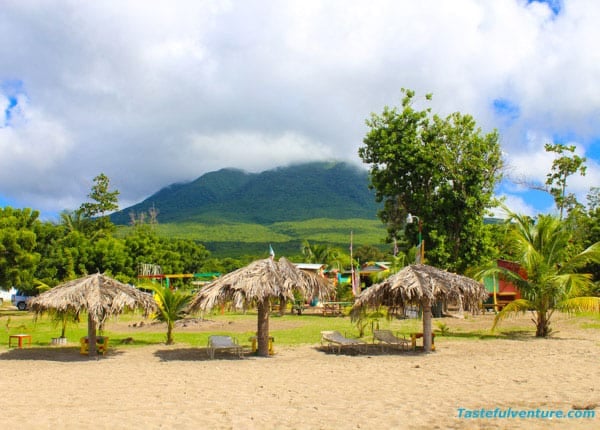 When the Catamaran pulled up to Nevis, it was absolutely breath taking! From the almost empty black sand beaches to the mountainous lush forests, it was just stunning!
Nevis is an unspoiled, relaxing, less crowded island in the Caribbean.
Now that we were on the island, we set off on foot to find a famous beach bar called Sunshine's Beach Bar & Grill.
The story of Sunshine's is that it was started by a guy named Sunshine. About 20 years ago he set up a BBQ grill on the beach and started serving beach goers seafood. Then it grew from there, adding thatched roofs over tables to provide some shade from the hot Caribbean sun.
Soon it became popular with the locals and tourists. It's even known to draw in some famous celebrities!
Sunshine's is known for the famous drink called the 'Killer Bee'. So of course I had to try this!
They won't tell you all of the secret ingredients, but from what we know, it includes rum, passion fruit juice, more rum, and a sprinkle of nutmeg on top.
This drink was so delicious and refreshing on this hot day! But be careful, one drink is plenty…Wowza!
After our Killer Bee, we lazily walked the black sand beach. Took a quick dip in the warm waters of the Caribbean, and got back on the Catamaran to cruise back to St Kitts.
I must say, I could get quite used to living the life in St Kitts and Nevis. So laid back and peaceful.
Ok, St Kitts and Nevis… We'll be back! 🙂