This post is brought to you by The Hershey Company. The content and opinions expressed below are that of Tastefulventure.
This travel post today is going to include a quick recap of my road trip from Miami to Key West on the Overseas Highway, snacks by Hershey, and a sweepstakes entry for a chance to win up to $1,000 toward a unique and fun adventure (omg get it), and a list of must-see places on or near Highway One (the overseas highway) in Florida.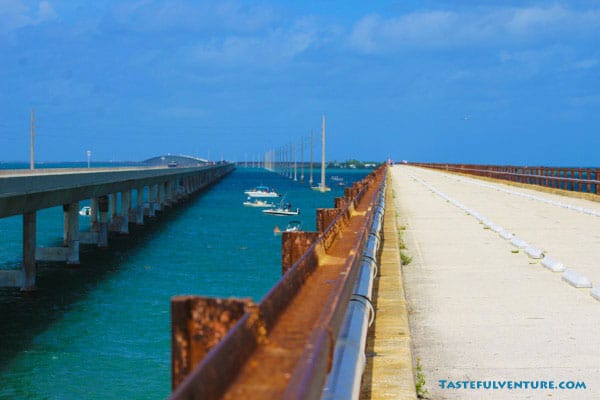 Driving down the famous Overseas Highway has been on my bucket list for many years. I've lived in Florida for 2 years now (wow where does the time go), and finally decided to set everything aside and take a road trip down the the Keys with my family.
I love road trips. There's just something magical about getting in my car and driving on the open highway with my windows rolled down, my favorite song playing on the radio, and breathing in the fresh air. For me it's a feeling of freedom, being able to go anywhere my heart desires.
I'm going to share a little secret with you, I love to listen to 80's hair band music when I'm on the road (think Motley Crue, Ratt, Poison…etc). Yes that's me, the middle aged mom/rocker. Bet you didn't picture that one!
Another thing I love about road trips is packing my own snacks. When you're gluten free it's hard to find good tasting snacks on the road that you can eat, unless you want to live on potato chips. Umm no thanks.
So when Hershey sent me these Brookside Fruit & Nut Bars to try, I was more than thrilled to take them on my road trip.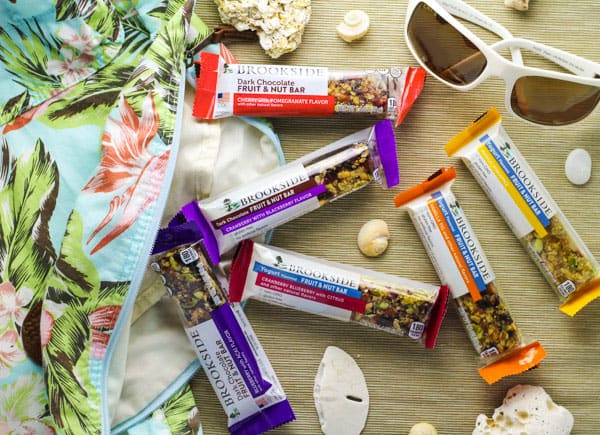 Brookside Fruit & Nut Bars are gluten-free, non-GMO bars that contain no artificial flavors. Both the Dark Chocolate and Yogurt Flavored Fruit & Nut Bars are the perfect fit for all your snacking needs so you can indulge your taste buds while still feeling good about the ingredients. Snacks like this are a life saver to me when traveling.
As a result of all that car snacking, I DO have a list of six must-try snacks from Hershey that we need to talk about.
Dark Chocolate Blueberry with Acai Flavor > my fave
Yogurt Flavored Mango Pineapple > my fave
Dark Chocolate Cherry with Pomegranate Flavor > Cary's fave
Yogurt Flavored Vanilla Fig > Cary's fave
Dark Chocolate Cranberry with Blackberry Flavor > Gavin's fave
Yogurt Flavored Cranberry Blueberry with Citrus > Gavin's fave
Hershey's new BROOKSIDE Yogurt Flavored Fruit & Nut Bars are made with real fruit with natural flavors, nuts, and seeds and accented with a delightful yogurt-flavored cream. Brookside Fruit & Nut Bars combine intriguing ingredients and fruit flavors that make them simply delicious and sweetly satisfying.
Now here's where the sweepstakes comes in…Full sweepstakes rules
To highlight this unexpected combination of taste and satisfaction, Brookside wants you to share something unexpected about yourself (especially if it's something adventurous). Maybe you are a kindergarten teacher who loves to ride old motorcycles on the weekend. Or if you're like me – middle aged mom who loves to rock out to 80's hair bands!
You aren't one dimensional and your snack shouldn't be either. Satisfy your desire to get the best of both sides with Brookside Fruit & Nut Bars and be sure to join the conversation using #ShareYourBROOKSIDE to tell the world about your two sides.
Visit the BROOKSIDE website for more information.
If you #ShareYourBROOKSIDE, you could win up to $1,000 toward a unique and fun adventure! Share your unexpected side on Twitter or Instagram using #ShareYourBROOKSIDE and #SweepsEntry! You can also enter by commenting on a sweepstakes posts on the Brookside Facebook page. Visit http://shareyourbrookside.com/ for full sweepstakes rules.
Now on to my barrage of Overseas Highway pictures with must see stops.
The drive from Miami to Key West is 3-4 hours depending on traffic. I suggest taking a leisurely drive making stops or overnights along the way to explore more.
Key Largo is the first key you enter once leaving the mainland of Florida. When we were crossing the first bridge I was a little nervous after seeing signs for Crocodile Crossings. I'm used to seeing Alligators, but have never seen a Crocodile. Luckily one never crossed the road. Whew! (The Everglades covers most of southern Florida before you get to the keys).
One of the best places to stop in Key Largo is the John Pennekamp Coral Reef State Park. This is an undersea park where you can scuba, snorkel, kayak, paddle board, and take glass bottom boat tours. Plan on spending a full day here and don't forget the sunscreen!
Islamorada is a little further south of Key Largo and is known as the sports fishing capital of the world. So if you love to fish, then this is a must stop for you. There are plenty of charter boats and fishing guides here with plenty of tours to choose from.
Traveling on down to Marathon Key, I suggest stopping at the Turtle Hospital. This is a rehabilitation center for sea turtles that get hurt from boat motors or other things. It's a real eye opening experience and I think it's so fascinating what these people can do for the turtles. Note: make reservations a few days ahead of time for the tour because they fill up quick!
Once you leave Marathon and head south, this is the starting point for the famous 7 mile bridge. This is a great place to stop and take pictures of the old 7 mile bridge which actually used to be a railroad.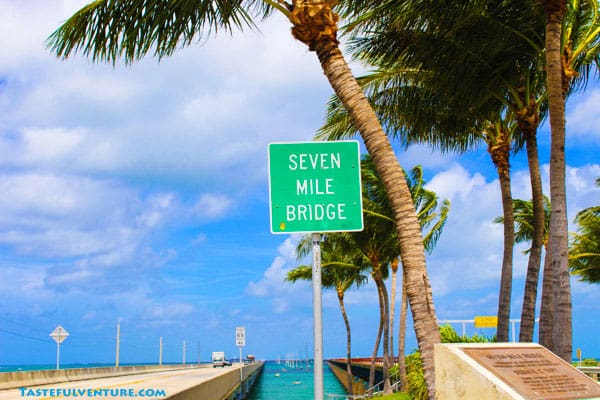 In fact before there was ever a highway connecting all of the keys, a railroad was built back in 1912 by Henry Flagler. People could take the train from Miami down to Key West for a vacation getaway. But a hurricane in 1935 destroyed much of the railway and it was never repaired. It was then turned into a highway, but eventually shut down permanently to vehicles in 1982. You can still bike or walk across most of the old bridge. Or you can take a ferry over to Pigeon Key and learn about much of the history of the bridge and visit 11 old historical buildings there.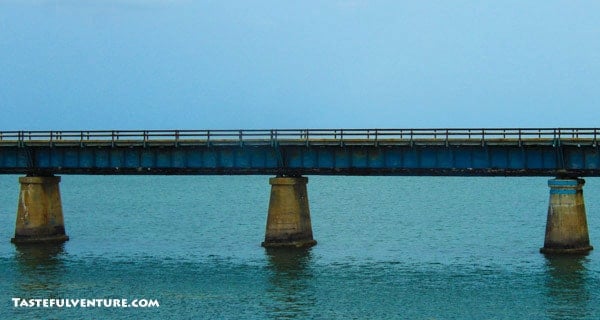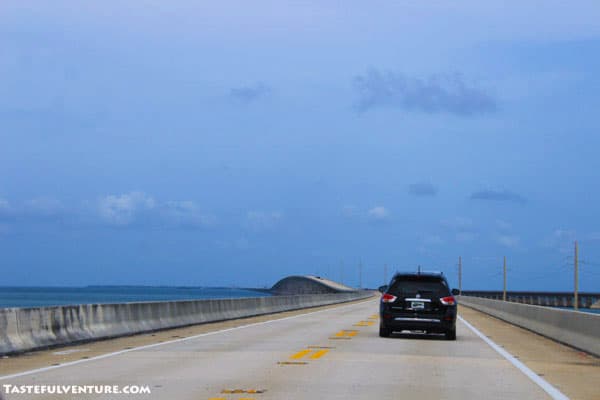 After you cross the 7 mile bridge you'll find Big Pine Key which is home to the protected Key Deer. There are Deer everywhere here, it's fun to see them walking around the neighborhoods. But whatever you do, don't feed them, or speed.
Last stop… Key West of course! This is definitely the most lively key. There's something for everyone here.
Take a walk down famous Duval Street, taking in the best Key Lime Pies, visiting the many shops, or stopping in for a bite to eat or a cocktail at the many restaurants and bars such as Sloppy Joes. There's live music everywhere here.
On one end of Duval street is the Southern Most Point in the U.S. It's only 90 miles to Cuba from this point. Plan to get here early if you can, to avoid the lines of people waiting to get their picture taken here.
I advise touring the Hemingway House, this is a great tour for the whole family. Plus there's the famous Hemingway cats that reside here.
As the sun goes down a visit to Mallory Square is a must. Every night they have the famous sunset celebration here. There's street acts and vendors galore, and of course really good people watching.
The Florida Keys is such an amazing place. I will definitely be back!