This Traditional Moscow Mule is so easy to make and is the Perfect Cocktail for the Holidays! Ok you guys, the Holidays are creeping up on us! I've had enough Squash recipes, let's get to the Cocktails shall we?!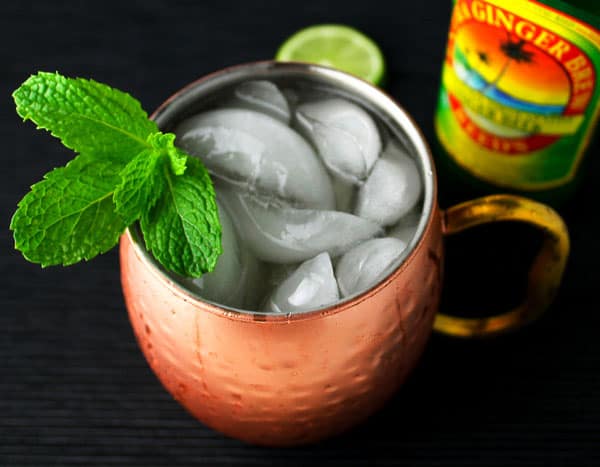 So let's talk about this Moscow Mule, I had my first Moscow Mule during a 'girls weekend' in Siesta Key, FL last year. I'm not a huge fan of Vodka drinks, but let me tell you, this has got to be my new fav. When I saw someone order a drink in a shiny copper cup, it just looked so cool I had to try it!
I had never tried Ginger Beer before. I've had Ginger Ale, but that is not the same. Ginger Beer is a non-alcoholic beverage that has a bit of a kick to it. Which is maybe where the term 'mule' comes from (kicks like a mule) at least that's my thought.
A Moscow Mule is also know as Vodka buck, it's a buck made with high quality Vodka, spicy Ginger Beer, and a Lime wedge in a Copper cup. Thanks Wikipedia!
It goes on to say that the discovery of this popular drink was made from 2 ingredients that no one wanted back in 1941 at the Cock n Bull in Hollywood, Ginger Beer and Smirnoff Vodka. The bar owner found himself unable to sell either the cases of Smirnoff Vodka he had purchased or the bottles of house made Ginger Beer. Wes Price, the bartender at the time, said he was just trying to clear out the basement and mixed the 2 ingredients together to make a new drink. An immigrant named Sophie Berezinski came to California with 2,000 copper mugs she had designed in her father's copper shop in Russia. She carted them around L.A., trying to sell them. She found willing buyers at the Cock 'N' Bull who wanted something to make their drink stand out. And there you have it – The Moscow Mule is born! Kind of a cool story!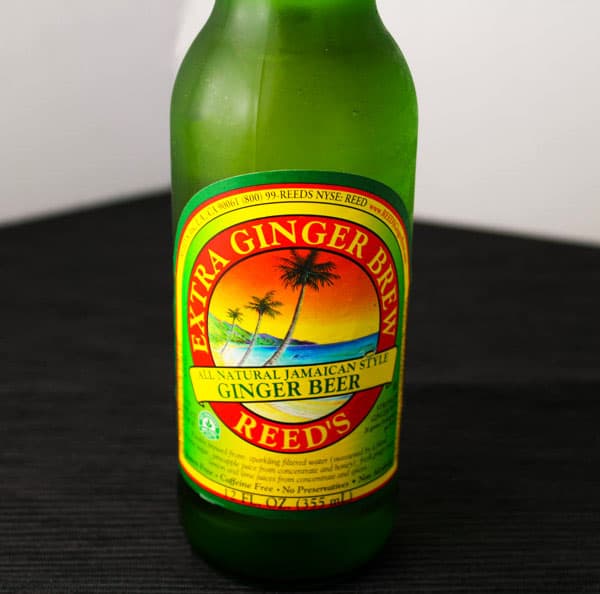 So now let's talk about what kind of Ginger Beer to use. I scoured the shelves through the grocery stores reading the back of every label making sure to find one that was Gluten Free and not full of sugar and un-natural things like ingredients I can't pronounce. I found this one called Reed's Extra Ginger Brew at my local health foods store. It's non GMO, Gluten Free and only has natural ingredients. To me that's important.
Now let's talk Vodka. You definately need to splurge a little and get the top shelf Vodka – trust me! I prefer Grey Goose, it just has such a smooth flavor that doesn't taste all boozy.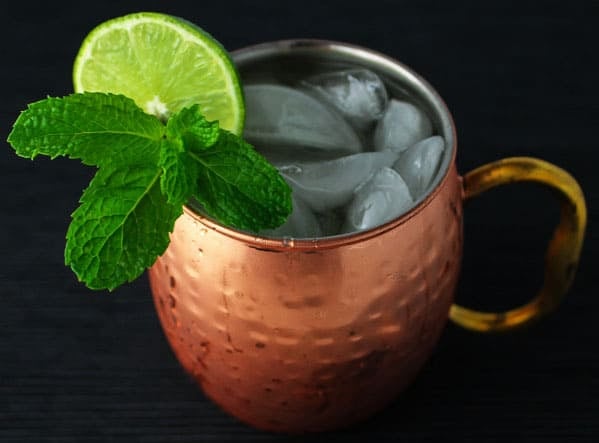 I got to thinking how fun it would be to serve this drink around the Holidays, being that it's in such a pretty copper cup. Of course you don't need a fancy copper cup, but if you're having people over it sure is a fun presentation. Plus you can tell all of your friends the story behind the Moscow Mule and how they started serving it in Copper cups!
I had a little trouble finding the Copper cups during this time of year, people must scoop them off of the shelves during the Holiday season all having the same idea in mind. Well don't fret, if Target, or Bed Bath and Beyond is sold out of them, you can always order them on Amazon. (Yes, this is an Amazon Affiliate link. If you click on this link and purchase I may earn a very small commission). But hey I'm not trying to be sales pitchy, it's just a legality I have to throw in here.
I personally love shopping on Amazon, especially during the Holidays.
Because for me it means:
A) Not having to deal with crowds
B) Being able to shop in my PJs at home on my couch (maybe while drinking a Moscow Mule)
and
C) Feeling like a little kid at Christmas time when the package arrives at my doorstep!
Ahhh it's the little things. 🙂
Cheers!
Print
Traditional Moscow Mule
This Traditional Moscow Mule is so easy to make and is the Perfect Cocktail for the Holidays! 
Author:
Prep Time:

5 mins

Total Time:

5 mins

Yield:

1

Category:

Drinks

Cuisine:

Cocktails
Vodka use a higher end Vodka trust me it will taste much better, I use Grey Goose
Ginger Beer I use Reed's Extra Ginger Brew it's GF and is all natural
Lime wedges
Fresh Mint leaves
Instructions
In a Moscow Mule tin cup fill with ice.
Add 2oz Vodka
Top with Ginger Beer
Squeeze in the juice from a lime wedge for more flavor.
Add fresh mint leaves for garnish.
Cheers!
Keywords: traditional Moscow mule, Moscow mule, drinks, cocktails, holiday cocktails, gluten free
Recipe Card powered by
If you like this recipe subscribe to our weekly newsletter and get new recipes sent directly to your inbox! Click Here To Subscribe and Get Our 3 Day Detox Guide As A Bonus!