Red Roof sponsored this post but all opinions expressed are my own.
Summer is in full swing, and do you know what that means? Road Trips!
I recently took a quick Road Trip down to Naples, Florida which is an amazing city to visit! Here's my take on what to do in 24 Hours there!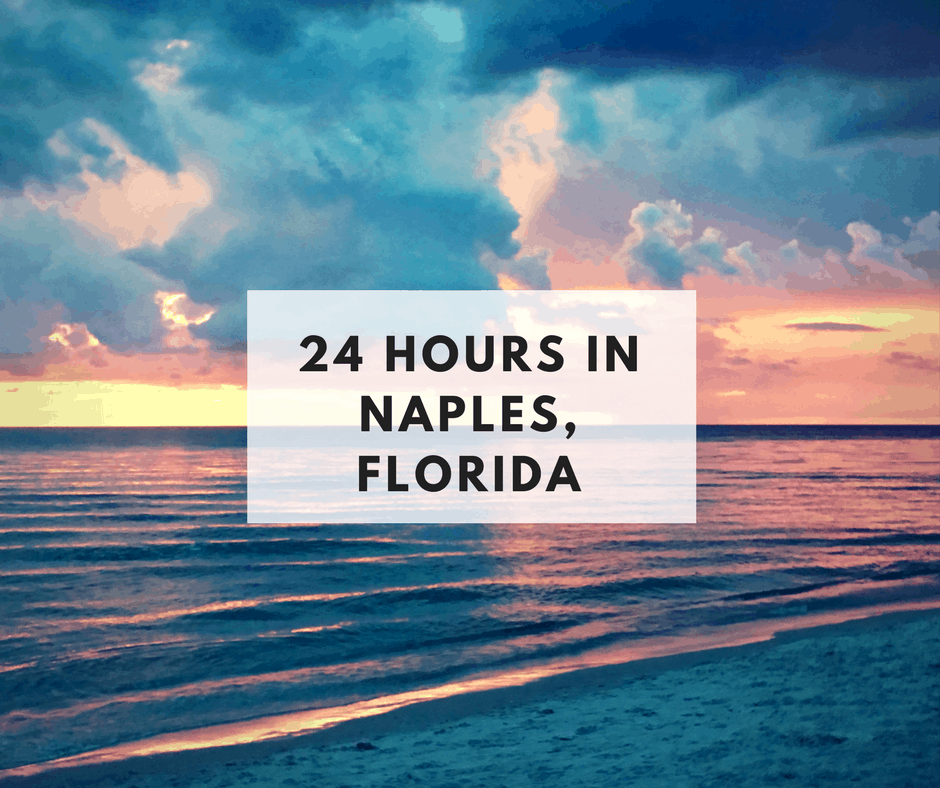 If you've been following the blog for awhile then you are aware that I just moved to Sarasota, Florida!
So this is kind of funny, but I have only been living in Sarasota for about a week before I hit the road to explore more of the south west of Florida. WooHoo!
I'm not even done unpacking yet from moving, and I'm immediately packing my overnight back for a road trip. Most people think I'm crazy, lol!
I guess I just have an incredible wanderlust and need to constantly be on the go and out exploring new places. 🙂
When I was looking for a convenient place to stay in Naples, I used the new RedRoof.com's "Along-a-Route" feature which uses technology to know travelers' precise location and the direction they're traveling in.
I found this super helpful, because I wanted to stay near downtown Naples to be close to everything.
The new RedRoof.com website is super easy to follow and understand. It basically allows travelers to book while on-the- go, which is perfect when you're on a Road Trip and all you have is your phone to go by.
You can secure the best rate with a simple "Tap! Tap! Go!" It features dynamic graphics including videos, photos, slideshows, cinemographs and more. So cool!
The new RedRoof.com also provides geo-localized and personalized content and deals, along with full display of TripAdvisor reviews, allowing you to select the property and room that best fits your needs.
Now that we had a place to stay for the night, we were famished and looking for a good place to eat.
We stopped into The Dock at Crayton Crove which is in a harbor area close to downtown Naples. It has beautiful views overlooking the marina.
Just as we were about to order we heard a loud boom of thunder and saw mega flashes of lighting. A few seconds later it was down pouring rain, luckily we were safe inside! Ah yes, Florida afternoon storms in the summer are the best. They're intense but short, 10 minutes later it was beautiful and sunny again.
This place has some of the best seafood around. I ordered the Key Lime Black Grouper which was fabulous, and my son ordered the Bamboo Steamed Salmon pictured below (which of course I tried as well). 🙂
After our bellies were full, it was time to hit the Naples Pier for a sunset!
The sunsets are beyond amazing on the west coast of Florida. Especially after a storm rolls by. The clouds actually bring out some really magnificent colors in the sky and the water!
I don't think I could ever get sick of watching the sunset here. 🙂
And to top off our sunset experience, we saw a dolphin playing in the water in front of us. How cool is that?!
It's hard to tell in the picture below, but that black dot in the middle of the water is a dolphin fin.
Just as the sun was setting into the water, the sky dramatically changed into these beautiful purple hues.
I'm telling you, photos just don't do this justice!
The next morning we went into downtown to get some brekkie before setting out to explore again.
Downtown Naples makes it easy for people to get around. There are free parking ramps within walking distance to the famous 5th Avenue South Street.
If you love to shop and you love to eat, this is the place to be!
There is something for everyone here! Fashion boutique shops, gourmet restaurants, cafes, coffee, and ice cream.
We found a quaint little cafe called The Cafe on 5th. The prices were reasonable and they had Gluten Free options as well as a lot of Organic ingredients which is very important to me.
I ordered the Avocado Smash which consisted of a whole Avocado smashed with Cilantro, Lemon Juice, and Feta Cheese, 2 Poached Eggs, and Gluten Free Toast. It was the best breakfast I've had in a long time!
The day was starting to heat up… after all it is summer time in Florida, which means temps will probably rise to 100 degrees or so. Whew!
We didn't want to do a lot of walking, so we chose to take an open air Trolley Tour of Naples.
This was the perfect way to spend a few hours on a hot summer day!
Naples Trolley Tours are $25 per adult and last about 2 hours. We got to see a lot of the city, and learn about all of the history here.
The trolley makes several stops along the way which include shopping areas, restaurants, and museums.
After the trolley tour we headed back to downtown for a bite to eat before hitting the road to head back home.
We chose an Italian restaurant, because when in Naples… 🙂
With me being Gluten Free, sometimes it's hard to find Italian restaurants that provide more than just a salad on their Gluten Free menu. We ended up dining at Barbatella which is on 3rd Street South. They have a full menu of Gluten Free Wood Fire Pizzas as well as Gluten Free Pasta, Yay!
I tried the Regina Margherita Pizza which was amazing! Their Gluten Free Pizza Crusts tasted just like a real pizza crust! If you've tried many different GF pizza crusts, then you know it can be hit or miss sometimes with these.
24 hours after arriving in Naples, it's time to hit the road again!
I cannot wait for my next adventure on the road, where should I go next? Leave a comment below and let me know where you'd like to see me go next!
Are you planning a summer Road Trip? Book your reservations now at RedRoof.com!
Cheers friends!