This summer we took a road trip to Arches National Park in Moab, Utah. If this was not already on your bucket list, it needs to be!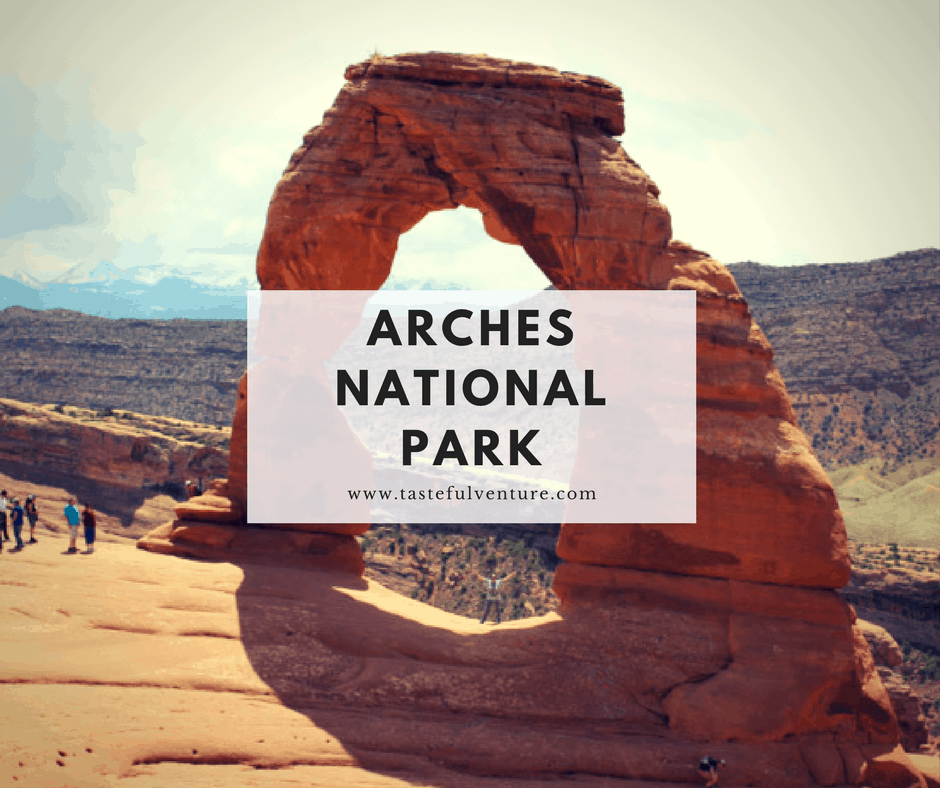 With over 2,000 cataloged natural arches, this is the world's largest collection!
To get into the park it costs $25 per vehicle which is good for 7 days. There is a paved scenic drive that will take you to many of the major viewing points within the park.
However some of the most rewarding ways to see the park are by exploring on foot.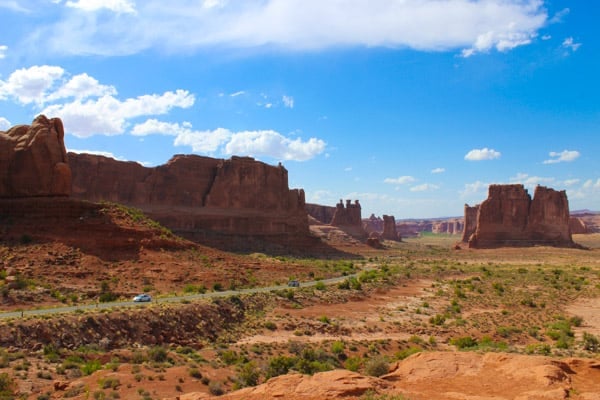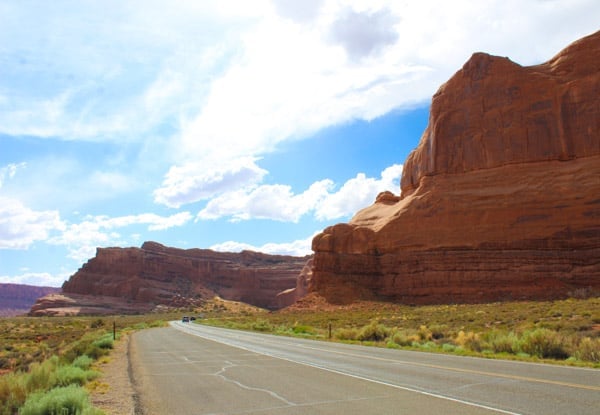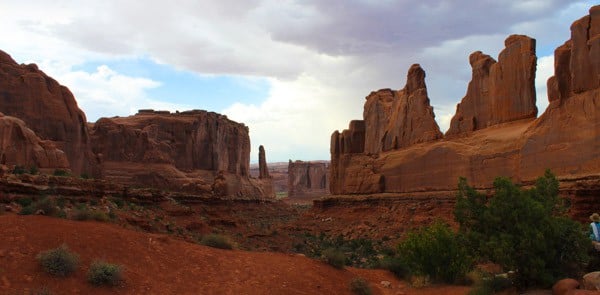 When exploring the park on foot sometimes it's hard to find where exactly the trail is.
You will occasionally see little stacks of rocks lining the hiking trails. These are called cairns and they are there to help you along areas that are hard to follow.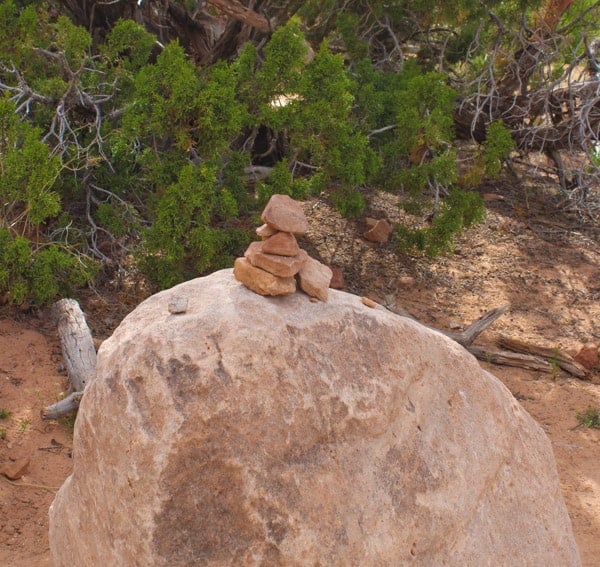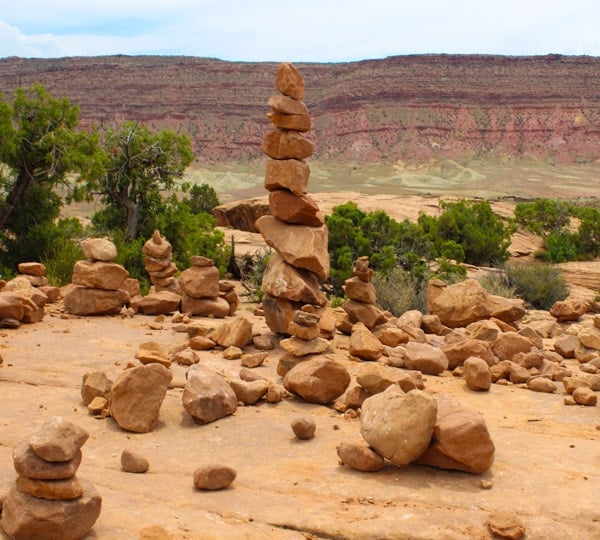 If you're planning on a summer road trip here, make sure you bring plenty of sunscreen and water. It gets extremely hot here during the summer.
There are two areas of the park that offer drinking water, the Visitor Center at the beginning, and the Devil's Garden Trailhead at the end. NEVER hike without plenty of water on hand.
I made a total rookie mistake the first day I was there. I thought hey I'm from Florida, I'm used to the heat, sun, etc. I've already got a good base tan so I don't need sunscreen. Wrong. Yep you guessed it, I fried like an egg on a sidewalk on a scorching hot day.
I also under estimated the hike up to the Delicate Arch.
We arrived here mid-day and full sun. Me and my son had 1 liter of water between the two of us thinking that was enough. Umm yeah they post signs in front of the hiking path letting you know how much water you should have per person…I guess I should have read that first. I believe it said 1 liter of water per person. Needless to say I was a bit parched after the 2 hour hike. Kind of like an alligator that's been out of water for way too long.
But with that being said, this 3 hour hike was well worth every step! I would just recommend going early in the morning or in the evening before sunset when it's not as hot.
Once you make it up to the arch you will want to sit and chill for awhile to capture the moment in. Plan on spending some extra time here, so bring lots of water and a few snacks.
Where to stay.
I recommend staying in or around the town of Moab which is about 5 miles from the park. We stayed at the Fairfield Inn which wasn't in town, but it was the closest hotel to the park, about 2.5 miles.
The town of Moab is quite charming. There are lots of cool little shops where you can find a great selection of southwestern art, jewelry, and souvenirs.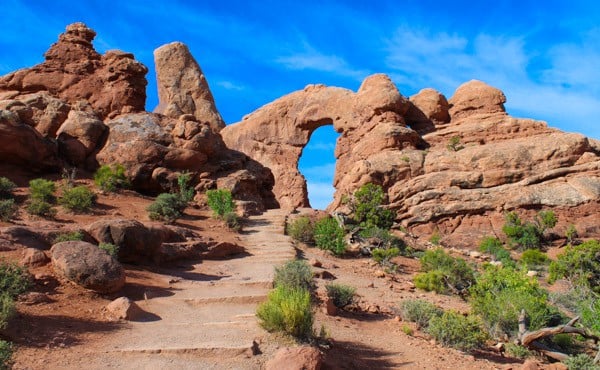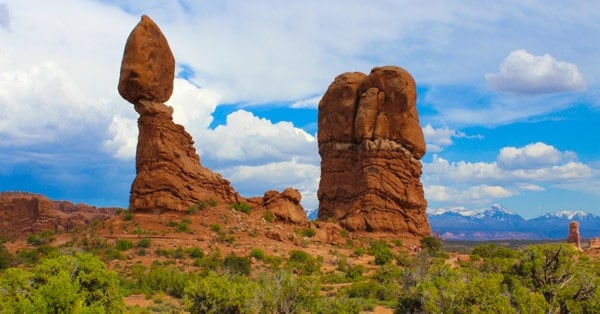 Hungry?
You can pretty much find any type of cuisine here. Everything from regional southwestern fare to world-class gourmet. During peak season you may have to wait over an hour to get into some of these restaurants though.
The first night we ate the the Peace Tree Cafe and had no problem getting a table. This place had amazingly good healthy food. We tried the Wild Salmon as well as the Idaho Red Trout, everything was done to perfection. Oh and you can also get fresh juices and smoothies here if you want to power up before starting your hiking day.
The second night we ate at a fabulous Mexican restaurant called Miguel's Baja Grill. We had made a reservation here the day before thankfully, because we heard the hostess tell everyone else it was over an hour wait.
This was probably one of the most authentic Mexican restaurants I've ever been to. One of their signature dishes is the M.O.A.B (mother of all burritos). Gavin ordered that just to see if he could eat it all, in which he did. I was quite impressed, it was almost like watching an episode of Man vs. Food. But he said it was the best burrito he's ever eaten. 🙂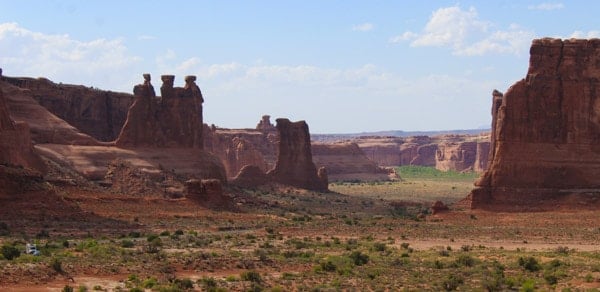 We will definitely be taking another trip to Moab to explore more of the beautiful National Parks!