I love the island of St Martin/St Maarten. This was my first time visiting the French side of the island and I absolutely fell in love with it.
St Martin or St Maarten is an island in the Caribbean that is divided half. There is a French side and a Dutch side.
Our cruise ship docked in St Maarten (the Dutch side) in the city of Philipsburg. Now, me and my family have visited the Dutch side many times and love that side as well.
But today we decided to explore the other side of the island, the French side. We took a taxi from the cruise port into the town of Marigot which is the capital of the French side of the island.
We didn't have a real plan of what to do here, we were just going to wing it. Sometimes that's the best way to discover new things!
When we arrived into the town of Marigot, we spotted an old fort on top of the hill. Cary and I both looked at each other and were like yep, we need to go check this out! My son Gavin is a history buff, so I knew this would please him too.
We found out the name of the fort was Fort Louis. It's a short 10 minute hike uphill from town. There are steps to get up here with a railing. It's a fairly easy walk if you are in decent shape.
It's totally worth every step once you arrive at the top. Majestic views of the harbor and the island, you can also see the island of Anguilla from here.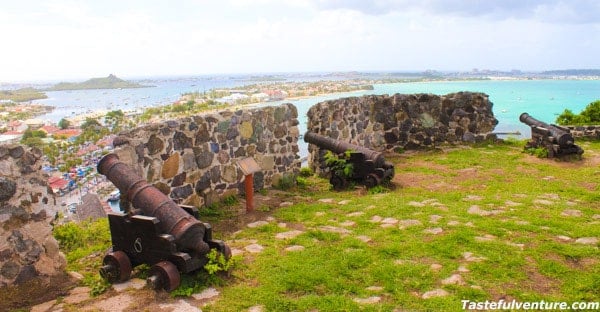 Fort Louis was built in 1789 on a hill overlooking Marigot Bay and the island of Anguilla by the locals in the town.
The forts primary function was to defend the harbour warehouses where goods were stored (salt, coffee, sugar cane, and rum). Gotta protect the rum, haha!
Later the fort was abandoned and fell into ruin.
In the 19th century it was restored once more, only to be abandoned again. During this period it was also the site of battle between the French and the English, as the latter regularly came across from Anguilla to raid the warehouses.
So there you have it, a must see 'free' attraction when visiting St Martin.
We came, we saw, we conquered!
St Martin, we'll be back!