San Francisco is one of the most amazing cities I have ever been to. There's something for everyone here, from visiting the many local attractions to trying some of the best foods (Yaasss this is a foodie city!) I was fortunate to spend a few days here after my conference in Sacramento last month. So here is my 3 Day San Francisco Guide!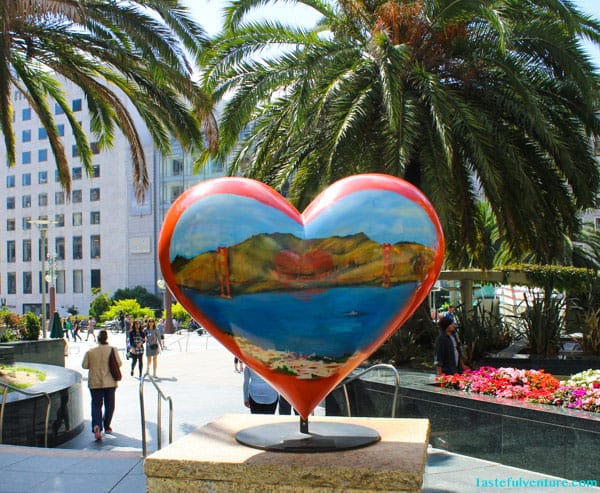 Where we stayed
I was a Travel Agent in my early 20's (oh so long ago), so I scoured for deals before booking a hotel. San Francisco is an expensive city, and to be honest there were not many deals to be had. There were some cute little boutique hotels that were slightly cheaper, but most only accommodate two people and have only one bed. We were a party of three (me, Cary, and Gavin who is now 13). So boutique hotels were out for us.
We also looked into Airbnb thinking it would be cheaper. Nope. Not in this city, most one room studio apartments were the same price as a hotel. Sure you can save a little money by cooking your own meals at an apartment. But for me, being in one of the foodie capitals of the world, I was not about to cook. I wanted to explore every restaurant and eat my way through this city!
Next we had to decide on location. We planned on dropping off our rental car upon arrival after we found out how much parking was in this city. If you plan on parking a car, prepare to spend up to $60 a day in some locations, yikes! No need for a car here, you can walk or take public transportation pretty much everywhere.
We wanted to be centrally located, so we chose to stay in Union Square which I would recommend if visiting here for the first time.
Day One
Our first day we set out to explore on foot. But first we had to get some nourishment in our bellies. Right across the street from our hotel was Lori's Diner which is a 50s style diner with down home cooking. The prices were reasonable here as well.
After breakfast we made our way up to Chinatown which was about 3 block walk from our hotel to the Dragon's Gate entrance.
Chinatown is a great place to get your souvenirs, because it's cheap. T-shirts, Sweatshirts (which you'll need because San Francisco is coooold!), trinkets, snacks, etc. It's all a fraction of the price from what you'll pay in Pier 39.
After Chinatown we headed over to Coit Tower. It's about a 25 minute walk, which was great for us because we were still trying to work off breakfast. Note: San Francisco is very hilly, so walking up some of these hills can be a little challenging if you're out of shape.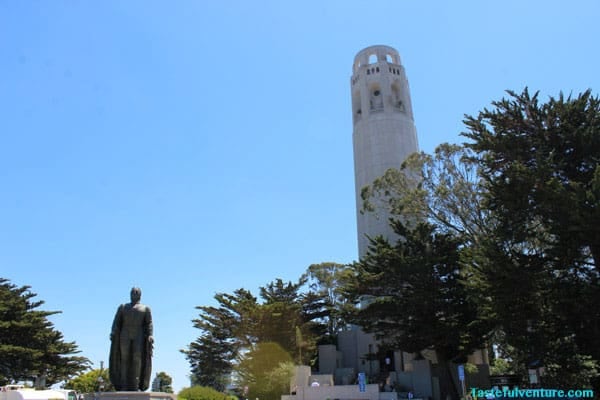 Coit Tower was worth the walk, even though we were a bit out of breath by the time we got to it. Tickets were $8 for adults and $5 for kids. You take an elevator to the top where you get 360 degree views of this beautiful city including the Golden Gate and Bay bridges.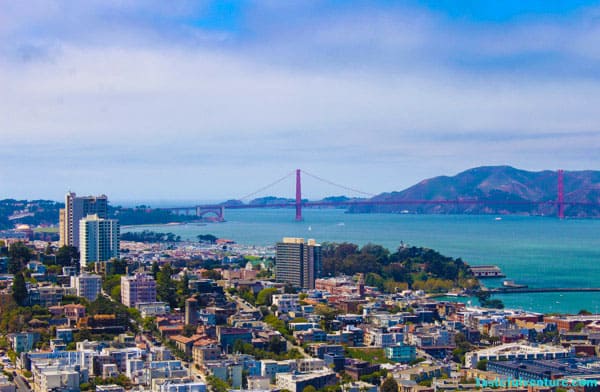 Next we decided to continue our walk (down hill this time, so it wasn't so bad – about a 20 minute walk) to Lombard Street. It's famous for its steep one block section with eight hairpin turns. This is known as the 'the most crooked street in the world'.
We ended the day by walking down to Pier 39, about a 20 minute walk from Lombard Street.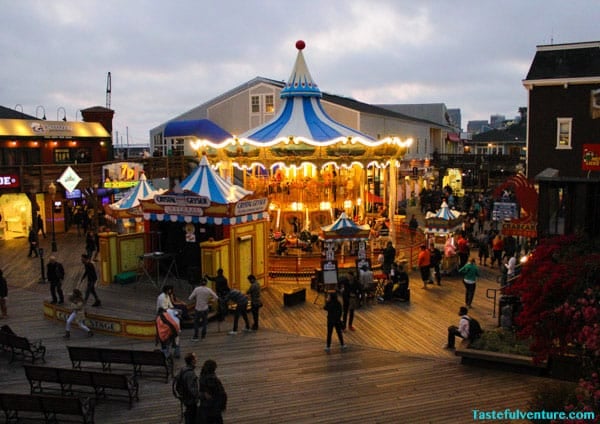 By the time we got here we were famished. There are tons of dining options at Pier 39. We ended up eating dinner at The Chart House which is right on the water and has spectacular views of Alcatraz. The food here is amazing and it did not disappoint.
After dinner we walked around the corner from the restaurant and viewed the famous Sea Lions on the docks, which is such a cool site to see!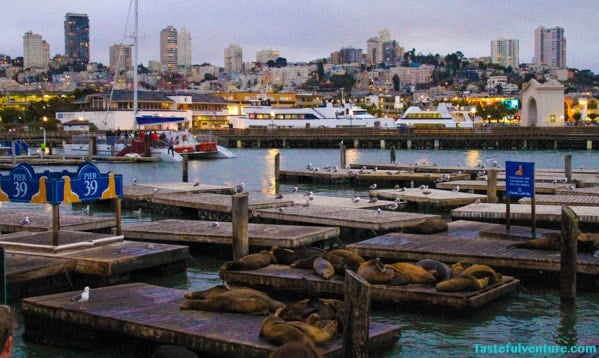 Tired and exhausted we cabbed it back to the hotel and slept like a rock.
Day Two
After walking so much the first day, we decided to give our feet a bit of a rest and opted to take a Big Bus Tour. It's a double decker bus that makes tons of stops all around the city and across the Golden Gate Bridge.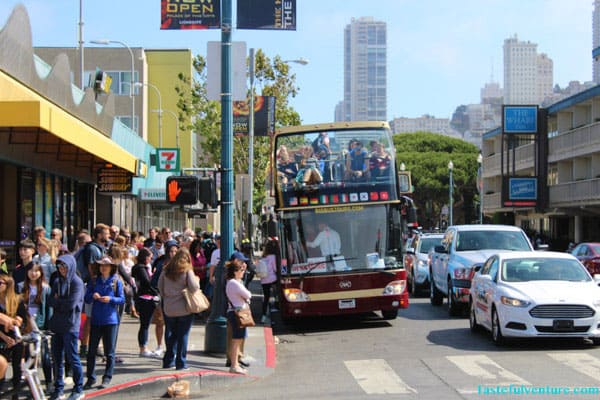 I'm normally not one for big group tours, I usually like to go out and explore on my own. But sometimes it's nice to take a guided tour, especially when you want to rest your wary feet. You can learn a lot about the history of different parts of the city. With this tour you can get on or off at many different famous landmarks.
We were able to catch the bus in the morning at Union Square which was super convenient, only one block from our hotel. Note: We did not do the bus tour in order of where it stopped, some of the sights we had seen the previous day.
Our first stop where we got off was the Golden Gate Park. We took a tour of the Japanese Tea Garden which was absolutely beautiful to see. There is also a cool little tea shop inside with traditional style Japanese Tea you can enjoy while viewing the gardens.
Back on the bus, next up was crossing over the Golden Gate Bridge to North Vista Point Park. We sat in the open top of the bus during the way there just to get some cool photos of the bridge. However, my advise is to dress very warm if you want to sit out in the open while crossing the bridge. Bring a winter jacket, hat, gloves, etc. It's totally worth it for the photos. But on the way back we opted to sit down stairs in the warm part of the bus.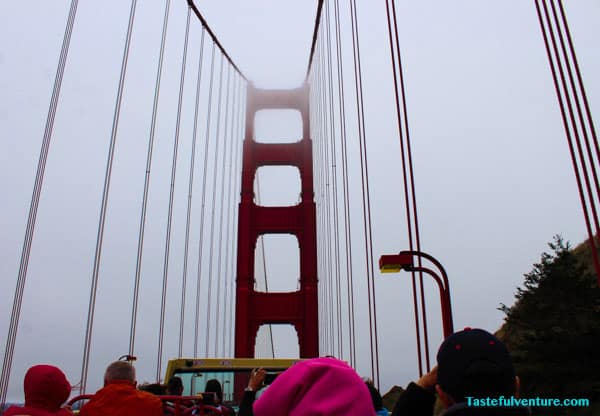 You can get some amazing pictures of the bay and the Golden Gate Bridge at North Vista Point Park. It's really hard to get pictures on a clear day though. There is usually fog rolling over the bridge into the bay. I think you almost need to be a local or be really lucky to get a nice sunny shot of this bridge.
Next stop was the Painted Ladies.
If you were a fan of the 80s tv show Full House, then you know all about these colorful houses.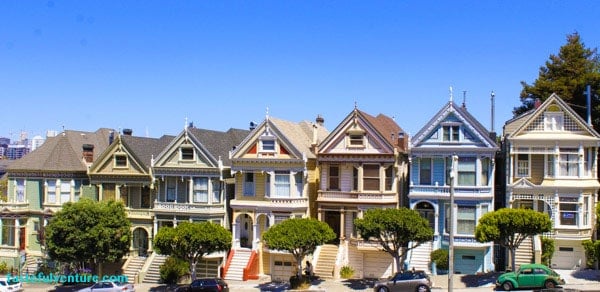 Unfortunately when we were there the park across the street from it was gated off and they were renovating it. So we didn't get the views of the Painted Ladies with the city in the background like we wanted.
From here we walked to the Haight-Ashbury neighborhood.
This is a cool hippy neighborhood, back in the 60s this is where The Grateful Dead, Janis Joplin, and Jefferson Airplane all hung out, along with many other great musical legends.
We stopped at a Greek restaurant to have lunch here called Souvla, the Avgolemono was oh so yummy!. Again, the food was amazing! I don't think I ever had a bad meal in this city.
Back on the bus we headed back down to Pier 39 and Fisherman's Wharf, since we only saw a glimpse of it the day before.
This area was crowded with tourists and street performers and was very entertaining. There are tons of shops and restaurants all along the wharf. It's a great place to casually stroll and people watch. 🙂
We walked up to Ghirardelli Square and went through the chocolate factory/gift shop. This is a chocolate lovers dream! So. Much. Chocolate.
We bought a package of chocolates and walked over to a great winery next door called the Wattle Creek Winery to enjoy a glass (ummm I mean bottle) of wine with our chocolates…Yaasss!
We decided to take the famous cable car from the Powell/Hyde location near Ghirardelli Square back to Union Square. It was late afternoon and the fog was rolling in, so it was absolutely freezing waiting in that hour long line for the cable car. But it was worth it! My advise though, is to take the cable cars in the morning when there's less of a line.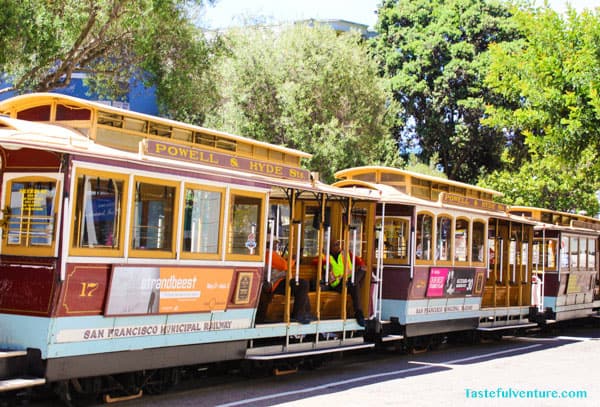 Back at our home-base in Union Square we walked a few blocks to eat dinner at a Japanese restaurant called Mikaku Sushi. This is between Union Square and Chinatown and has some of the best sushi I've ever had!
Day Three
We had high hopes for visiting Alcatraz on this trip. Unfortunately I didn't know tickets sold out so far in advance. I tried getting tickets a month before our trip and every day in August was completely booked. My advise would be to book these tickets a few months in advance.
Since Alcatraz was out, we opted for a ferry ride to Sausalito, which is just across the bay. The ferry goes right by Alcatraz, so you can still get some good photos of it!
Sausalito is a quaint little town with lots of cute little shops and restaurants. We got there around lunch time and decided to eat at the Napa Valley Burger Co. I don't eat beef, so I chose a veggie burger, and it was to die for, Oh and the Bloody Mary's were the best! Bloody's and Burgers…once again Yaasss!
After spending a few hours here we took the ferry back. Note: there will be lots of people with bicycles boarding the ferry because there are tours where you can bike across the Golden Gate Bridge and then take a ferry back. There's two lines and they let the bicycle riders on first, but when you get to the other side they have to leave last. So it all work out.
We cabbed it back to Union Square and walked around for a bit. If you're into high end shopping, then this is the place for you. You can find everything from Barneys NY to Tiffany & Co is located here.
We decided to go to a local joint for dinner called Tacorea which was a few blocks off Union Square. It's a tiny little place that serves some of the best Korean/Mexican tacos! I know it sounds like a weird mix, but it was sooooo good!
So that's my take on how to do San Francisco in 3 days, I hope you enjoyed this and found it helpful! 🙂
Note: We were here in August and needed winter jackets. Dress in layers here, mornings and evenings are very cold and windy when the fog is thickest. Afternoons if the sun comes out it will get warmer, but not that warm. The average annual temp is around 60 degrees, and the wind off the bay is bone-chilling.
With that being said, this is still one of my favorite cities and I can't wait to go back!