Chattanooga 'Chew Chew' Fun is such a cheesy title, I know. Sorry not sorry! I have been wanting to visit Chattanooga ever since we drove through it on the long drive down from Minnesota to Florida when we were moving. We didn't have time to stop because our cars were packed to the max with all of our belongings, plus we were traveling with our cat.
So on a recent road trip this summer with my family, we Finally were able to see Chattanooga! We drove to Chattanooga after visiting Nashville for a day.
We had one full day to spend in Chattanooga, so we needed to make the most out of it. Here's some of the best places to see and eat while here.
I recommend getting a triple pass (which is good for one year), to Ruby Falls, Rock City Gardens, and the Incline Railway. These three tourist attractions are all in close proximity, but you must drive to each one. You can definitely see all three in a day, but it will be a whirlwind!
Tickets for the triple pass are $48.90 for adults and $25.90 for kids 3-12. It's a really good deal if you want to see all three of these attractions and well worth the money.
Our first stop was the Incline Railway. This is the world's steepest passenger railway. If you're not afraid of heights, this is a really fun way to see the mile high view from Lookout Mountain. Just a short trolley ride up the mountain gives you breathtaking views.
Our second stop was Rock City Gardens. We had no idea what to expect, we thought is was a small garden that you would quickly walk through. Boy were we wrong! We spent a good 4 hours strolling through areas of waterfalls, gnome gardens, crossing bridges, and seeing Lover's Leap.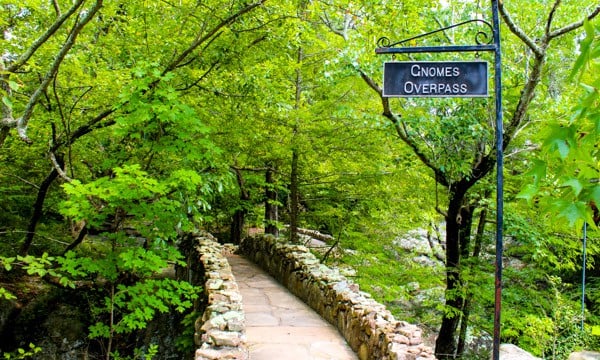 Our third stop was Ruby Falls. This is truly an awe-struck tour. Your tour starts by getting in an elevator and going down 26 stories into a mountain. From there you walk with your tour guide through through the caves to get to this amazing waterfall that is literally inside the mountain. To this day they still do not know where exactly the water comes from.
After the whirlwind day we were completely exhausted and starving! We headed into downtown Chattanooga for some grub. We found a place called Sugars off of Broad Street. Let me start off by saying, the interior of this restaurant is super cool. Everything from the vinyl records on the wall to the hot pink sparkly table clothes. The food was really great too, however the service – not so much. So I'm going to focus on the positives and tell you how amazing the food is here. We started with an appetizer of Fried Okra, which tasted amazing.
At every table they also have a variety of BBQ sauces for dipping which was so good, I think we tried all ten of them! I recommend getting the Pork Butt plate, or the Pork Butt Nachos. This was some of the best Pork Butt BBQ I have ever had. Yes, I also just love saying the word Pork Butt.
Of course a stop in Chattanooga would not be complete without visiting the famous Chattanooga Choo Choo Train! And yes this is where I came up with the title Chattanooga 'Chew Chew' Fun. You're welcome.
We will be back Chattanooga! 🙂