Chill Vibes in Cruz Bay, St Johns USVI – the title says it all. Ok guys, this place is a quiet little peace of paradise for me. If you're looking to get away from the hustle and bustle in St Thomas, this island is just a short ferry ride away!
We were recently on a back to back cruise which included 2 different stops in St. Thomas during our 2 week cruise. Since we had just explored the downtown area of St. Thomas the week before, we wanted to kind of get away from it all and have a quiet chill day. So we decided to make our own little excursion, YES! I love adventures! Don't get me wrong, I love the planned excursions too, but there's something a little more thrilling when you just go with the flow and do your own thing away from the crowd. 🙂
We got of the cruise ship as soon as we could in the morning and hopped on a taxi waiting outside to take us to Red Hook, which is where to catch the ferry to St. Johns.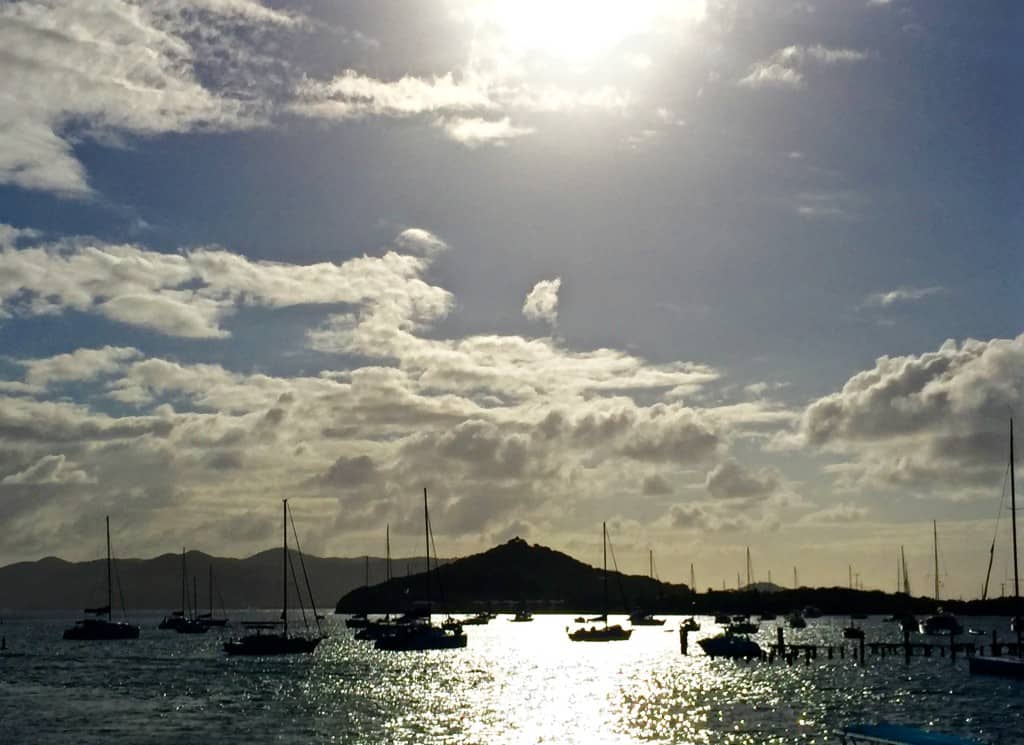 The taxi ride from Havensight cruise port to Red Hook is about 30 minutes and around $10 per person. They will drop you off right at the ferry terminal in Red Hook. Once in the ferry terminal you can purchase your tickets to St Johns. Tickets are around $14 roundtrip per person and it's about a 20 minute ferry ride to Cruz Bay.
Once we stepped off the ferry in Cruz Bay, we were instantly in love with this quaint little town. The area right by the ferry dock is called Wharfside Village. It's a small area with restaurants and shops right along side the beach.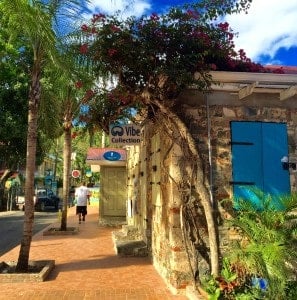 With our stomachs rumbling (since we left the ship early and didn't have time to eat), we set off on a quest for breakfast and coffee! Suddenly I remembered I had a Twitter follower who owned a coffee shop here called Java' Mon coffee, cool! So I looked up the location and it was just a short walking distance from the ferry dock. (The power of Social Media, love it!)
While getting our coffee at Java' Mon, we asked them were the best place to eat breakfast would be. They recommended Cafe Livin, said it was the best place for breakfast in town. It's always great to get recommendations from locals. 🙂
Oh and the coffee at Java' Mon, THE best coffee on the island of St. Johns! Thanks Java' Mon! 🙂
With our coffee in hands we walked over to Cafe Livin for some breakfast. We found a table outside and ordered some breakfast. This is definitely the place where locals come every morning to eat. It seemed like everyone knew everyone! And after getting our food, I can see why, Yummo!!! BEST breakfast on the island of St. Johns!
After breakfast we ventured out to walk around the town of Cruz Bay. It's a small town and you can walk around it in a few hours. There's a lot of cute little mom and pop shops all along the way. You won't see any chain stores or restaurants here, love it!
Everyone here is super friendly and very laid back.
We also found a few stands along the sidewalks selling fresh fruit and veggies, I love open air markets like this!
Our day here was much too short. Having to head back to the ferry dock, we took our last final pictures of Cruz Bay…
St. Johns…we'll be back! And this time we are staying longer! 🙂