St Thomas, USVI…Where do I even start with this, I mean this has to be one of the coolest places in the Virgin Islands! There is so much to do here and not ever enough time to do it in. I was fortunate to have visited this island 4 times, during the last few years. (And I just started writing about it now, I know I know, I'm a little slow!) 🙂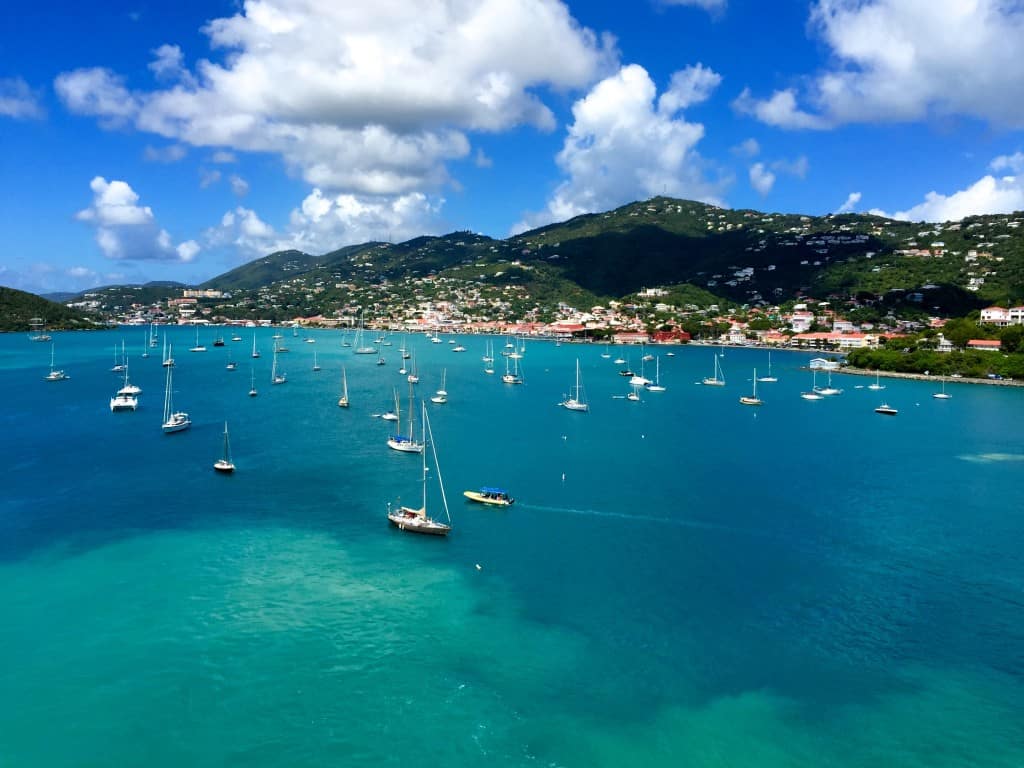 Each time I visited was via a cruise ship. There's actually 2 cruise ship dock areas here, they are both within walking distance to the downtown area.
The area we docked at this last time was in the Yacht Haven area. Whoa! The size of the yachts docked here is unimaginable, I mean these yachts were like 10x's the size of my house! Yes, someday I will cruise on one of these! It's good to dream big right?! 🙂
They also have a high end shopping area here within Yacht Haven. You can get your fix on anything high end from Gucci to Louis Vuitton. For me it's fun to window shop here. And someday when I get a big yacht I can afford to shop here too. 😛 🙂
So this time visiting we decided to do a little excursion that we booked through our cruise ship. The place we went to was called Paradise Point, which was right across the street from where our ship docked. Paradise Point is 700 feet above the beautiful Charlotte Amalie harbor in St Thomas. You have to take a cable car up the mountain to the top which is about a 7 minute ride. The cost is around $20 per adult, $10 for kids 6-12, and free under 6. Once you get to the top there's a look out area with spectacular views of the harbor. If you want to take post card pictures of the harbor, this is the place to take them!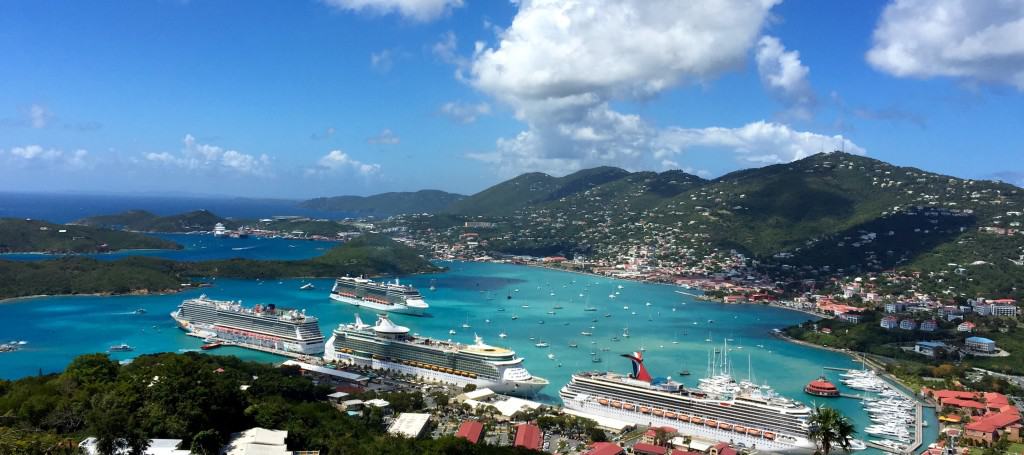 Words seriously can't even describe how beautiful it is. There is also a gift shop (of course, doesn't every tourist attraction have one?!) and there is also a bar/restaurant area where you can order the famous Bushwacker drink. St Thomas is 'Home' of the Bushwacker drink. It's a frozen concoction made with Baileys Irish Cream, and is soooo yummy.
So after taking the cable car ride back down the mountain, we decided to walk to the downtown shopping area which is about a 20 minute walk. And yes we felt very safe walking this route. (There's also tons of cabs and busses, which all charge the same rates).
The downtown area has tons of shops and restaurants that are all in old buildings made of brick and have big arch wooden doors. Even if you don't like to shop, wait what?! there's still some really cool stuff to see here.
And did I mention food yet?! Amazing restaurants with delicous food everywhere, most have outdoor patios within the cobblestone alleys. When there are a lot of cruise ships in port, sometimes it's hard to get a table outside during peek meal times.
We saw this clock while walking by one of the bars, love it! Island time, it's always 5'oclock somewhere! 🙂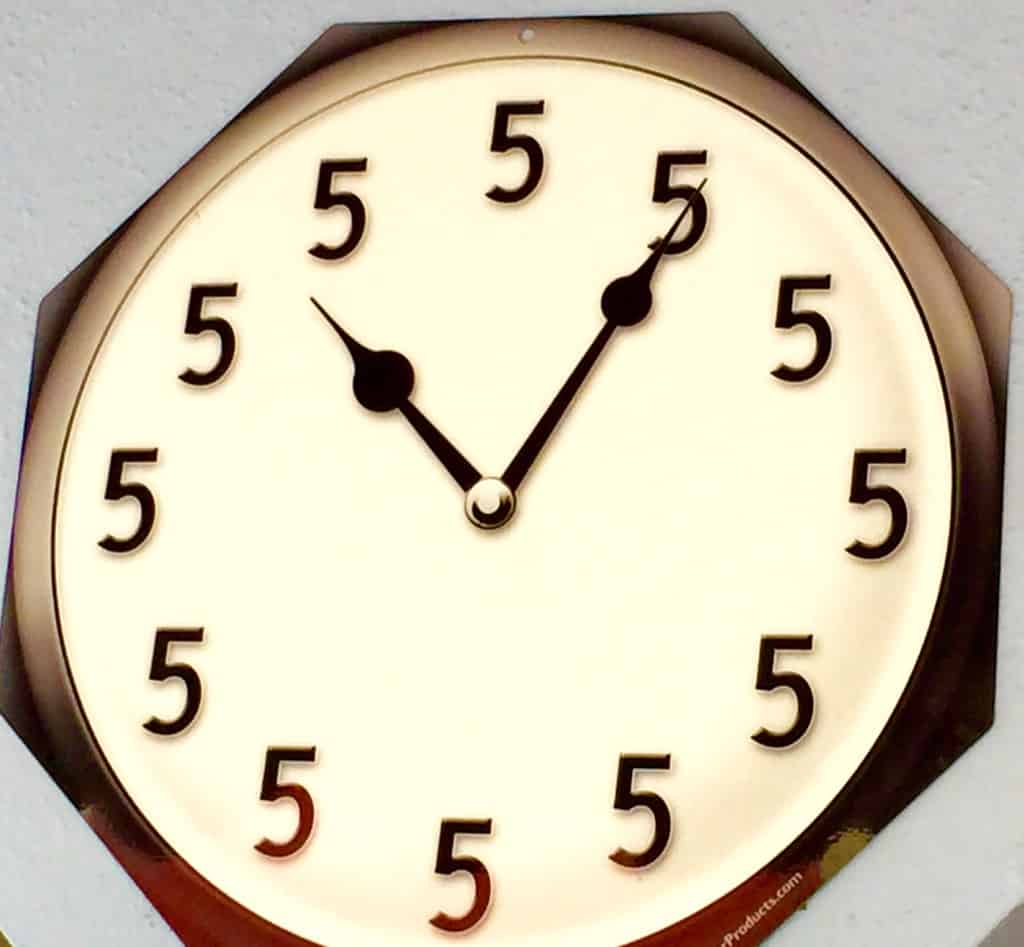 We stopped at a place to eat called Greengos Caribbean Cantina. We just sort of stumbled upon it, we walked by and saw an open table outside so we said cool, let's try this place. The food is Mexican style, and mostly organic, which was a total win-win for me! They also have huge Margaritas you can order. They looked super yummy, but we just wanted to try the local beer that day. I mean Hey, when you visit an island, always ask for the local beer. It's always better than American beer, and is usually cheaper because it's not imported. 🙂 The local beer we tried was called Island Hoppin which is a pale ale. It tasted very good, and was refreshing on the nice warm day we were there.
We ordered the Chicken Nachos to share, wowza! THE best nachos I've ever had, and enough food to make it a meal – even when sharing. I really wish I had a picture, ugh! Sorry I'm new to blogging about my travel adventures and am still learning. I'm totally kicking myself for not getting pics of this yummy dish to share with you. And the funny thing is, I came here twice to eat, yes twice and ordered the same thing. Ok when I visit again I will post pics for you guys! 🙂 Oh and I just found out they have a new location in Old San Juan, Puerto Rico! WooHoo!!! I will for sure be going there soon, so I'll have to stop in and order this delicious dish again!
Until next time St. Thomas, see you soon!