Irish Cream Cookie Cups, an Immaculate way to bring in the Holidays! This is a super fun recipe to make and is perfect for entertaining, especially if you're low on time.
It's like a dessert and a cocktail in one! But you could also make this kid friendly and just use milk instead of Irish Cream. 🙂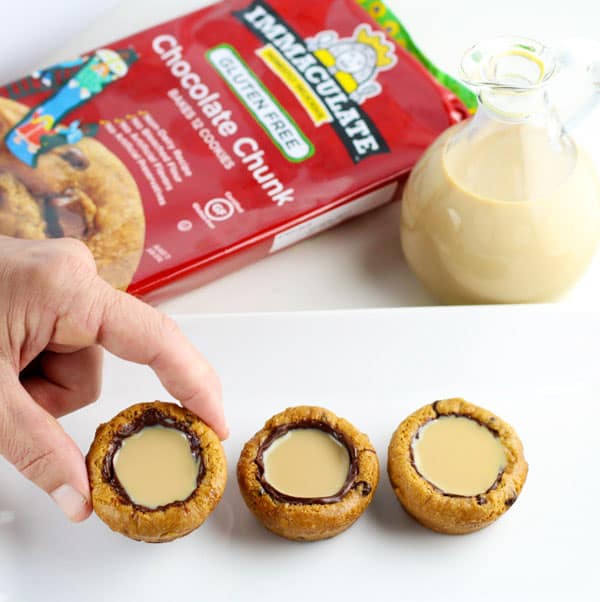 The holidays are fast approaching and I feel like I'm running out of time for everything. Whether it's baking or shopping or decorating, I just feel like everything in my life needed to be done yesterday.
Does anyone else feel like that this time of year?
I was so happy when I found this Immaculate Gluten Free Chocolate Chunk Cookie Dough! Finally an easy option for us Gluten Free peeps when we want something quick and delicious to bake, Yay!
These are perfect for when you simply don't have time to make cookies from scratch.
Immaculate Baking Company has lots of options like brownie mix, cinnamon rolls, crescent rolls, and even baking flour. Many of their mixes are Gluten Free and Organic as well which is super important to me.
Be sure to use the store finder to locate their products near you, and check out their recipe page for more ideas!
And definitely be sure to print out this $1 off coupon when you purchase your Immaculate products!
We have a tradition in our house every year for Christmas. On Christmas Eve we put out cookies for Santa (me) and a glass of Irish Cream, because that's what Santa likes! 🙂
Then in the morning we would awake to half eaten cookies and an empty glass sitting under the Christmas tree. I remember the look on Gavin's face when he was little. He had the astonished 'Wow look', totally amazed that Santa came and left him presents and actually ate the cookies and drank the Irish Cream.
Now that Gavin is in his teenage years and knows Santa is me, we still make cookies together and then eat them on Christmas Eve. He has his with milk and I have mine with a little Irish Cream of course! Then we snuggle up on the couch and watch Christmas movies all night. Ahhh, it's the little things in life. 🙂
I decided to put a unique spin on our family tradition by combining my love for cookies and for Irish Cream.
I thought hey, why not make cookie cups that can hold Irish Cream?! It's such a perfect combo!
I used a regular size 12 cup muffin tin for this recipe.
I took each piece of cookie dough and flattened it slightly to fit on the bottom of the muffin tin and slightly up the sides.
Then baked them for 15 minutes at 350 degrees Fahrenheit.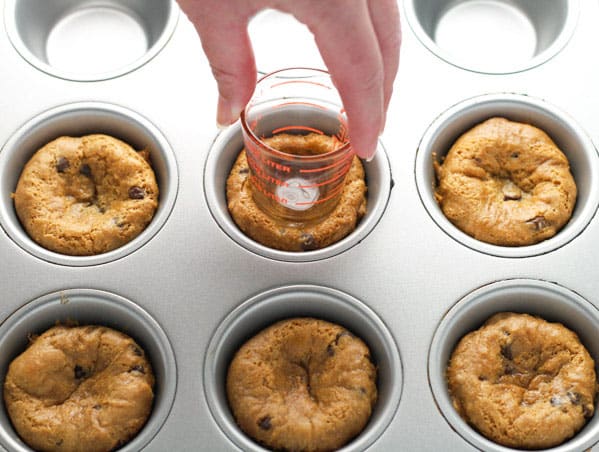 Then I took a shot glass and dipped the bottom in Coconut Oil and pressed it gently into each cookie to make a cup shape.
Make sure you dip the shot glass each time into Coconut Oil so it doesn't stick to the cookies.
Let the cookie cups cool for about 10 minutes in the muffin tin.
Once cooled, remove with a small spoon and place on a wired baking rack. The longer you let them cool, the easier it will be to add the chocolate coating on the inside.
I melted some mini chocolate chips and spread the chocolate into the bottom and sides of each cookie cup.
Refrigerate these for at least 30 minutes to let the chocolate lining harden.
When ready to serve, pour in the Irish Cream, Yum Yum Yum!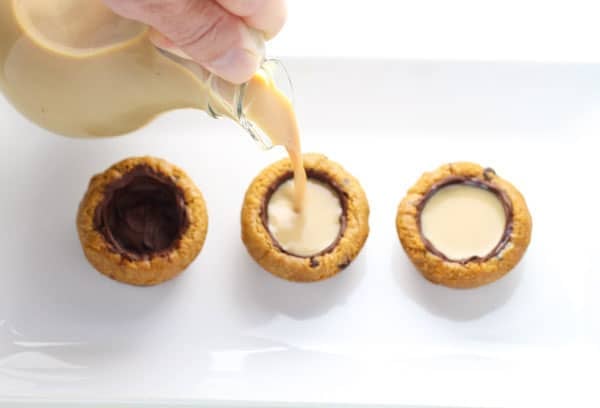 If you try this let me know what you think by leaving a comment below!
Cheers to the Holidays!
Print
Irish Cream Cookie Cups
Irish Cream Cookie Cups, the perfect Holiday drink/dessert! Made with gluten free cookie dough, so easy!
Author:
Prep Time:

5 mins

Cook Time:

15 mins

Total Time:

20 mins

Yield:

1

2

1

x
Category:

Dessert

Cuisine:

Gluten Free
1

package Immaculate Baking Chocolate Chunk Cookie Dough

1/4

cup

melted Coconut Oil

1/4 cup

mini Chocolate Chips
Irish Cream
Instructions
Preheat oven to 350 degrees.
In a regular size 12 cup muffin tin, add 1 cookie dough ball to each muffin cup.
Stretch out the cookie dough slightly to cover the bottom and a little up the sides of the muffin cup.
Bake for 15 minutes.
Add Coconut Oil to small bowl.
Take a shot glass and dip it into the Coconut Oil and press the shot glass lightly into each Cookie cup. Dip it in Coconut Oil each time before pressing into each cookie so it doesn't stick to the cookie.
Let Cookies cool for about 10 minutes in the muffin tin.
Carefully remove cookies with a small spoon and place them on a baking rack.
Add Chocolate Chips to a small bowl and melt them for about 30 seconds in the microwave until smooth and creamy.
With a butter knife, spread the melted Chocolate Chips to the inside of each Cookie cup, spreading the Chocolate evenly on the sides and bottom.
Refrigerate for at least 30 minutes to let Chocolate harden.
When ready to serve, add Irish Cream to each Cookie cup.
Enjoy!
Recipe Card powered by