This post is part three of a three part series for the International Food Blogger Conference (IFBC) that I attended. In exchange for a discounted ticket, I agreed to share my own personal experiences while attending the IFBC. All opinions and photos as always are my own.
Endive (pronounced On-Deeve). Ok I'm a Minnesooota girl born and raised who recently moved to Florida. I know all about 'Hotdish' from my northern roots, and 'Grits' from my new southern roots. Yes it's a weird mix, but when you're in a new environment…just adapt to what the locals eat!
So when I finally got my chance to visit California… (the state I've been dreaming about visiting since I was a little girl) …I was so ecstatic!
I got to try new and magnificent foods, like Endive!
If you're like me and have never tried Endive before, it's a green leafy vegetable with a slight bitter taste. If you eat it by itself it's not exactly appealing to the palate. However when you combine it with other foods like sweet tasting Figs, pungent Blue Cheese, some Walnuts, and a little Honey it creates a totally wonderful taste explosion in your mouth! Yaassss!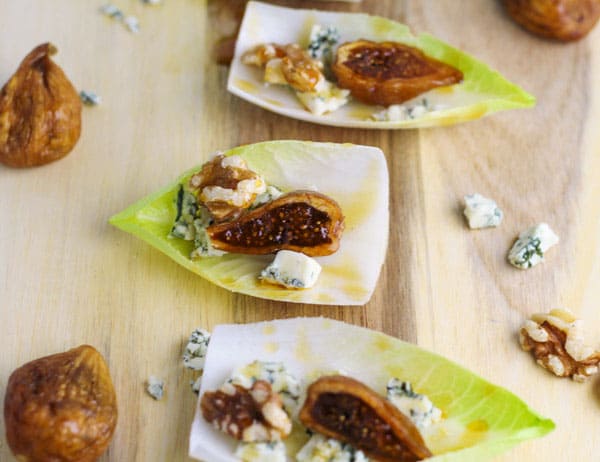 You guys, this is seriously one of the best appetizers I have ever had! Plus it's really easy to make. I'm thinking this appetizer would be perfect for Thanksgiving or Christmas. A little bit goes along way, and these little handheld bites of heaven will definitely be a hit!
One of the other great things I learned while visiting California, was that they have some of the best wines I've ever tasted!
California is wine country and Farm country. Combine the two and you have the perfect mix. 🙂
I had the opportunity to tour Clarksburg Wine Country while attending the IFBC last month.
First we stopped at Muddy Boot Wine. Two of the owners of Muddy Boot Wine are the Ogilvie brothers, twins, as if you couldn't tell.
They gave us a little tour and then started pouring the wine…so…good!
They even filled us in on the back-story of how their name "Muddy Boot Wine" came about, which is slightly different then the story that is on their website. Hmmm… I wonder how many Muddy Boot stories there really are?
The tour continued by bus as we drove down to the Old Sugar Mill.
The Old Sugar Mill hosted an extensive wine tasting from 11 wineries located in Clarksburg Wine Country, which is about 15 minutes from downtown Sacramento, CA.
Along with the wine tastings, we were served an incredible spread of delectable foods.
So…Much…Wine… 🙂
If you're ever in the Sacramento area, I highly recommend going to the Old Sugar Mill for a wine tasting. And I also learned from local California bloggers who were on the tour with me, was that the cost of wine here is much lower than the Napa Valley region. (I can't speak from experience because I've never toured the Napa Valley region, but I did see lots of California food bloggers buying wine buy the case here. So there you go… an insider tip. 🙂 )
California wine country…I will be back again soon! (I almost said 'I will be back' like I usually do after my travel posts, but thought it sounded too much like an ex-California Governor/Actor). 🙂
Oh yeah, I almost forgot, the recipe for the Endive with Blue Cheese Fig Walnuts and Honey is below in a handy dandy printable!
Cheers friends!
Print
Endive with Blue Cheese Fig Walnuts and Honey + Clarksburg Wine Country Tour
Endive with Blue Cheese Figs Walnuts and Honey, the perfect appetizer for any holiday party!
Author:
Prep Time:

5 mins

Total Time:

5 mins

Yield:

1

0

1

x
Category:

Appetizer

Cuisine:

Californian, Vegetarian
Half a pound of Endive stems removed, about 20 leaves

6

large dried Golden Figs quartered

3

oz

of crumbled Blue Cheese

20

Walnut halves

1 tsp

Honey
Instructions
Wash Endive and remove outer layer of leaves.
Cut stem off and gently peal the leaves off.
In each Endive leaf evenly add Golden Figs, Blue Cheese, and Walnuts.
Drizzle with Honey.
Enjoy!
Keywords: Endive with Blue Cheese Figs Walnuts and Honey, appetizer, Clarksburg wine country tour
Recipe Card powered by