This Lemon-Herb Roasted Chicken with Acorn Squash is such an easy recipe. The chicken is so tender, juicy, and full of flavor! Paired with Acorn Squash, all roasted in the same pan = Perfection!
Fall is in full swing here in Southwest Florida. It was a cool 57 degrees when I woke up this morning… Brrr!
Ok for those living in more northern climates I know you're probably laughing hysterically at me right now for thinking this is cold.
I'm no stranger to actual cold weather, I was born and lived in Minnesota the majority of my life. I spent plenty of days cooped up inside cooking when it was -30 degrees outside. Yes my friends, I know what cold is. 😛
I'm actually loving this cool fall weather here in Florida. In fact that's why I chose to move here from Minnesota 3 1/2 years ago.
When the temps drop, my internal clock kicks in and I immediately want to cook big hearty meals in the oven, like this recipe I'm sharing with you today! 🙂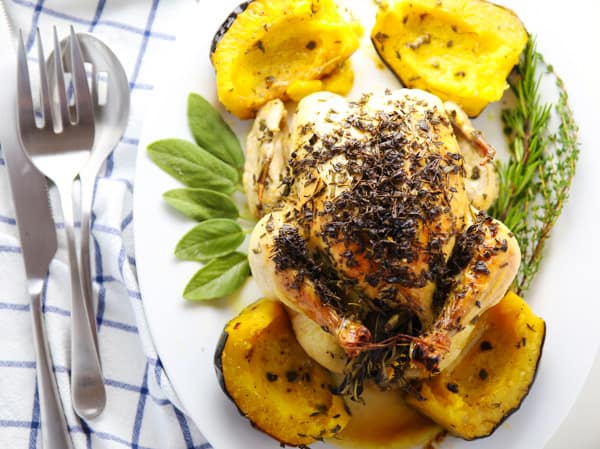 This is also a relatively cheap meal to make. Generally a whole Chicken will cost anywhere between $6-$8. I used an Organic Whole Chicken for this recipe, because I always try to buy Organic when I can. Organic Chickens will be a bit more, I paid $13 for this one, and it was worth every penny! All together this hearty meal was under $20.
This meal is also a great option for smaller holiday gatherings. In fact I think I might make this again for Thanksgiving since it'll just be me and Gavin celebrating this year. 🙂
The key to making this Chicken so flavorful is the Lemon and the fresh Herbs. I actually found a package in the produce aisle labeled 'Poultry Herbs', which included Thyme, Rosemary, and Sage. If you can't find them all in the same package, you can purchase separately.
I used a large handful of each of the Herbs. I recommend using fresh Herbs over dried, you will get so much more flavor.
For the Acorn Squash, I chose the smallest one I could find so it would fit in my Dutch Oven better.
I prefer using my 6 Qt Cast Iron Dutch Oven (affiliate) over a traditional roasting pan because the heat distributes more evenly in a Cast Iron Dutch Oven.
It took me a few tries to perfect the flavors in this recipe. The first time I used butter to rub the Chicken with and then used only Sage. The Chicken was still edible, but had zero flavor.
So this time around I decided to rub the entire Chicken inside and out with Olive Oil and Lemon Juice.
Then I rubbed Sea Salt and Pepper on the outside of the Chicken.
Next I stuffed the Chicken with Lemon Wedges and Whole Garlic Cloves.
I split my Herbs in half. Stuffed half of them inside the Chicken and chopped up the rest to rub on the outside of the bird. Then tied the legs together with some kitchen twine.
I quartered the Acorn Squash (you definitely want big pieces since it'll be roasting for about 90 minutes), and placed them along side the Chicken.
The result?
Chicken that is so tender, and juicy with every single bite bursting with so much flavor!
The Roasted Acorn Squash is the perfect side to this as well. It gets so much flavor from the Herbs and Lemon… it is totally succulent!
I hope you guys love this recipe as much as I did! 🙂
If you try this recipe let me know what you think! Leave a comment below, rate it, share it on social media, or take a picture and tag it #tastefulventure on Instagram!
I LOVE seeing what you guys cook up. 🙂
Bon Appetit!
Print
Lemon-Herb Roasted Chicken With Acorn Squash
Author:
Prep Time:

15 mins

Cook Time:

90 mins

Total Time:

1 hour 45 mins

Yield:

4

-6

1

x
Category:

Dinner

Cuisine:

Gluten Free
1

4-6 lb Whole Chicken (I used

4.5

lb)

1/4 cup

fresh Lemon Juice (about

1

large lemon)

1/4 cup

Olive Oil

1/2 tsp

ground Sea Salt

1/2 tsp

ground Black Pepper

1

Lemon quartered

1

bulb of Garlic peeled

1

large handful fresh Thyme

1

large handful fresh Rosemary

1

large handful fresh Sage

1

small Acorn Squash quartered (stems and seeds removed)
Instructions
Preheat oven to 425 degrees.
Rinse inside and outside of Chicken and place breast side up in a 6 Qt Dutch Oven.
In a small dish mix Lemon Juice and Olive Oil together and brush inside and outside of Chicken.
Rub Salt and Pepper on outside of Chicken.
Stuff Chicken with Lemon and Garlic.
Take half of each handful of Thyme, Rosemary, Sage, and stuff into the Chicken.
Take the other half of the herbs and finely chop, then spread over the top of the Chicken.
Place Acorn Squash wedges on sides of the Chicken.
Bake 90 minutes uncovered or until internal temp of Chicken is 165 degrees.
Remove from oven.
Spoon drippings from bottom of pan on top of Chicken and Squash.
Cover and let sit 20 minutes (this will keep the Chicken extra juicy).
Serve and Enjoy!
Recipe Card powered by