St Lucia has been in my Top Ten places to visit in my Bucket List. I just recently had the opportunity to visit St Lucia, experienced Sulphur Springs, and enjoyed a little mud smear fest. 🙂
I remember dreaming of visiting this place while watching about it on the Travel Channel one Sunday on a Minnesota wintery day where I was holed up in my house because it was too dang cold and snowy to go anywhere. So I chose to stay in my PJs all day and veg on the couch to watch the Travel Channel and dream of all the warmer places I'd rather be.
I remember seeing an episode where couples would go to Sulphur Springs 'The Worlds Only Drive In Volcano' and smear mud all over each other. It was said to be very romantic! What?! Spread mud all over me and a loved one?! I'm totally in!!!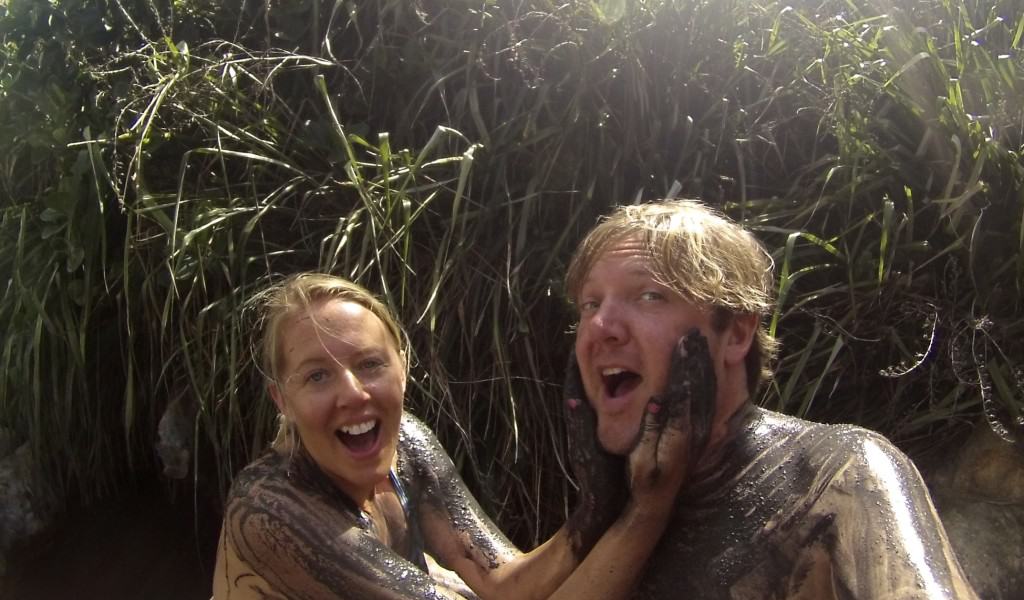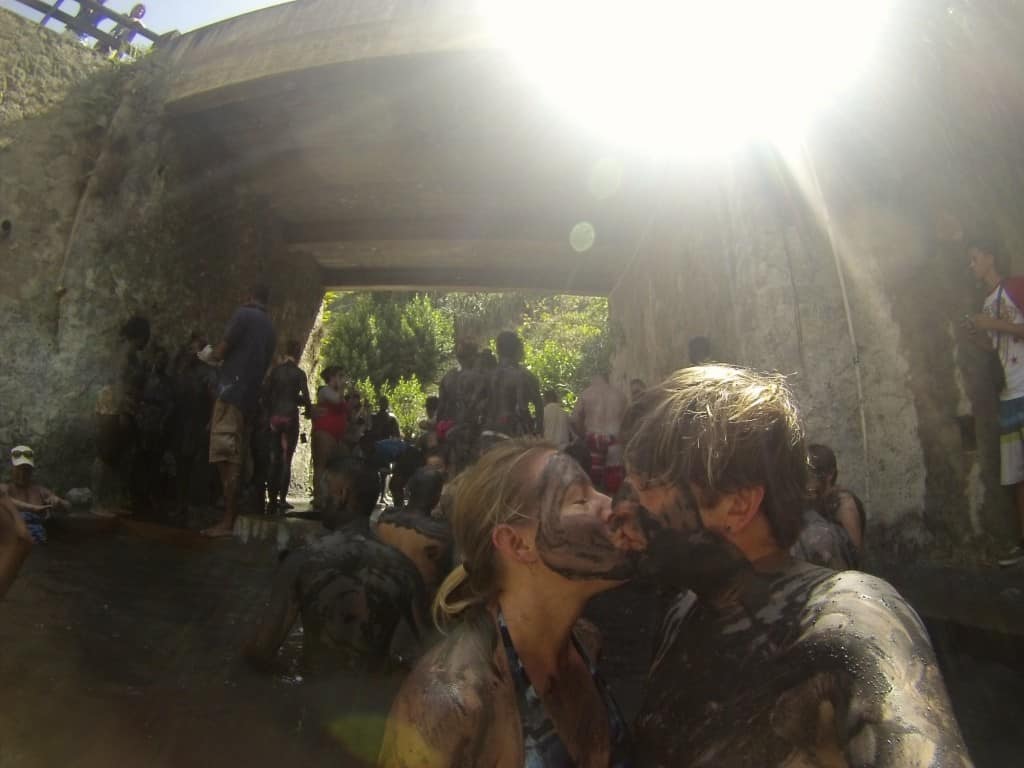 The Sulphur mud is also very cleansing for the skin. They say sulphur has many benefits for your skin, such as clearing up acne, eczema, dandruff, and that it's also used for anti-aging. It's supposed to make you look ten years younger! So after coming here, I should look like I'm 21 again… 😛 😛 😛
The springs is very hot, around 110 Fahrenheit or 45 Celsius. You get used to it if you enter in slowly.
Be careful, you have to be barefoot when you enter the springs and it's slippery with lots of rocks under and around your feet. But once you've adjusted to the water temperature and have submerged yourself in it, you feel totally amazing! Honestly after I was done, I had no more sore muscle, it felt like I had just had a full body massage. And my SKIN…WOW, my skin felt baby soft. If I lived here I would come here once a week for this treatment!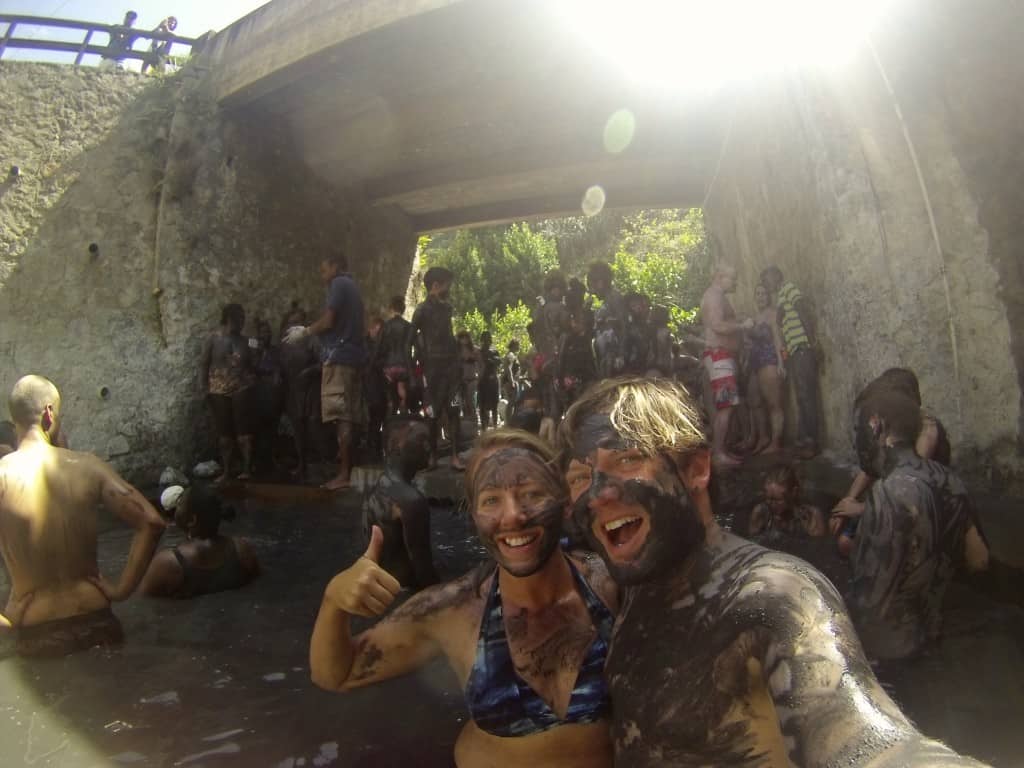 On a side note: wear a dark colored swim suit that you don't care too much about, as the sulphuric mud will stain.
The town closest to Sulphur Springs is called Soufriere (french for sulphur). When you first arrive to the springs you will smell a sort of rotten egg odor in the air (sulphur from the volcano). It is strong, but not over powering. They say it's good to breathe it in…at least that's what our tour guide told us.
Getting to the springs can be an adventure. We came to St Lucia on a cruise ship which docked in the town of Castries.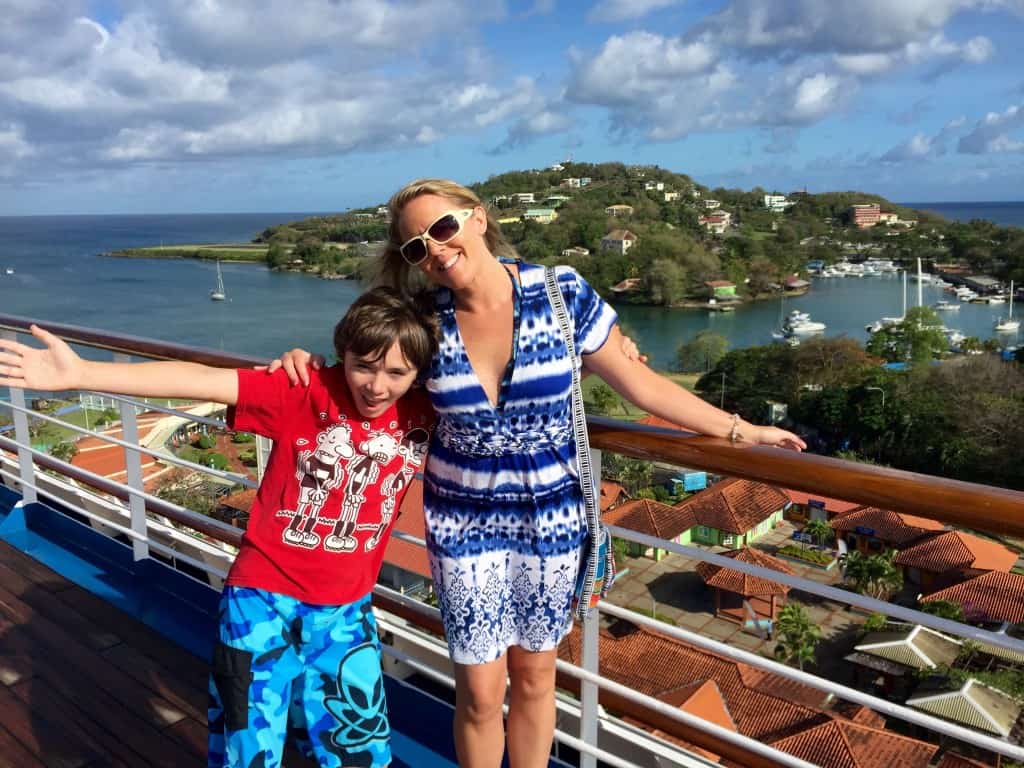 We originally wanted to do a Catamaran trip to Pitons and Sulphur Springs, which is in Soufriere, but the tour was sold out. Book early if you want to do this!
So we took a bus tour instead, which they say takes 1 1/2 hours each way. It took 2 1/2 hours on the way there because we stopped at a few tourist sites along the way. The bus ride was definately a fun experience and a great way to learn about all of the culture and way of life on the island, but it's not for anyone who gets motion sickness easily. The winding roads through the mountains were starting to get to me. On the way back I had to close my eyes, and put all of my faith and trust into the driver. It's the best thing to do when you're barreling down a narrow winding road with hairpin turns and you hear the breaks of the bus squeaking. Let's just say, I'm glad we did the tour bus trip, but I won't be doing it again. Next time I will book the catamaran trip early. 🙂
Along the way on our bus tour to the springs we stopped at a Fishing Village called Anse la Raye. It is one of St Lucia's six fishing villages.
It's a tourist attraction for all of the tour buses. There's a street market set up along side the beach.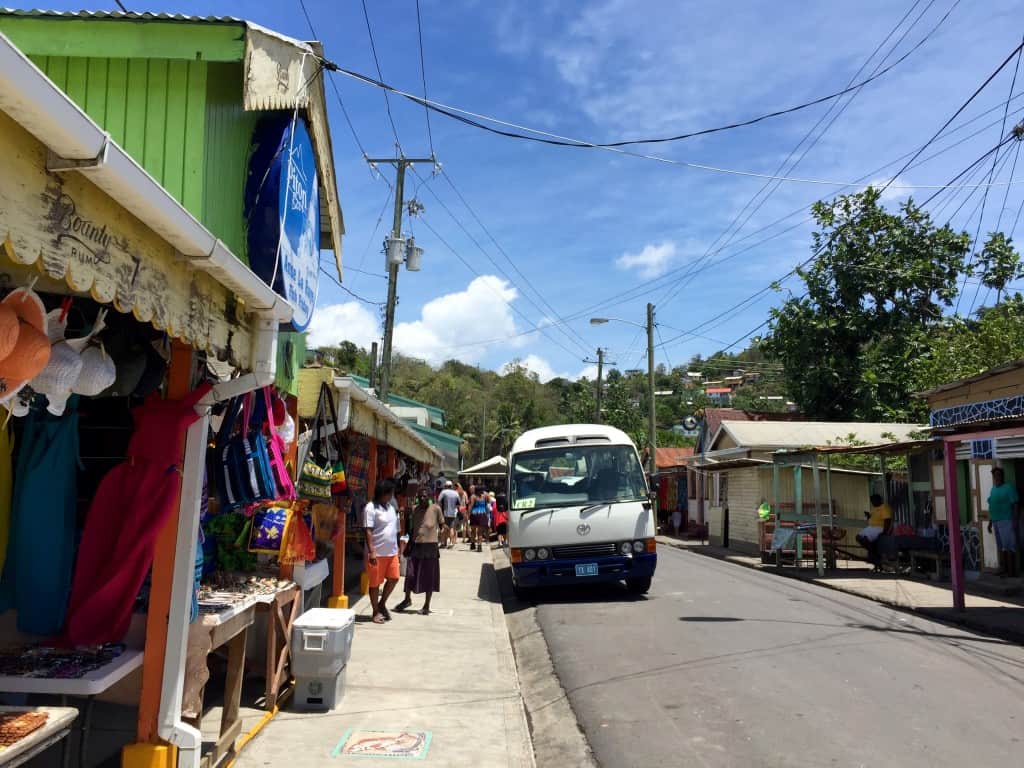 I heard on Friday nights they have a special festival where tourists can join locals in a Fish Fry. We couldn't partake in this since we were only here for the day. I would love to come back and spend more time on the island and do this!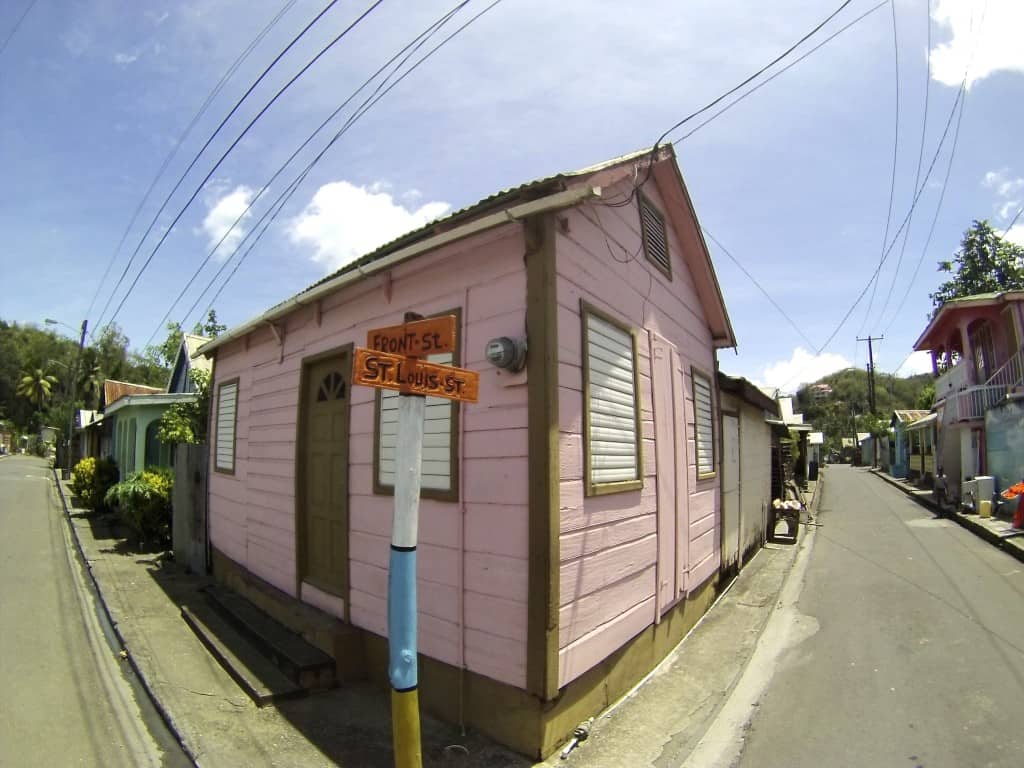 I wouldn't advise venturing off away from the tourist area, and keep your wits about you at all times. This is a poor fishing village, and even though they are friendly, you still need to take caution.
Walking along the beach in Anse la Raye, we saw many colorful, traditional fishing boats called canots.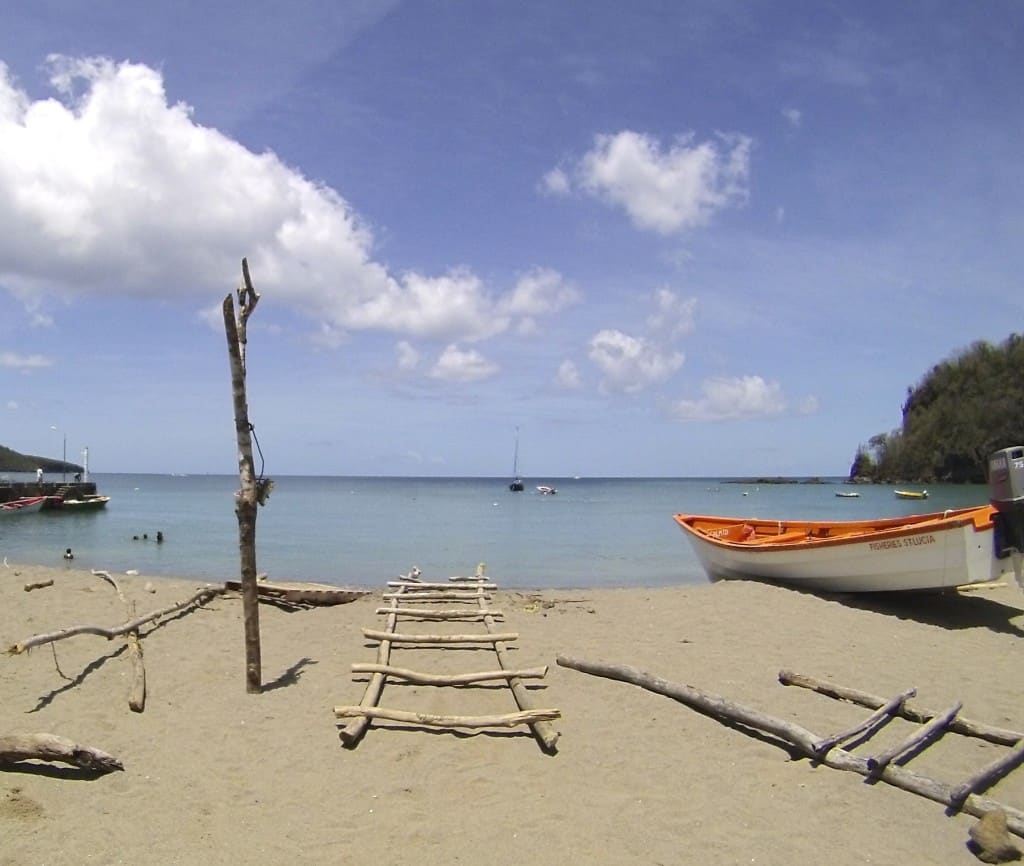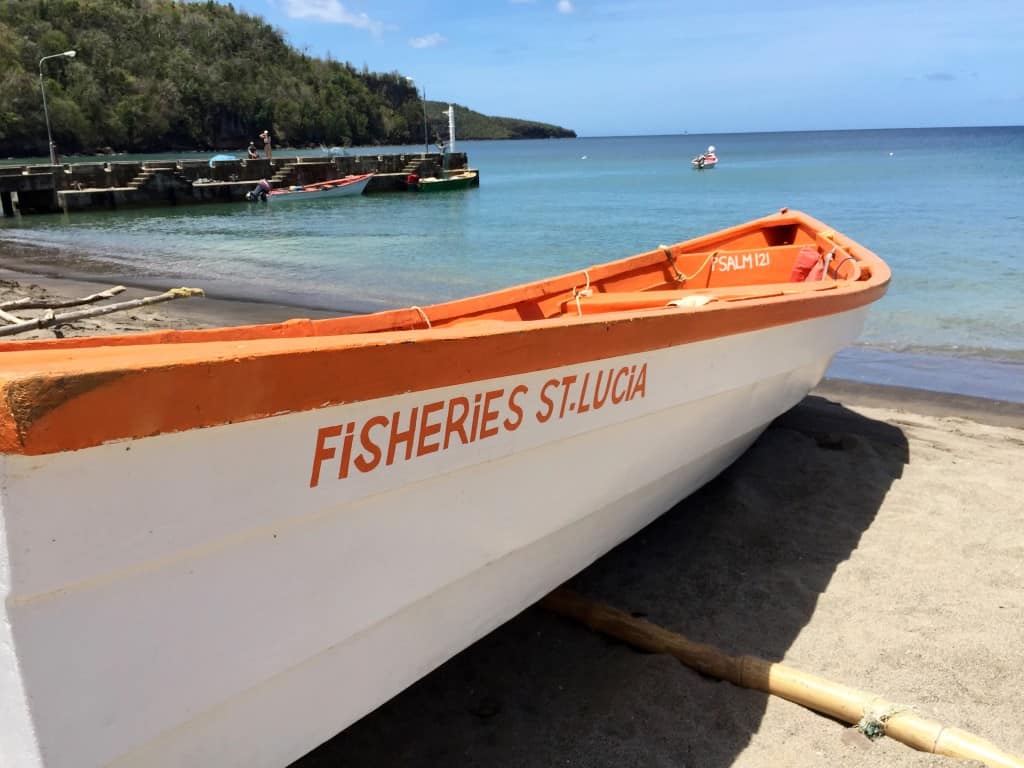 Back on the tour bus our guide told us about the array of vegetation on the island of St Lucia. We stopped at the largest banana plantation in St Lucia but had to stay on the bus. This is why the picture of the banana crops below has a slight glare, since we took the picture from inside the bus window.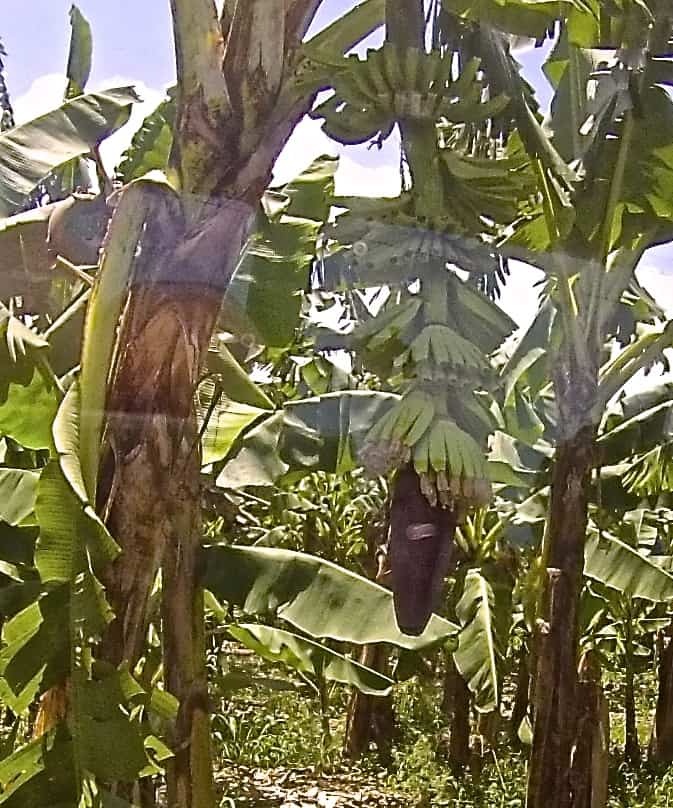 An interesting fact: they make a lot of stuff out of bananas in St Lucia, including banana ketchup! I actually bought a bottle of this to take home, it's really good!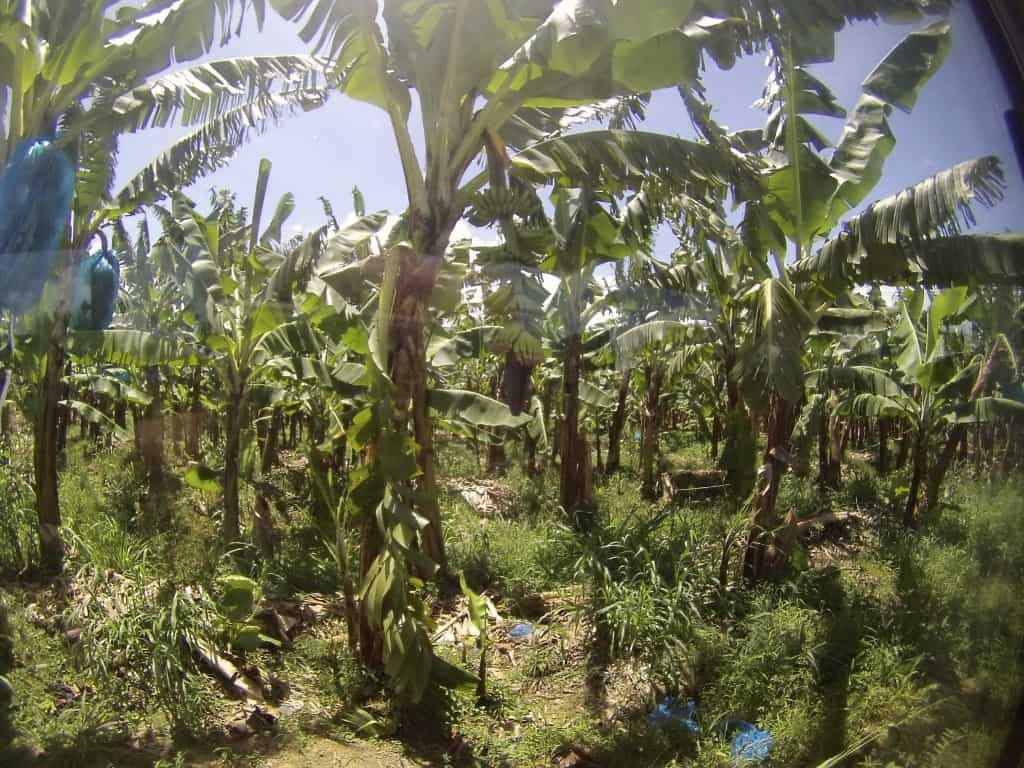 A little bit further down the road our tour bus stopped along side a cashew tree. The driver got out and picked a cashew for all of us to see. Honestly I had NOOO idea what cashews looked like growing on the trees. I learned that one cashew grows off of a piece of fruit from the tree. Huh, who knew!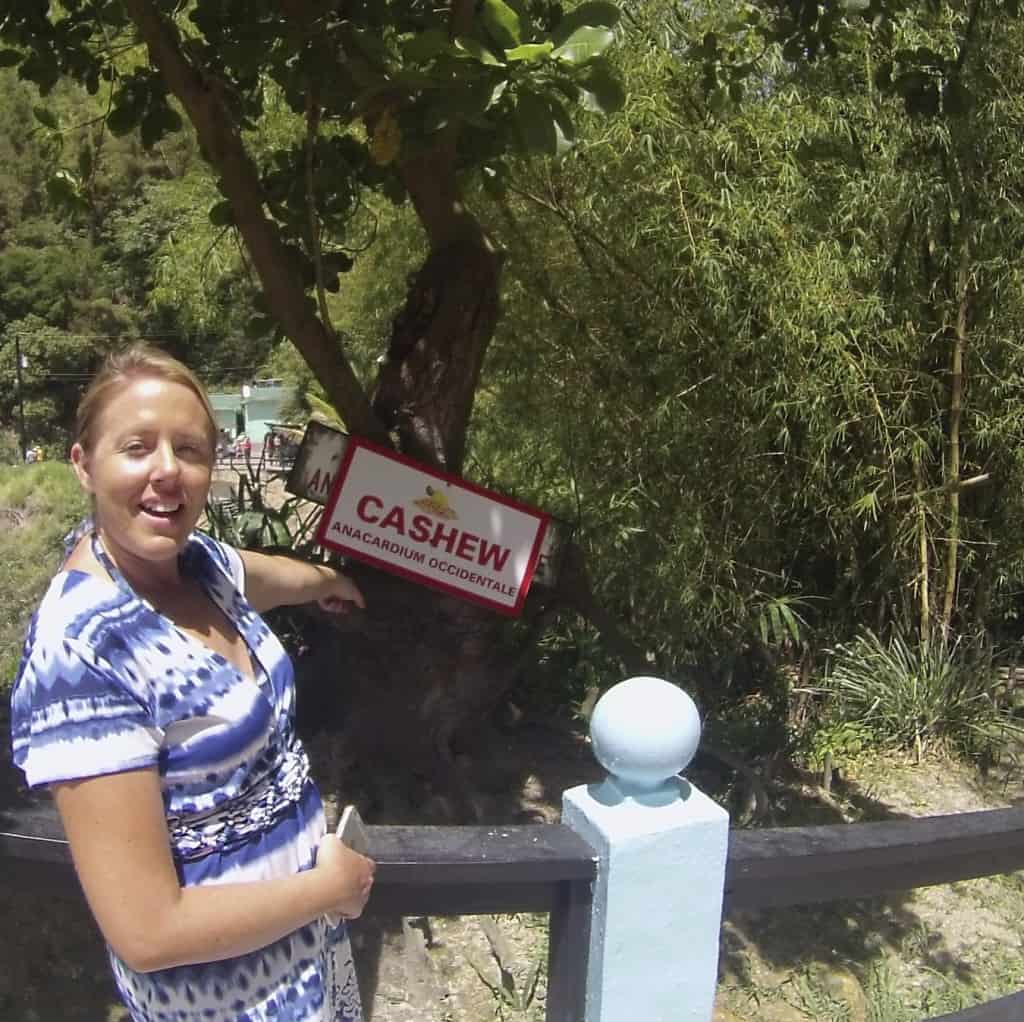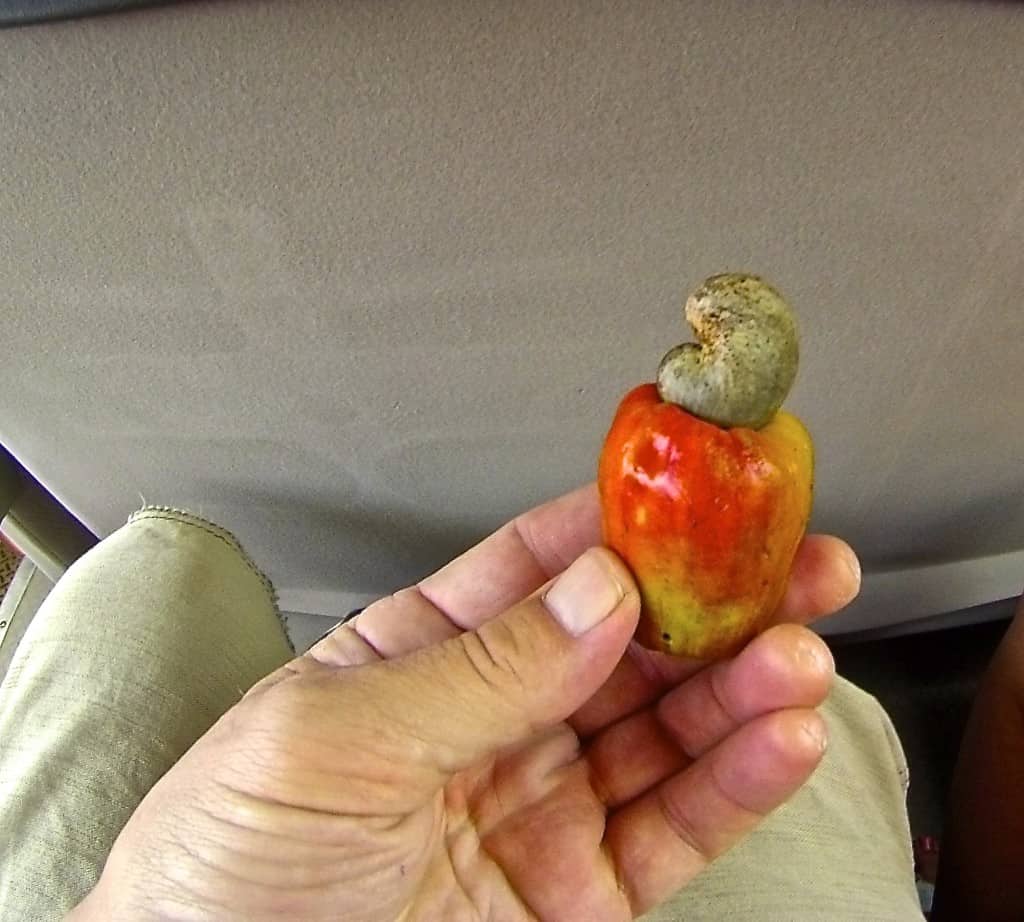 There are also plenty of Mango trees, Bamboo (which I learned grows 2-3 feet a day, wowza!), and tons of coconut trees.
One of our last stops on the tour bus going back to the ship was at a restaurant just outside of Soufriere called The Beacon. The location of this restaurant is spectacular! You can view the Pitons while dining in a open air restaurant high in the mountain. The food was amazing too! Since this was also a tour bus stop during the day, they had a pre-fixed meal set up. For $5 we received a plate that included Salted Cod Fish, Jerk Chicken, and Sweet Bread. All I can say is, WOW they sure know how to cook here, fantastic! And for $2 extra you could have a glass of rum punch. The rum here is strong, one glass was plenty for me! 🙂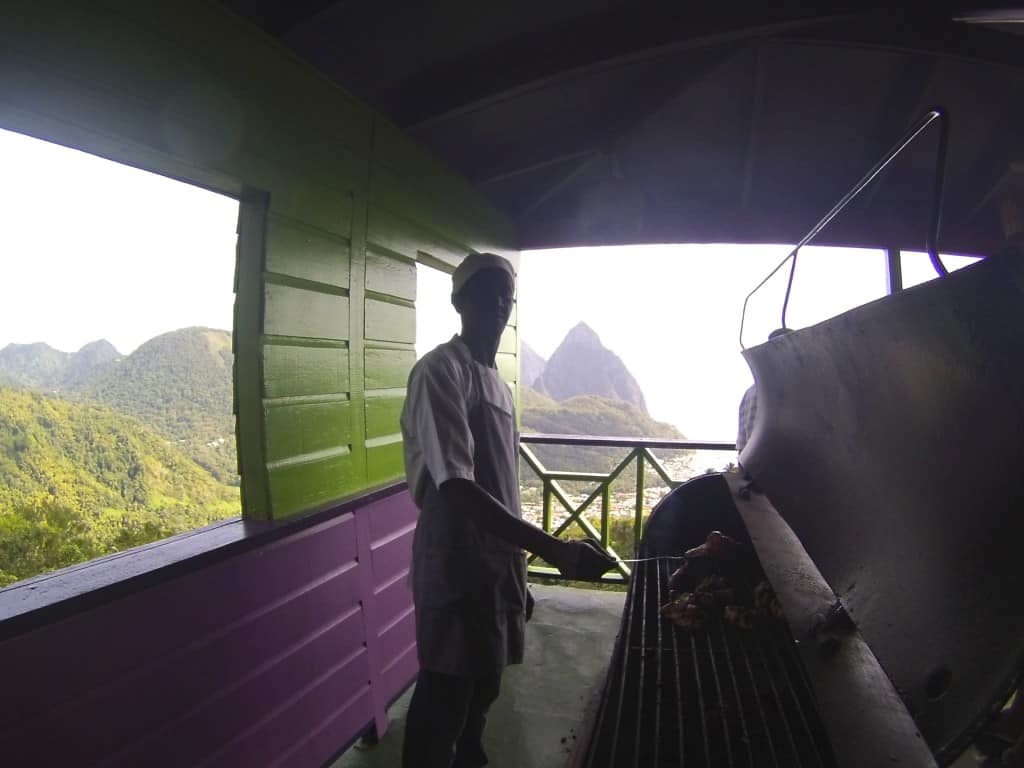 I was a little disappointed that our tour was running late and we couldn't spend more time here. This would be the perfect spot to come back at night and have a romantic dinner with someone you love and a bottle of wine.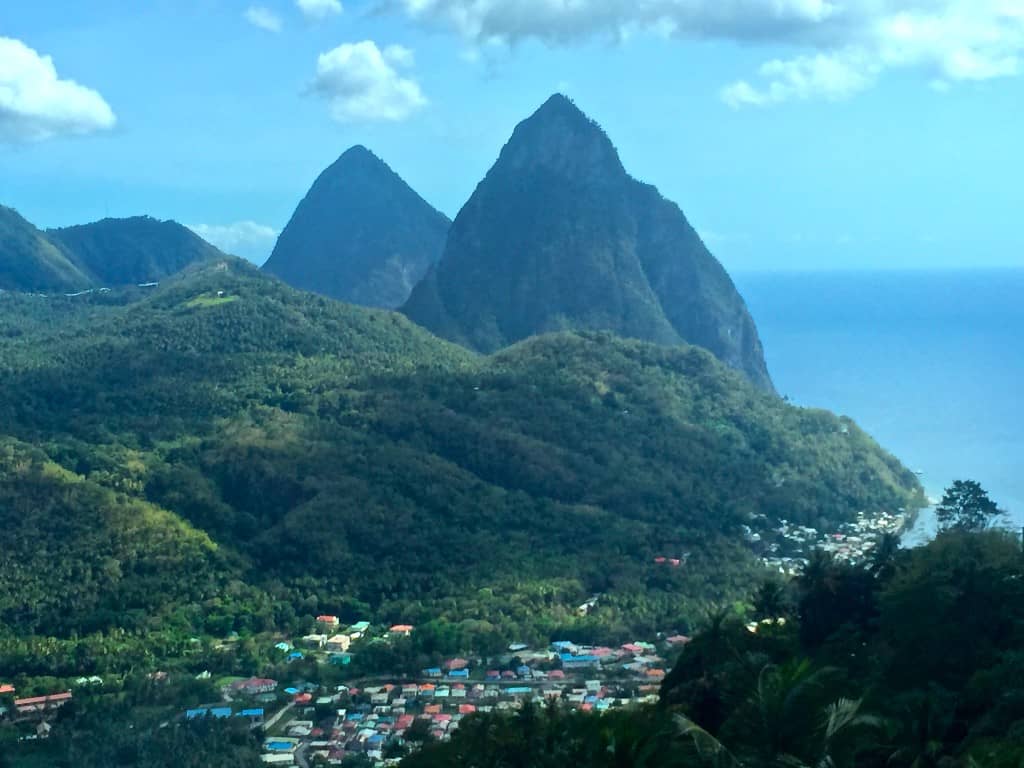 Ok, St Lucia…we'll be back again! 🙂