This Detox Matcha Banana Kale Smoothie is so creamy and delicious!
I used Matcha Green Tea Powder to make this uber healthy smoothie. Matcha Green Tea has so many health benefits, I'm definitely hooked on this drink!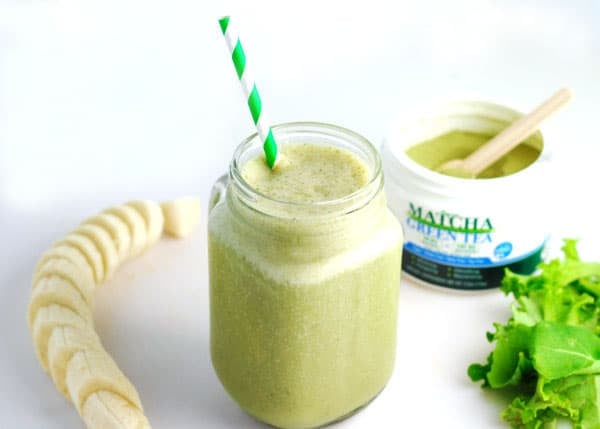 Oh Monday, you're here again. Did anyone else over indulge over the weekend? I'm guilty. We celebrated Gavin's 14th birthday over the weekend which meant lots of food, desserts, and not so healthy snacks.
Now it's time for me to get back on track!
At the birthday party I was talking to one of my friends about her recent trip to Japan. She was telling me how everyone over there drinks Matcha Green Tea and all of the wonderful health benefits it has. She also mentioned that after she drank this tea she had amazing energy, not the jittery kind but more of an all natural energy high. Meanwhile I'm eating my 3rd slice of pizza and thinking to myself, hmmm I should look into this Matcha thing!
So I made a special trip to my local health foods store in search of the great Matcha Green Tea Powder!
Note: most health food stores carry this, but if you can't find it in stores you can also get it through Amazon.
As I was reading the back of the label on this Matcha Green Tea Powder, one of the uses it recommended was to put it in smoothies.
I experimented a little and ended up using Unsweetened Coconut Milk (the kind in the refrigerated section), some frozen Bananas, a handful of baby Kale, a little bit of Honey, and 2 tsp of Matcha Green Tea Powder.
I was a bit skeptical because it didn't visually look all that appealing. But after I took my first sip… Wow! This was soooo yummy!
And my energy level was through the roof, but in a completely calm way, not jittery.
This stuff is amazing!
Matcha Green Tea Powder has all kinds of health benefits.
It's packed with antioxidants
It helps prevent Cancer
It's an anti-ager (yesss!)
It lowers bad cholesterol
It boosts your metabolism which helps with weight loss (whoop whoop!)
It's a detoxifier
It gives you amazing ENERGY!
I'm now a believer in this wonderful tea, and I can't wait to experiment with more recipes using this!
If you're a fan of Matcha let me know how you use it by leaving a comment below! Or if you're totally new to the Matcha thing, I'd love to hear how you liked this smoothie!
Cheers!
Print
Detox Matcha Banana Kale Smoothie
This Detox Matcha Banana Kale Smoothie is so creamy and delicious!
Author:
Prep Time:

5 mins

Total Time:

5 mins

Yield:

2

1

x
Category:

Smoothie

Cuisine:

Breakfast, Tea, Smoothie
2

cups

Unsweetened Coconut Milk (in the refrigerated section near the milk)

2 tsp

Matcha Green Tea Powder (I used Green Foods Matcha Green Teaone !important;margin: 0px !important" src="//ir-na.amazon-adsystem.com/e/ir?t=tastefulventu-20&l=am2&o=1&a=B008798Y2M" alt="" width="1″ height="1″ border="0″ />)

2

frozen Bananas

1

handful Baby Kale

1 tsp

Honey
Instructions
Add all ingredients to a blender, blend for 30 seconds until smooth.
Pour into 2 glasses.
Enjoy!
Recipe Card powered by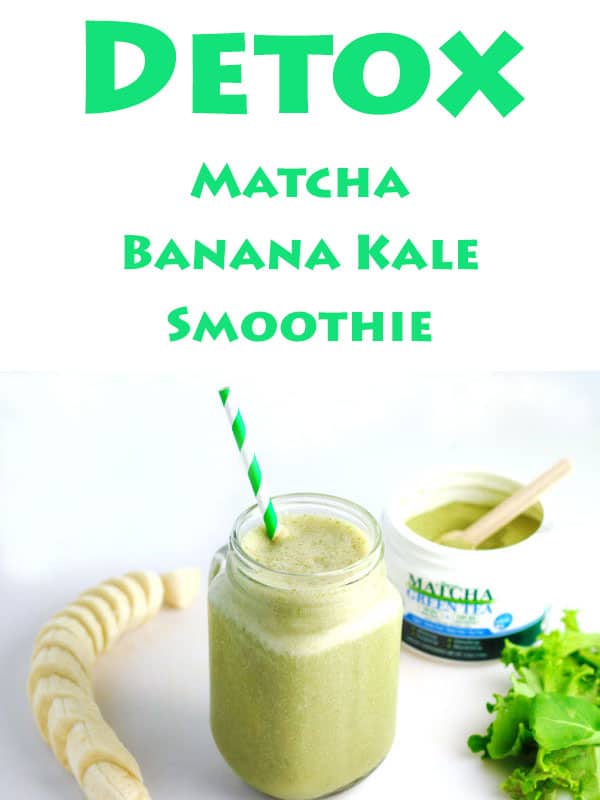 Disclaimer: this post contains Amazon affiliate links