Ok…Three words: Strawberry Mint Smoothie that is Low in Fat…ahhh, you had me at Strawberry.
So I am totally digging spring, is anyone else? The sun is shining, people are happy, fresh fruit is everywhere! I'm loving it! So you all are probably thinking, 'hey, you live in Florida isn't it always summer?'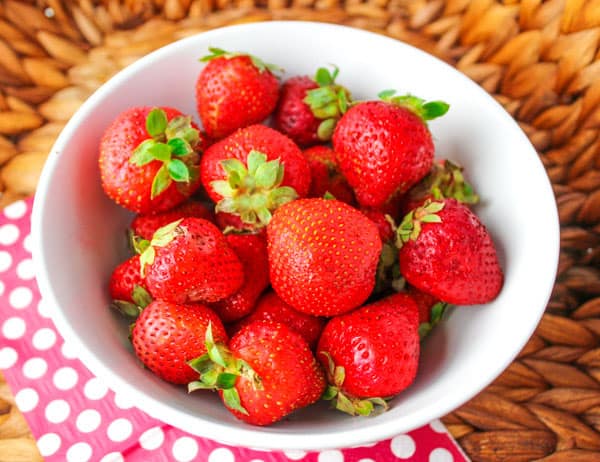 Well that's what I used to think too, growing up in Minnesota. In Minnesota we only would get 2 seasons, Winter and Road Construction. (If you are from MN then you will totally get this joke) 😛
Well let me tell you, living in the north eastern part of Florida, the seasons are much different then say…Miami.
Florida is kind of divided into 2 sections when it comes to temperature and weather. The northern half (anything north of Orlando) is about 10-20 degrees cooler than the southern section of Florida (anything south of Orlando, like Fort Meyers or Miami) in winter season.
I just spent my first full winter here in northern Florida, and I must say it was colder than I expected. (It actually snowed in Jacksonville one day! No lie…Google it!) Not cold as in 'Minnesota cold', but cold as in 'Florida' cold. It's hard to explain to people unless they've experienced it themselves.
Ok maybe this was a fluke year, the weather channel did say it was record low temps this winter across the WHOLE United States, including Florida. Oh my, I think it was even cold in Key West, they said it was 60 degrees Fahrenheit, lol!
There was actually some days where it was 20-30 degrees Fahrenheit here. And being on the east coast you get the cold air from the Atlantic Ocean, which can be brutal and make your bones cold.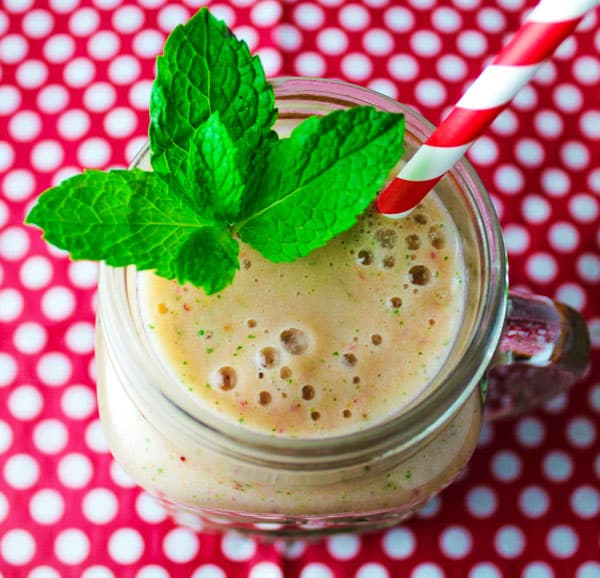 I know in Minnesota this temp actually seems like it would be warm in the winter. BUT when you are used to the tropical Florida heat of summer and you have NO winter clothes (I got rid of all my MN winter clothes when moving here, remember I'm a minimalist, and TOTALLY kicking myself in the pants for getting rid of most of these items), then yes 20-30 degrees Fahrenheit is frigid when all you have is a light spring jacket to wear and flip flops.
AND forget about trying to buy some winter clothes here…LOL…good luck finding that! I went into several stores looking for winter jackets in Florida…I came out laughing each time. I guess the next time I visit my family and friends in Minnesota, I will have to buy a new winter coat to take home with me to Florida. 😛
So yes, there were days I was scrounging up layers and layers of skimpy clothing to wear to try and keep warm here. It's so funny, because when it gets cold like this, NO ONE leaves their house. For me being from Minnesota l feel like I'm tough with my Scandinavian heritage…'Argh! I can take the cold weather no problem!'
NOT! I'm the biggest wimp there is when it comes to dealing with being cold. WHY do you think I moved to Florida?! 🙂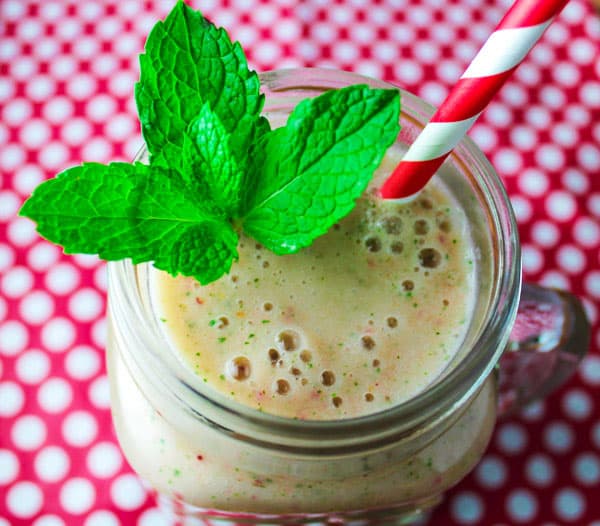 Ok, so enough with the geography lesson. Let's drink this smoothie and be warm! Or stay cool! Wherever you may be! 🙂
If you try this smoothie leave a comment below and let me know what you think! It's super helpful to me and other readers!
Cheers!
Print
Strawberry Mint Smoothie
Author:
Prep Time:

5 mins

Total Time:

5 mins

Yield:

2

1

x
Category:

Smoothie

Cuisine:

Vegetarian
2 cups

sliced Strawberries

20

fresh Mint leaves (more or less depending on how minty you like it)

1

6oz container of Honey Yogurt

1 tsp

Vanilla extract
a handful of ice
Instructions
Add all ingredients to your blender and blend until smooth.
Enjoy!
Keywords: Strawberry Mint Smoothie, strawberry smoothie, smoothie, mint smoothie, gluten free, vegetarian, breakfast
Recipe Card powered by
If you like this recipe subscribe to our weekly newsletter and get new recipes sent directly to your inbox! Click Here To Subscribe and Get Our 3 Day Detox Guide As A Bonus!