Tonight is Mexican night and for once it's not Tacos! These Mexican Quinoa Stuffed Peppers are Vegetarian, Gluten Free, and Super Yummy!
Quinoa is such an amazing substitute for ground beef. It's also packed with protein and is so good for you.
I admit, I haven't had a stuffed pepper in years… the first time I made them was 10 years ago I think. I followed a recipe out of a Betty Crocker cookbook. Don't get me wrong Betty Crocker has great recipes, 🙂 but the recipe I used was just ok. I think I used all green peppers and used hamburger meat to stuff them with. At the time I wasn't crazy about spicy food and I think I over did it on the spice. So that's why I never made them again.
Well, in the last 10 years, let's just say my palate has changed a bit. I guess they say as you get older your taste buds change, hmmm.
I'm still not super crazy about whole Green Peppers stuffed. So that's why I decided to use Red, Yellow, and Orange Peppers. They are a little sweeter and not as peppery (is peppery a word to describe a green pepper?).
I actually did use Green Pepper, but I chose to chop them up and sauté them with Garlic, Onion, and Mushrooms. I used this as part of the stuffing. It definitely mellows out the strong Green Pepper flavor.
After you sauté them, add in the Salsa, Tomatoes, cooked Quinoa, Salt, Pepper, Red Pepper Flakes, and Curry Powder.
Now the fun part…stuffing the peppers! 🙂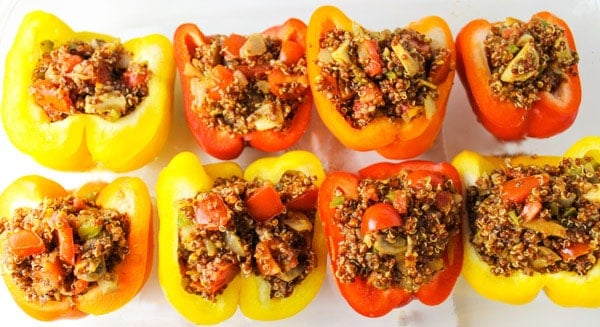 Once you have stuffed all of the peppers bake them, and then chow down on all of this deliciousness!
I ended up having some of the stuffing left over, not all of it would fit in my peppers. (It depends on how big your peppers are).
So here's what I did with the left over stuffing. I used it for Vegetarian Tacos! It was great because I didn't have to cook for a few days which was a nice treat! (We're a family of 3, so between the stuffed peppers and the tacos, we had meals for almost a week). Just re-heat the stuffing and then added it to some tortillas for a quick weeknight meal!
Now I'm going to let you in on a little secret. This was actually one of the very first recipes I made when I started my food blog almost 2 years ago. Yikes has it been that long already?! But the first year and a half I didn't have a camera (I was just using my iPhone to take pictures with), so all of my photos from then were bloody awful. Please don't go back into the archives and look at those… I'm frantically working on updating them. *Sigh* It's still a work in progress.
Alright so the photos for this old recipe are new and improved! That's One down and Ummm, well a whole lot more to go, haha!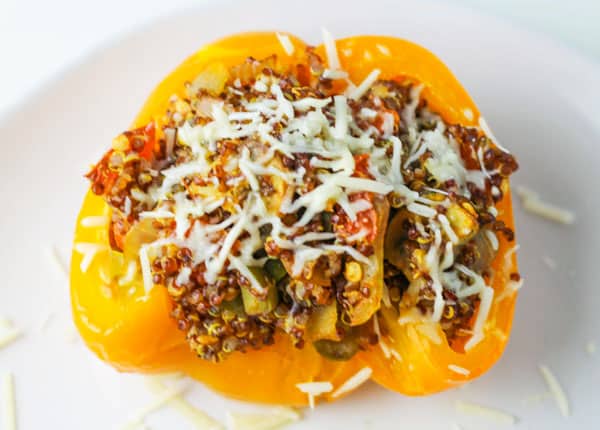 If you try this recipe let me know what you think by leaving a comment below! It's super helpful to me and other readers!
Cheers friends!
Print
Mexican Quinoa Stuffed Peppers
Tonight is Mexican night and for once it's not Tacos! These Mexican Quinoa Stuffed Peppers are Vegetarian, Gluten Free, and Super Yummy!
Author:
Prep Time:

25 mins

Cook Time:

1 hour

Total Time:

1 hour 25 mins

Yield:

6

1

x
Category:

Main Dish

Cuisine:

Mexican, vegetarian, gluten free
1

cup

dried Quinoa

2

cups

Water

1

green pepper chopped

2

red peppers cut in half and seeds removed

2

orange peppers cut in half and seeds removed

2

yellow peppers cut in half and seeds removed

1

sweet onion chopped

4

cloves minced garlic

1

12oz

package

sliced mushrooms

1

12oz

jar

salsa

5

Roma tomatoes chopped

1

cup

shredded Asiago cheese

1 Tablespoon

sea salt

1 Tablespoon

crushed black pepper

2 tsp

red pepper flakes

1 Tablespoon

coconut oil

1 Tablespoon

curry powder
Instructions
In medium saucepan add Quinoa and Water.
Bring to a boil, cover and reduce heat to low.
Cook for 20 minutes.
Preheat oven to 350 degrees
In large frying pan melt coconut oil over medium heat
Add green pepper, onion, and garlic
Saute for 5 minutes or until softened
Add mushrooms, sauté additional 5 minutes
Remove from heat
Add salsa, tomatoes, cooked Quinoa, salt, pepper, red pepper flakes, and curry powder, mix together
Place red, yellow, and orange peppers in 9×13 glass baking dish
Stuff the peppers with the Quinoa mixture
Cover pan with foil
Bake for 1 hour
Top with Asiago cheese
Bake additional 5 minutes until cheese is bubbly
Keywords: Mexican Quinoa Stuffed Peppers, stuffed peppers, quinoa stuffed peppers, gluten free, dinner, meal prep
Recipe Card powered by
If you like this recipe subscribe to our weekly newsletter and get new recipes sent directly to your inbox!
Click Here To Subscribe and Get Our 3 Day Detox Guide As A Bonus!