Ok you guys, we're already a week into the New Year…how are your resolutions going? I hope you guys are excited to try my 3 Day Detox Guide, it will change how you feel inside and out!
Get Your Free 3 Day Detox Guide Now!
Click Here to Subscribe and Get My Free 3 Day Detox Guide as a Thank You!

Here's a sample of some of the delicious and healthy meals you'll be enjoying on this 3 Day Detox Guide!
Breakfast: Skinny Spinach and Pineapple Smoothie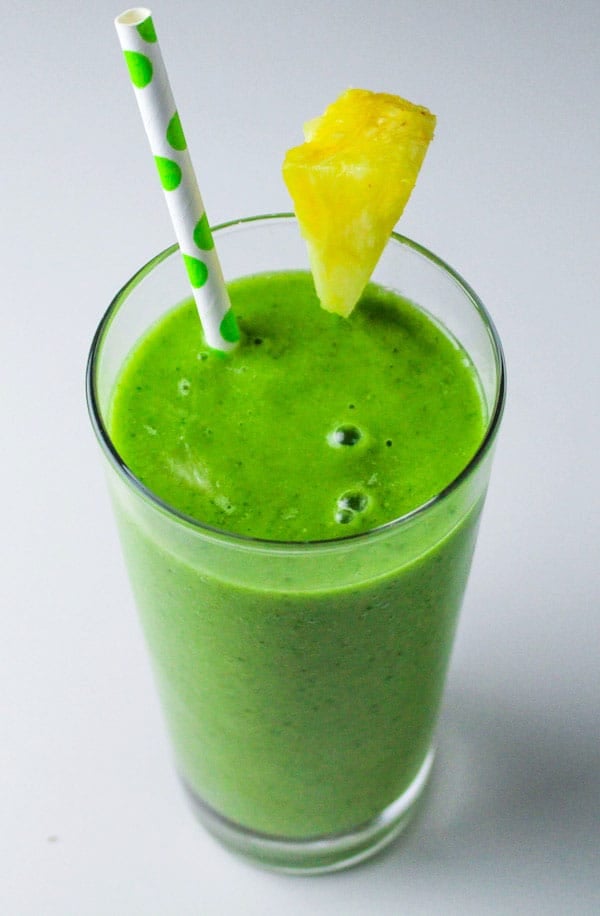 Lunch: Zucchini Noodle Salad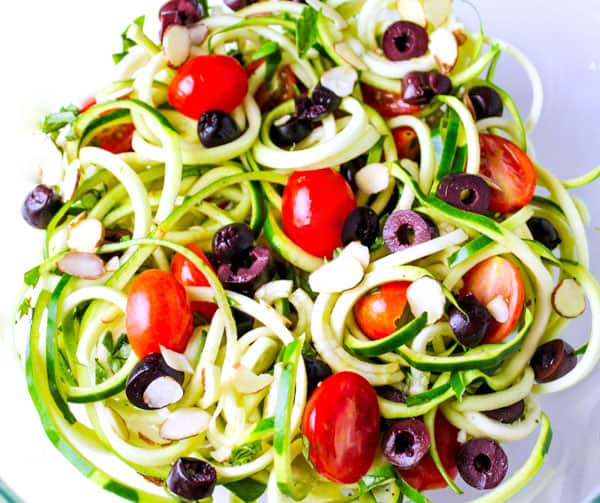 Dinner: Baked Salmon and Asparagus in foil
Now I have done my fair share of cleanses.
I have done 3 day juicing cleanses where you drink nothing but fresh juices. It was great, but it still left me feeling a little hungry. That was a tough cleanse for me.
I also tried a 3 week cleanse. I had a hearty packed smoothie in the morning; a healthy lunch which usually included chicken, fish, or just a vegetarian option; and a fresh juice or soup for dinner. This cleanse totally changed my life. Honestly I have never felt so good before. My stomach was no longer bloated or irritable. Now 3 weeks can be a little tough even for the hard core cleanser.
I decided to put my knowledge from the cleanse I did and put it into a short 3 day cleanse for beginners or for anyone that just needs a jump start on eating healthy again. It's easy to fall off of the wagon the first week into your diet, because your body is detoxing.
When your body is detoxing it is basically flushing out all of the toxins in your body. If you're like me, and indulged heavily over the Holidays, then your body will kick into serious overdrive to detox all of the bad things you ate and drank. When this detox happens you may experience symptoms such as fatigue, headaches, nausea, body aches, sinus congestion, constipation, or diarrhea. These symptoms usually subside after 3-5 days.
Trust me, once you make it past the 3 day point of your cleanse you will be feeling great and have so much energy!
Click Here to Subscribe and Get My Free 3 Day Detox Guide as a Thank You!
Before starting this cleanse slowly ween yourself off of coffee, sugar, dairy, gluten, processed foods, alcohol, and tobacco (if you use this). You can start this process by picking one thing at a time to cut out. I suggest doing this at least a week before you cleanse, that way your detox symptoms won't be as great.
When you start the cleanse drink plenty of water, at least 8 – 8oz glasses a day. I suggest slicing up some Organic Lemons to put in your water, it makes it much more flavorful.
Also try and make sure you use Organic vegetables, fruit, and Non-GMO foods during your cleanse. There are just way too many pesticides and toxins put into foods these days. If you want more info on this, I recommend watching Forks Over Knives.
You are allowed to have Green, White, and Red Teas, Yerba Mate, decaffeinated herbal Teas, and seltzer or mineral water. Now I used to be the biggest coffee drinker, but coffee always upset my stomach. After I cut out coffee and switched to Tea, I found my stomach no longer gets upset. I love Teas like Green Tea or Oolong Tea, they have enough caffeine for me and I found I no longer have the afternoon caffeine crash.
You will need a good blender and/or a juicer for this cleanse. If you don't have a juicer, you can use a Vitamix which can blend and juice almost anything. I personally have not tried a Vitamix, simply because I already have a juicer that I love for juicing and regular cheap blender for smoothies.
If you already have a blender and are looking to get a juicer, I recommend the Omega J8004 Nutrition Center Commercial Masticating Juicer. This is the juicer I have been using for the past 3 years and I absolutely love it! This is a mid-range priced juicer that has one of the best reviews for the price on Amazon. It's super easy to put together and use too.
When you finish the cleanse, it's important to slowly reintroduce certain foods back into your diet. Just do one at a time, like dairy or gluten filled foods for instance. Then you can see how your body reacts to certain foods and you can see what foods you may need to cut out for good. For me it was Gluten. I have been Gluten free for the past 2 years and am feeling 100% better than ever!
Click Here to Subscribe and Get My Free 3 Day Detox Guide as a Thank You!
If you try this let me know what you think by leaving a comment below! It's super helpful to me and other readers!
Disclaimer: There are Amazon affiliate links in this post.
Our Site Medical Disclaimer: Please be advised that the individuals who maintain this site are not licensed doctors, nurses, nutritional consultants, or health care professionals. This information provided is solely for informational purposes. IT IS NOT INTENDED TO PROVIDE MEDICAL ADVICE. The content presented is not intended to diagnose, prescribe, treat or cure any disease or illness. Neither the owner of Tastefulventure.com, any contributors or authors of the content of this site, nor the publisher, take responsibility for any possible consequences from any treatment, procedure, exercise, dietary modification, action or application of medication which results from reading or following the information contained in this site. This site does not constitute the practice of medicine, and this information does not replace the advice of your physician or other medical health care provider. Before undertaking any course of treatment, the reader must seek the advice of their medical physician or other health care provider. Before engaging in any complementary medical technique or use of any information on this site, including the use of natural or herbal remedies, you should be aware that many of these techniques have not been evaluated in scientific studies. It is always best to speak with your primary health care provider before starting any new therapeutic technique, exercise routine, or diet plan. The statements contained within this site have not been evaluated by the Food and Drug Administration (FDA). The products, procedures, services, and techniques recommended are not intended to diagnose, treat, cure or prevent any disease. The statements contained herein are for informational purposes only, and are not meant to replace the services or recommendations of your physician or qualified health care professional. Those with health problems, or who are pregnant or nursing, are specifically advised that they should consult their physician before taking this or any nutritional supplement.