These Brown Butter Scallops with Parmesan Risotto dish are so luscious, creamy, and totally satisfying! Perfect for a date night at home!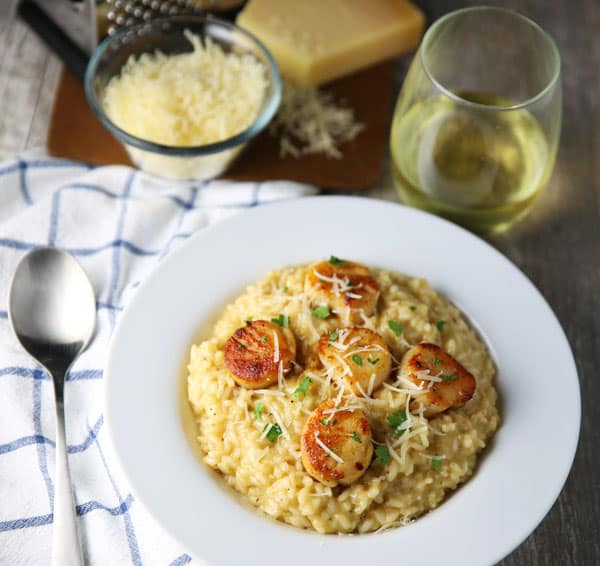 You Guys!!
Scallops… Risotto… and Cheeeeese! This is serious foodie heaven.
Let's get right into making these Brown Butter Scallops with Parmesan Risotto!!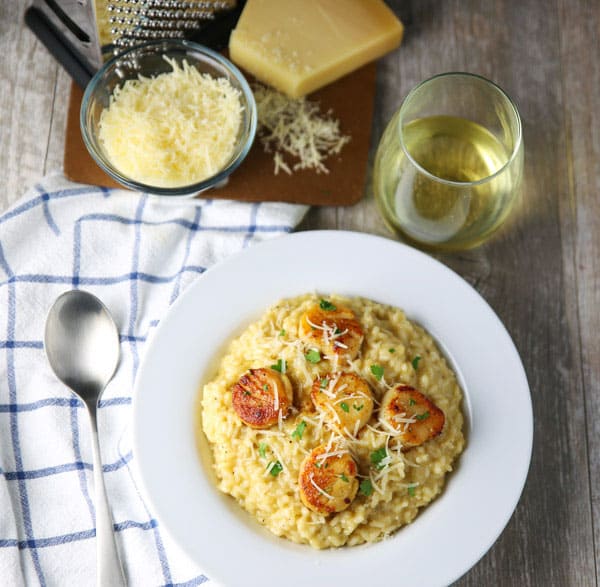 First off… Do Not Be Intimidated.
Don't.
It's really pretty easy to make.
Rule #1
Have everything chopped, measured, and prepped!
My advise is to have everything chopped, measured and prepped before starting because you cannot leave the Risotto once it starts cooking. Like yeah.. no looking at InstaStories or Facebook while this is cooking… (ahem!)
Seriously though, there's a whole lot of love that goes into making Risotto and you don't want to mess it up by leaving your pot unstirred and having a burned dinner.
Rule #2
For the love… keep stirring your rice as the broth cooks it and gets absorbed (see Rule #3).
Rule #3
Slowly add HOT Vegetable Broth.. like 1/2 cup at a time every 5 minutes. This is no joke people. I think the first time I made this I was like what?! I'm not doing that, I'll do my own thing and add all of the Vegetable Broth at once and let it cook just like rice… WRONG! DO NOT DO THIS!
Ok so I'll stop now with the rules, that was obnoxious. But I just want you all to make this Risotto because it is seriously my new Obsession! And it is sooooo incredibly yummy!
Now I also just wanted to note that I cooked the Scallops first and set them aside, because once you start the Risotto you have to keep stirring it, and you want to eat it as soon as it's made so it's velvety, creamy, but yet firm in texture.
You can quickly re-heat the Scallops for 1 minute in the skillet when the Risotto is done if needed, but I found they were still warm and tender.
More Risotto Recipes: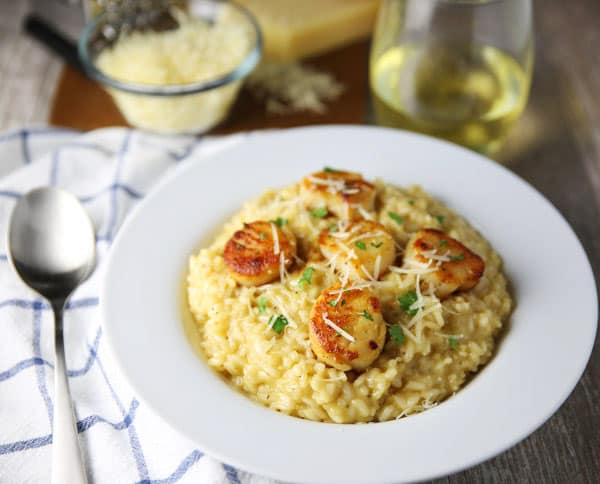 If you try this recipe let me know what you think! Leave a comment below, rate it, share it on social media, or take a picture and tag it tastefulventure on Instagram!
I LOVE seeing what you guys cook up.
Cheers!
More Seafood Recipes
Print
Brown Butter Scallops with Parmesan Risotto
These Brown Butter Scallops with Parmesan Risotto dish are so luscious, creamy, and totally satisfying! Perfect for a date night at home!
Author:
Prep Time:

15 mins

Cook Time:

30 mins

Total Time:

45 mins

Yield:

2

1

x
Category:

Main Dish

Cuisine:

Seafood, Italian, Gluten Free
For the Scallops:
1/2

lb

Dry Sea Scallops (about 12 large sized)
Pinch of Sea Salt
Pinch of Pepper

2

–

3

Tbs EVOO (extra virgin olive oil)

2

Tbs softened grass fed salted Butter (I prefer Kerrygold brand)
Fresh Chopped Parsley for garnish if desired
For the Risotto:
2

Tbs EVOO (extra virgin olive oil)

2

Tbs finely chopped Shallots

1

clove minced Garlic

1

cup

Arborio or Carnaroli Rice

1/2

cup

Dry White Cooking Wine

2

cups

heated Vegetable Stock

1 tsp

Sea Salt

1/2 tsp

Pepper

2

Tbs softened grass fed salted Butter

1/4

cup

Grated Parmesan Cheese
Instructions
Pull side muscle off scallops if needed, rinse Scallops and pat dry (make sure they are dry before putting in the pan so they don't stick)
Sprinkle Salt and Pepper over both sides of Scallops
Add EVOO to a Cast Iron Skillet to lightly coat the bottom (I prefer cast iron because the heat distributes evenly)
Heat over med-high heat until oil shimmers
Place Scallops in skillet and cook 3-4 minutes until golden brown (don't move them or fuss with them until ready to flip)
Using a thin spatula or tongs gently turn the Scallops over
Add Butter to skillet, when it starts to melt spoon the butter over the Scallops cooking them approximately 3-4 minutes until golden brown
Set pan aside and start the Risotto
Preheat EVOO in a medium saucepan over medium heat
When oil gets warm, add shallots and saute until golden color (approximately 2 minutes)
Add Garlic and saute 1 minute
Add Rice and stir for 1-2 minutes until toasted
Add White Wine and cook until Wine is reduced or evaporated
Add in 1/2 cup Vegetable Stock and stir (it's important to keep stirring – see notes below)
When Vegetable Stock starts to get evaporated (after about 5 minutes), add another 1/2 cup of Vegetable Stock
Add in Salt, and Pepper to Rice and stir
Add 1/2 cup Vegetable Stock approximately every 5 minutes, stirring constantly (total cook time for the risotto is about 20 minutes)
Taste and add more Salt/Pepper if needed
Taste the rice and when you are 1 minute before reaching the right bite "al dente" (meaning rice should be tender but still firm to the bite), add Butter and Parmesan Cheese.
Turn off heat and stir quickly until creamy in texture.
Sprinkle a bit of Parmesan on top
Add Scallops and serve immediately
Enjoy!
Notes:
Make sure your Vegetable Stock stays hot. It's important to add a little bit of the hot Vegetable Stock at a time so the rice is cooked slowly and the stock gets absorbed. This method releases the rice's starches, producing a velvety, creamy dish.
It's very important to keep stirring the Risotto as it's cooking, especially as the stock gets absorbed, to prevent scorching.
If you run out of Vegetable Stock and you find this is too dry at the end, you can add in a little hot water as a substitute.
Keywords: brown butter scallops with risotto, risotto, scallops risotto, Italian food, gluten free, dinner, date night
Recipe Card powered by