These Cranberry Walnut Quinoa Stuffed Pork Chops are a great way to use up that left over stuffing from Thanksgiving, and it's Gluten Free!
Can we talk about Thanksgiving leftovers? I know Thanksgiving is less then a week away, but hey sometimes it's nice to have an idea of what to do with your leftover stuffing after the big day. I decided to do a little test, and stuff these pork chops with Cranberry Walnut Quinoa stuffing…Wowza! Sooooo delicious!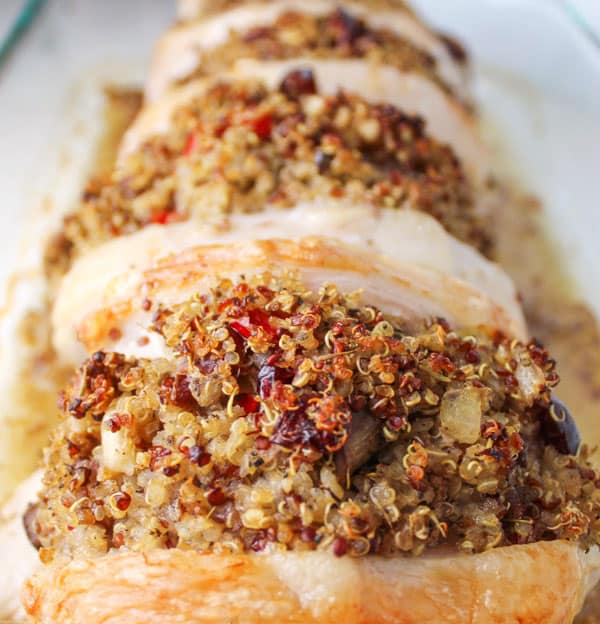 Remember back to my post about the Cranberry Walnut Quinoa Stuffing? Well this stuffing recipes makes enough to feed a lot of people, however you don't need to have a big gathering to enjoy this stuffing. You see for the last week or so I've been experimenting and making different meals to use this stuffing in. Because right now, Cary is gone working on the cruise ship, so it's just been me and Gavin eating all of this deliciousness.
The Cranberry Walnut Quinoa Stuffing recipe goes a long way if you're just dining for two. Which is great, because it made cooking this past week super easy! Basically I made this big batch of stuffing, then used it to stuff some Roasted Acorn Squash, which is now my new favorite squash recipe! And then of course using it to stuff these pork chops with.
I personally love Thanksgiving leftovers, that is the best part about hosting the meal at your own house. Waking up the next day and lounging around in your pajamas, heating up some leftover turkey and stuffing…mmmmm. Sorry I drifted off there for a bit.
Well this year, I won't be having any leftovers. We're going to spend Thanksgiving week visiting Cary on the cruise ship he works on. Which I am ecstatic about! I mean we have not seen each other in like 4 months! Yes there's perks to him working on a cruise ship, like cruising for a whole week for $80. But the trade off is that he's gone for months at a time, which is hard. He's a musician, so I always joke around that maybe I can join him on the ship and play Tamborine or something and home school Gavin, and just live on the ship full time… it could be like the Love Boat, Ha! (Anyone else remember that 80s sitcom?) 🙂
So since we're going to be gone next week, it means no posts until I come back. Sorry, trust me I've got plenty of deliciousness coming up after Thanksgiving!
Ok back to this pork chop recipe! So the directions are for 8 pork chops, which equals the amount of stuffing that this will make. BUT, if you're using your leftover stuffing, then of course you don't need to make 8 pork chops. Make 2 or 4 or however many you think you'll need to finish up the stuffing.
Here's what I love about these stuffed pork chops:
-They stayed tender and juicy throughout the entire baking process.
-This is super easy to make
-You can make the stuffing ahead of time, or use the leftovers
-It makes the perfect Fall meal with all of the cranberries and walnuts
Remember, if you try this let me know what you think by leaving a comment below, it's super helpful to me and other readers!
Ok guys, I'm off, need to finish packing for my trip. I hope you enjoy this recipe as much as I did!
Happy Thanksgiving! 🙂
Print
Cranberry Walnut Quinoa Stuffed Pork Chops
These Cranberry Walnut Quinoa Stuffed Pork Chops are a great way to use up that left over stuffing from Thanksgiving, and it's Gluten Free!
Author:
Prep Time:

20 mins

Cook Time:

60 mins

Total Time:

1 hour 20 mins

Yield:

8

1

x
Category:

Dinner

Cuisine:

Gluten Free
8

boneless butterflied Pork Chops

1/2

cup

white Quinoa

1/2

cup

red Quinoa

2

cups

Vegetable Broth

1/2

Sweet Onion chopped

1/2

Red Pepper chopped

2

cloves minced Garlic

1

8oz

package

Baby Bella Mushrooms chopped

3/4

cup

chopped Walnuts

3/4

cup

dried Cranberries

2

Tbs ground Sage

1

Tbs dried Thyme
Pinch of Red Pepper Flakes
Sea Salt and Pepper to taste

2

Tbs Grapeseed Oil
Instructions
*Save time and make the stuffing in advance!
In medium saucepan add Quinoa and Vegetable Broth.
Bring to boil then cover and reduce heat to low, cooking for 15-20 minutes.
While the Quinoa is cooking prepare the rest.
In large saute pan over medium heat add Grapeseed Oil, Onion, Red Pepper, and Garlic.
Saute 5-8 minutes until softened.
Add Mushrooms, Sage, Thyme, Red Pepper Flakes, Salt, and Pepper.
Sauce 5 minutes longer until mushrooms are softened. Remove from heat.
Add in Quinoa, Walnuts, and Cranberries.
Preheat oven to 425 degrees.
In 4 quart baking pan add butterflied pork chops.
Stuff each one with stuffing
Cover with tinfoil.
Bake 30 minutes.
Uncover, bake additional 10 minutes.
Keywords: Cranberry Walnut Quinoa Stuffed Pork Chop, stuffed pork chops, pork chops, gluten free, dinner, quinoa stuffed pork chops
Recipe Card powered by
If you like this recipe subscribe to our weekly newsletter and get new recipes sent directly to your inbox! Click Here To Subscribe and Get Our 3 Day Detox Guide As A Bonus!