This Cranberry Walnut Quinoa Stuffing is super easy to make and perfect for Thanksgiving, it's a crowd favorite! It's also Gluten Free and Vegan!
Ok you guys, let's talk about stuffing. Do you love it or hate it? I personally Love stuffing, that's my favorite dish to eat at Thanksgiving (well besides the Turkey of course). But since I am now Gluten Free I can't have the regular breaded stuffing that is usually served as part of the Thanksgiving course. What's a stuffing lover to do?! Ok I got you guys covered, this Cranberry Walnut Quinoa Stuffing is soooo delicious. Trust me you won't miss the bland old breaded stuffing one single bit!. 🙂
I actually kind of stumbled upon making this recipe one day. I had an old Roasted Acorn Squash recipe that I wanted to redo from my earlier blogging days. If anyone goes back in the archives of my blog to the beginning, you can see it's not pretty. When I started this blog I didn't have a real camera and was using my iPhone for all of the pictures. It's quite embarrassing, but hey you gotta start somewhere right? And I never gave up, because I love what I do and I love being able to bring you guys new healthy Gluten Free recipes every week. So now that I have a 'real' camera, I can finally take good pictures for you guys.
So getting back to this recipe, I was re-doing a Roasted Acorn Squash recipe that I was going to stuff with mushrooms and onions. But then I got to thinking, that sounded kinda of bland. So I wanted to add Quinoa to it, because Quinoa is such an amazing super food (on it's own it's quite bland, but when adding mushrooms, onions, etc. it's so delicious).
Then I was thinking ok, what else do I have in my cupboard that I can add to this dish, ummm let's see oh dried cranberries (I usually have them on hand adding them to salads and stuff). Now I need something nutty…oooh Walnuts, yes! So I literally was like the Swedish Chef (even though I'm not Swedish) in the kitchen just throwing stuff in my bowl like a mad scientist. I totally love cooking like this, it doesn't happen a whole lot, but when it does it's usually magic and it's a whole lot of fun!
Oh and now I realized I've given you a spoiler ~ Yes there will be a stuffed Roasted Acorn Squash recipe coming up that is stuffed with this stuffing. Stay tuned! 🙂
So getting back to this recipe, sorry got a little side tracked – 'Squirrel'!
Ok so this is super easy to make and can be made ahead of time for Thanksgiving or any gathering you're having. Or maybe you just want to keep this deliciousness all to yourself, I won't judge. 🙂
This cooks in like 20 minutes from start to finish. Start by cooking the Quinoa first.
I used both white and red Quinoa, it just happened by chance. I was almost out of white Quinoa and had a red Quinoa package in my cupboard. I wanted to use all white, but didn't have enough. I didn't want to use all red though. I had maybe 3/4 of a cup of white Quinoa and 1/4 cup red Quinoa. So I decided to mix the 2 colors together, and actually I liked it much better because it makes it more colorful and festive! After making this I realized it could've used more red Quinoa, so I wrote the recipe to do half white and half red.
Then you just sauté the onions, garlic, pepper, mushrooms, and seasonings. It'll be done by the time the Quinoa is finished cooking. Then just add the Quinoa to the pan and stir it in, then mix in the cranberries, walnuts, and serve!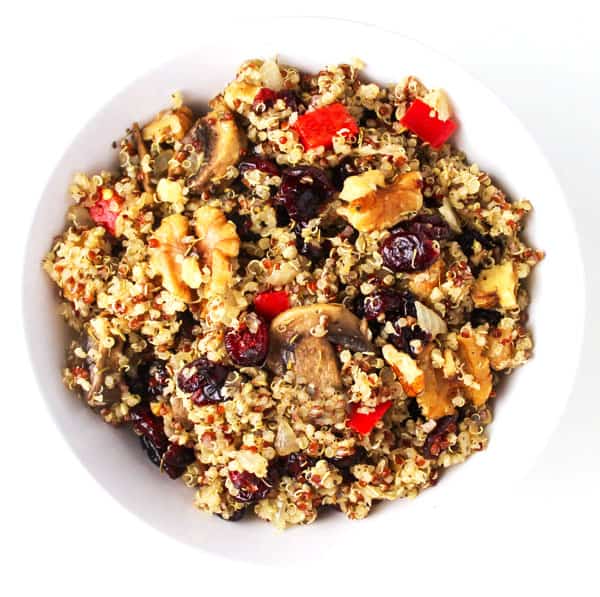 Here's what I love about this dish:
-It's super easy to make, cooks in 20 minutes.
-You can make this ahead of time to feed a crowd, just re-heat before they arrive.
-You can use this for multiple meals by using it as a stuffing filler (more of these recipes coming soon)!
-It's a super healthy alternative to regular stuffing.
-It's Vegan, and Gluten Free, so it can be enjoyed by everyone!
If you try this let me know what you think by leaving a comment below! It's super helpful to me and other readers!
Happy cooking! 🙂
Print
Cranberry Walnut Quinoa Stuffing
This Cranberry Walnut Quinoa Stuffing is super easy to make and perfect for Thanksgiving, it's a crowd favorite! It's also Gluten Free and Vegan!
Author:
Prep Time:

10 mins

Cook Time:

20 mins

Total Time:

30 mins

Yield:

8

–

1

0

1

x
Category:

Side Dish

Cuisine:

Gluten Free
1/2

cup

white Quinoa

1/2

cup

red Quinoa

2

cups

Vegetable Broth

1/2

Sweet Onion chopped

1/2

Red Pepper chopped

2

cloves minced Garlic

1

8oz

package

Baby Bella Mushrooms chopped

3/4

cup

chopped Walnuts

3/4

cup

dried Cranberries

2

Tbs ground Sage

1

Tbs dried Thyme
Pinch of Red Pepper Flakes
Sea Salt and Pepper to taste

2

Tbs Grapeseed Oil
Instructions
In medium saucepan add Quinoa and Vegetable Broth.
Bring to boil then cover and reduce heat to low, cooking for 15-20 minutes.
While the Quinoa is cooking prepare the rest.
In large saute pan over medium heat add Grapeseed Oil, Onion, Red Pepper, and Garlic.
Saute 5-8 minutes until softened.
Add Mushrooms, Sage, Thyme, Red Pepper Flakes, Salt, and Pepper.
Sauce 5 minutes longer until mushrooms are softened. Remove from heat.
Add in Quinoa, Walnuts, and Cranberries.
Enjoy!
Keywords: cranberry walnut quinoa stuffing, quinoa stuffing, stuffing, gluten free stuffing, gluten free, side dish
Recipe Card powered by
If you like this recipe subscribe to our weekly newsletter and get new recipes sent directly to your inbox! Click Here To Subscribe and Get Our 3 Day Detox Guide As A Bonus!