This Roasted Acorn Squash with Cranberry Walnut Quinoa Stuffing is a crowd favorite, it is also Vegan and Gluten Free!
Ok you guys, are you ready for another squash recipe? I mean really it is November, the month of me consuming squash and pumpkin everything! 🙂 This Roasted Acorn Squash with Cranberry Walnut Quinoa Stuffing is really easy to make. It's Vegan and Gluten Free so everyone can enjoy this at the Thanksgiving table this year.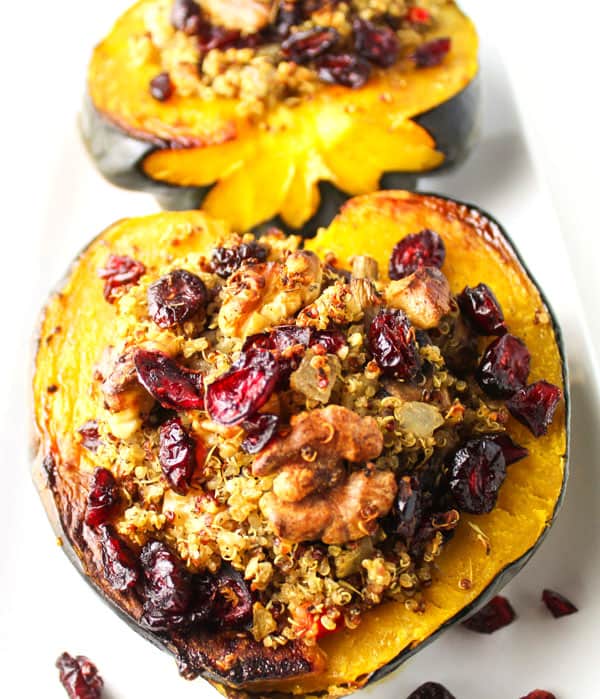 I don't know about you, but ever since I went Gluten Free about 2 years ago it's been really hard to try and explain why I can't eat anything with Gluten in it at family get togethers. I feel like the oddball. It's not because I'm dieting or anything. But if I consume Gluten, then I have digestive issues. This is not something that I really want to bring up while everyone's at the dinner table. I hear 'Hey Sara why don't you try this piece of pie that I made', and me thinking well let me tell you what will happen to my digestive system if I eat that piece of pie…that leaves me to politely turn someone down and potentially end up offending them. It's hard, because I haven't always been Gluten Free, so I think people just don't get it.
I don't have celiac disease, but I do have a Gluten sensitivity. I found this out a few years ago, when I wasn't feeling all that great. I was always having stomach problems even though I ate fairly healthy. So I went on a 3 week cleanse. It was pretty strict, no caffeine (except Green Tea), Gluten, sugar, or starchy foods like potatoes. I could only have fresh juices, smoothies, chicken, fish, rice, and veggies. At first it was super hard, but let me tell you, after the 1st week I felt amazing! For the first time in years I had energy, and wasn't feeling bloated like I had a basketball in my stomach.
When you come off of a cleanse, you have to slowly introduce foods that you took away back into your diet one at a time to see how your body reacts. Well I started to add in bread and Glutenous things and guess what, I started feeling sick and bloated again. Dairy also did the same thing for me. I haven't totally cut out Dairy from my diet, but it is very limited.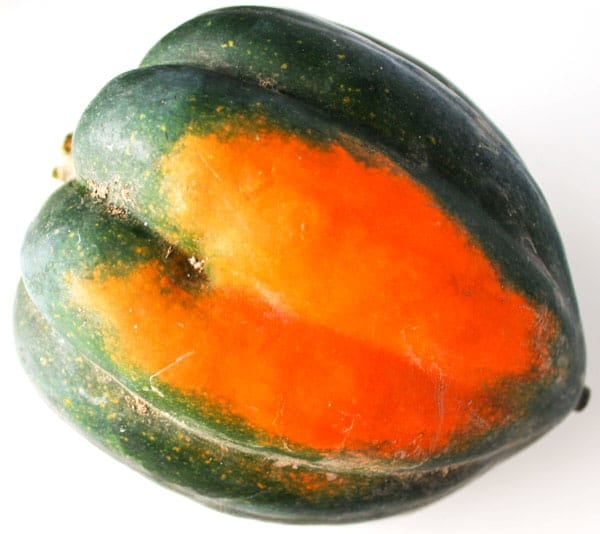 Ok, so let's get back to this Squash recipe!
I love Acorn Squash. I originally made this recipe when I first started my blog, but the pictures were horrible. You see when I first started this blog a year and a half ago, I didn't have a 'real' Camera and was using my iPhone to take pictures with. Yikes! Ok lesson learned, I was finally able to save up for a 'real' Camera, one that didn't break the bank. So since then I've been updating some of my old posts.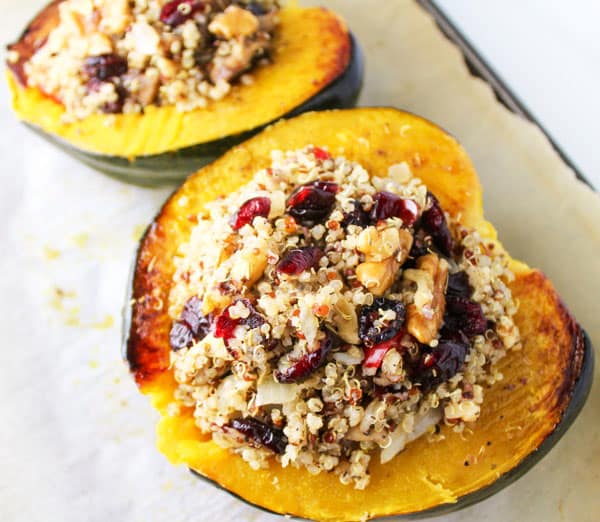 When I originally made this stuffed Squash recipe, I only used mushrooms and onions for the stuffing. I decided to spruce it up a bit and make it festive for Thanksgiving. 🙂
I love Quinoa, so I decided hey why not use a Quinoa filler for this! Then I got to thinking ok I need something a little festive for this time of year, digging through my cupboards I found some dried Cranberries that I usually have on hand for putting in salads. Then I was thinking ok I need some sort of a nutty flavor, I couldn't decide between the sliced almonds or the walnuts I had on hand…ok walnuts it is! You could certainly substitute with almonds though.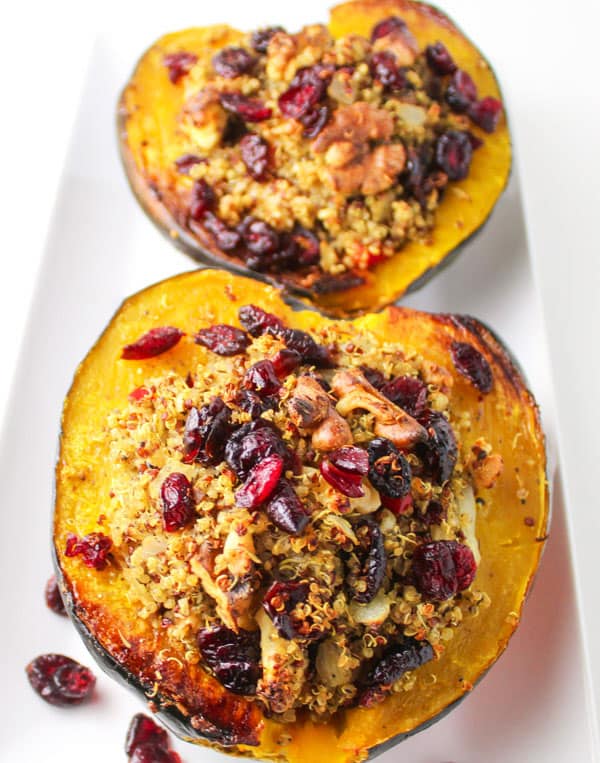 If you want more of an in depth step by step on how I made this stuffing, please check out my blog post on the Cranberry Walnut Quinoa Stuffing. This is my new favorite go to stuffing recipe! Seriously you can eat it as a side dish by itself, or use it as a stuffing like I did with this Acorn Squash! It's so versatile, I love it!
The stuffing recipe makes a big batch, so it's perfect for feeding a crowd. Or you can do what I did, make the whole batch of stuffing, and then mix it up in different dishes through out the week. (Hint Hint: more stuffed recipes to come so stay tuned!) 🙂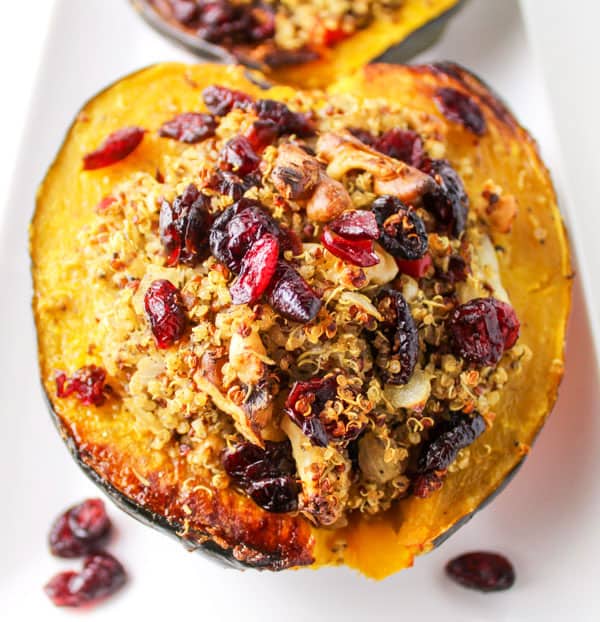 If you try this let me know what you think by leaving a comment below, it's super helpful to me and other readers!
Cheers!
This post contains Amazon Affiliate links.
Print
Roasted Acorn Squash with Cranberry Walnut Quinoa Stuffing
This Roasted Acorn Squash with Cranberry Walnut Quinoa Stuffing is a crowd favorite, it is also Vegan and Gluten Free!
Author:
Prep Time:

10 mins

Cook Time:

40 mins

Total Time:

50 mins

Yield:

6

1

x
Category:

Main dish

Cuisine:

Vegetarian, Gluten Free
3

medium acorn squash

3 tablespoons

olive oil

1/2

cup

white Quinoa

1/2

cup

red Quinoa

2

cups

Vegetable Broth

1/2

Sweet Onion chopped

1/2

Red Pepper chopped

2

cloves minced Garlic

1

8oz

package

Baby Bella Mushrooms chopped

3/4

cup

chopped Walnuts

3/4

cup

dried Cranberries

2

Tbs ground Sage

1

Tbs dried Thyme
Pinch of Red Pepper Flakes
Sea Salt and Pepper to taste
Instructions
Preheat oven to 450 degrees.
Trim off each end of the squash.
Stand the squash upright and halve lengthwise.
Scoop out the pulp and the seeds and discard.
Brush each squash half with 1 Tbs olive oil, and then sprinkle with sea salt and black pepper.
Arrange cut sides down on a parchment paper covered baking sheet.
Roast the squash until the flesh is tender and the edges are golden brown, approximately 25-35 minutes.
While the squash roasts,
In medium saucepan add Quinoa and Vegetable Broth.
Bring to boil then cover and reduce heat to low, cooking for 15-20 minutes.
While the Quinoa is cooking prepare the rest.
In large saute pan over medium heat add 2 Tbs Olive Oil, Onion, Red Pepper, and Garlic.
Saute 5-8 minutes until softened.
Add Mushrooms, Sage, Thyme, Red Pepper Flakes, Salt, and Pepper.
Sauce 5 minutes longer until mushrooms are softened. Remove from heat.
Add in Quinoa, Walnuts, and Cranberries.
Remove cooked squash from oven and flip over so cut side is up.
Fill the roasted squash halves with the mushroom mixture and bake again for another 10 minutes.
Enjoy!
Keywords: Roasted Acorn Squash with Cranberry Walnut Quinoa Stuffing, roasted acorn squash, roasted acorn squash with quinoa stuffing, gluten free, side dish, vegetarian
Recipe Card powered by
If you like this recipe subscribe to our weekly newsletter and get new recipes sent directly to your inbox! Click Here To Subscribe and Get Our 3 Day Detox Guide As A Bonus!