This is a sponsored post written by me on behalf of Daytona Beach Area Convention and Visitors Bureau. All opinions are 100% mine.
It all started with a trip down memory lane, going back to my first Florida home stomping grounds. Daytona Beach… ah how I missed you!
The beautiful sunrises over the Atlantic, and the laid back atmosphere of beach life.
Fall is such a great time to visit Daytona Beach. The weather is absolutely perfect, 80 degrees, sunshine, and no humidity. It's like an Endless Summer – Love it!
One of the things I missed most after moving away from Daytona Beach were all the fall festivals.
The festivals range from the arts, and the blues, to boat shows, and delicious seafood. There's always something to do here.
The weekend we were here visiting the Halifax Art Festival was happening. Artists from all over set up booths all along Beach Street to showcase and sell their art work.
Beach Street is also full of shops and restaurants as well.
When strolling along Beach Street, a stop into Angell & Phelps Chocolate Factory is a must! They have free tours of their factory which also include samples… YUM!
Ponce Inlet is another great area of Daytona Beach to visit.
We stopped in to the Marine Science Center which is a place that works to rehabilitate injured seabirds and sea turtles. Visitors can view many of these animals from an outdoor boardwalk and there is also a bird observation tower.
While we were here, they were having a bird banding demonstration. Every injured bird that comes here needs to get a band put on their leg with a number. Each band has a special color and unique number so that if one of these birds is found after it's released it can be easily identified.
Our next stop was the Lighthouse which is right next to the Marine Science Center.
At 175 feet, this is the tallest lighthouse in Florida and one of the tallest in the United States. The views are absolutely breathtaking from the top!
Next stop… the beach!
With 23 miles of beautiful beaches, you can take your pick to have either a quiet relaxing beach day or an action packed beach day!
There are sections of the beach where they allow you to drive your vehicle on the beach, which I think is super cool. It's one of the few places in all of Florida where you can do this.
I like it because it's convenient. You can pack all of your beach gear up in your car, park on the beach, and have everything right at hand.
Plus there are ice cream trucks that drive up and down the beach… Yaasss! 🙂
Enjoy seeing how "Adventure Filled" Daytona Beach is in the video below – water sports, eco-boat tours, paddle boarding, the Boardwalk and more!
After a sun filled day at the beach it was time to hit the Boardwalk at night!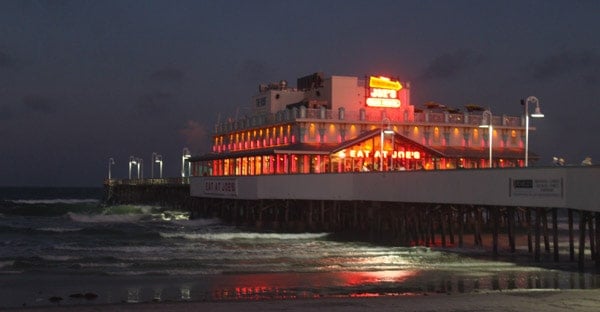 I love the Boardwalk here. There are shops, restaurants, and an amusement park. There's something for everyone here!
You might even catch a free concert at the bandshell here.
There are plenty of accommodations all along the beach. We stayed at the Holiday Inn Resort Daytona Beach Oceanfront which I highly recommend. You can walk right out to the beach from the hotel. Plus they have a full restaurant/bar, pool, and a fire pit to enjoy at night.
Can't wait to go back and spend another Endless Summer in Daytona Beach!