This Orange Turmeric Immunity Boosting Juice is full of Vitamin A and C, and so delicious!
It's that time of year again…cold weather hits and the flu and cold season starts. This Orange Turmeric Immunity Boosting Juice will help ward off any cold and keep you full of energy!
Ok you guys, I don't know about you but I am in dire need of some fresh juice! I'm back from vacation and feeling like a bloated hot mess. We spent all last week over the Thanksgiving holiday on a cruise ship visiting Cary. If you're new to my blog, Cary is a musician that works on a cruise ship. Which means he's gone like over half the year, so we're fortunate enough every so often to be able to visit him on the ship.
Cruising is so much fun, if you've never been on a cruise I highly recommend going on one at least once in your life. It's like a non stop foodie dream on the ship…ice cream for breakfast? Sure, why not! 😛
Seriously there were people that would be having ice cream for breakfast, no I was not one of them. I was more into having pizza for a midnight snack every single night, which for me being Gluten Free totally did my stomach in, ugh!
Then there's dinner in the dining room every night. Who can resist sitting in the fancy dining room and ordering all of the delicious new food that they have on the menu! They give you this menu that has 5-6 appetizers to choose from, 5-6 entrees to choose, 5-6 side dishes…oh and wait don't forget there's 5-6 dessert options to choose as well! And you can order as much as you want from the menu…which I did.
Trust me I'm paying for my gluttony.
Ok so now I am in total detox mode, getting back to a normal semi-healthy diet again.
Time to juice!
This Orange Turmeric Juice is the perfect concoction to have especially before and after traveling. After being on a cruise ship for a week with over 3,000 people, and then being on an airplane with people coughing and sneezing all over the place…Yeah you get the picture.
Turmeric is such a wonderful super food. It's known to have antibacterial and antiviral properties. So when you combine the Turmeric with the oranges and carrots which have tons of Vitamin A and C, this is where the immunity boosting happens.
Now let's talk juicers. If you don't have a juicer yet and are thinking of getting one, I recommend getting a mid-priced juicer. You don't need to get the most expensive high end juicer out there, yes they are good but there's no need to break the bank. However you don't want to get the cheapy ones…there's a saying 'you get what you pay for' and it's true. The cheapy juicers just don't seem to work as well, they create more pulp then juice, which seems like a waste of money to me.
The juicer I've been using for the last 3 years is the Omega J8004 Nutrition Center Commercial Masticating Juicer. It's one of the best rated juicers for this price range, getting 4 1/2 out of 5 stars on Amazon.
When I bought this juicer I was a total newbie to juicing. I wanted something that was easy to put together and that created more juice and less pulp to get the max out of every vegetable or fruit I juiced. I gotta say I am totally in love with my juicer. AND if you've ever spent $6-$8 on a fresh juice at your local health foods store, then getting a juicer and juicing at home is a total money saver. That's just my 2 cents on juicing. 🙂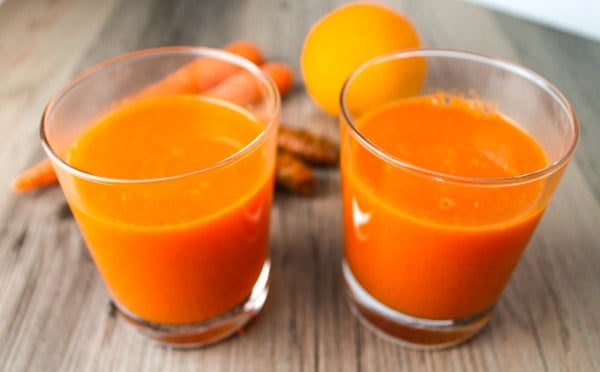 If you try this juice let me know what you think by leaving a comment below! It's super helpful to me and other readers!
Cheers!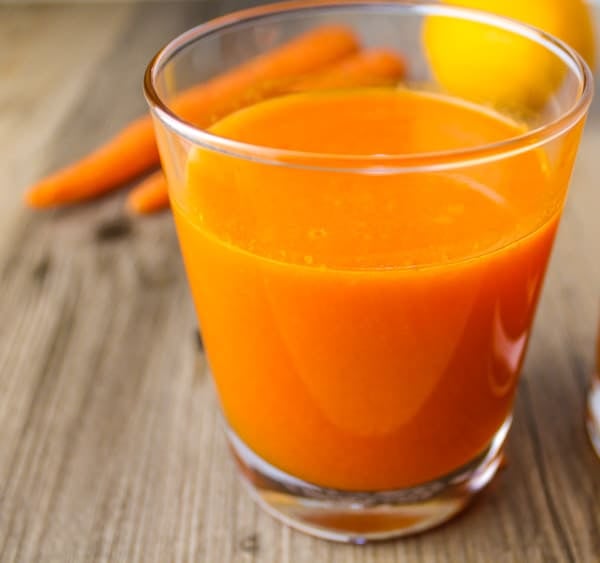 Disclaimer: This post contains Amazon Affiliate links.
Print
Orange Turmeric Immunity Boosting Juice
Author:
Prep Time:

10 mins

Total Time:

10 mins

Yield:

2

Category:

Juice

Cuisine:

Juicing
4

Oranges peeled

4

large Carrots

2

inch piece of Turmeric skin removed
Instructions
Wash and cut everything to fit into your juicer.
Juice and enjoy!
Recipe Card powered by
If you like this recipe subscribe to our weekly newsletter and get new recipes sent directly to your inbox! Click Here To Subscribe and Get Our 3 Day Detox Guide As A Bonus!