This Warm Quinoa Sweet Potato Kale Salad with Goji Berries comes together in about 30 minutes and is so hearty and healthy!
I know, I know, Labor Day is officially over and now we're onto the Fall recipes already. Make. Time. Stop.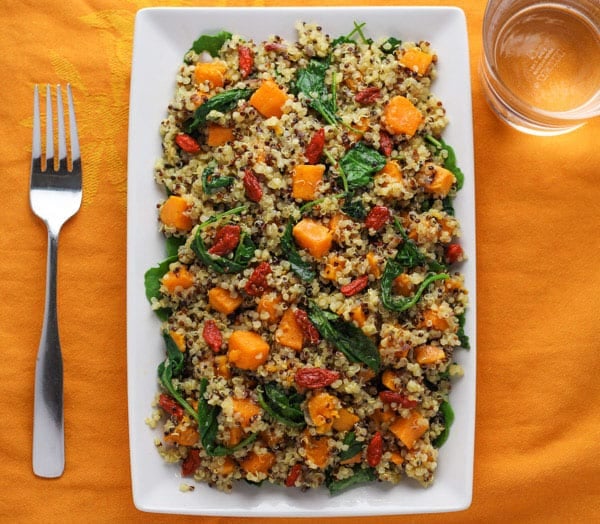 I do look forward to making Fall recipes though. Even though I live in Florida now and it's 90 degrees outside, I still have this Minnesota-girl instinct of making warm hearty meals once Labor Day is over.
It's weird.
Sometimes I wonder if my internal clock will ever get used to the seasons being so different from where I grew up to where I live now.
In Florida Fall feels like Summer did in Minnesota, 80 degrees but without the humidity. That's what I love about Fall in Florida, once September rolls around the humidity drops and the weather is perfect until about January.
I'm in the north-east part of Florida and when January rolls around it get cold. Not Minnesota cold (as in 30 below), but Florida cold (as in 60 degrees or colder). Since moving here my motto is, if I can't wear flip flops, it's too cold. But the cold spell usually only lasts about 2 months, which I can handle, then it's back to wearing flip flops again. 🙂
Ok let's get into this Warm Quinoa Sweet Potato Kale Salad with Goji Berries recipe!
If you've been following the blog for awhile now, you know I have a love for Quinoa. Quinoa is a true Superfood full of so much goodness. Quinoa by itself tastes quite bland, but when mixed in various dishes it is delicious!
I used a multi-color Quinoa for this recipe, but you can use whatever color you want. 🙂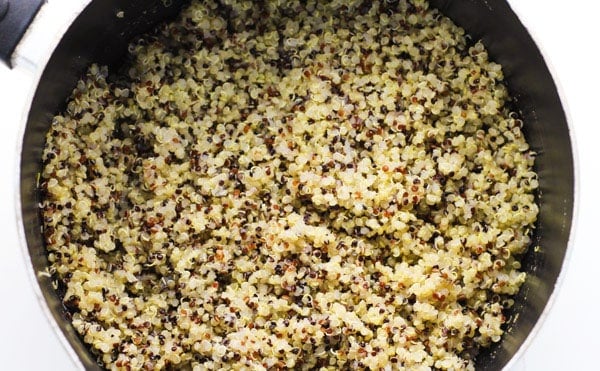 If you want more Quinoa recipes, I put together 10 New Ways To Cook Quinoa awhile back. I actually have 14 Quinoa recipes now since I have added a few more since then. Just type Quinoa in the search field on the blog and they'll all come up. 🙂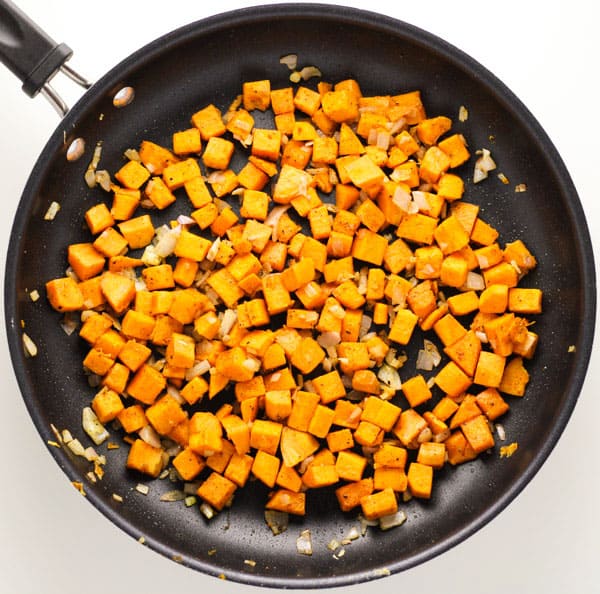 One of the other foods I have grown to love since moving to the South is Sweet Potatoes. So I decided to combine my two loves into a warm healthy salad.
Oh and I almost forgot my third favorite thing…Goji Berries!
If you're not familiar with Goji Berries, they are so delicious in salads. You can usually find them in the health food aisle by the protein shakes. This amazing little superfruit also contains natural anti-inflammatory, anti-bacterial and anti-fungal compounds. Their powerful antioxidant properties help to boost the immune system, which is perfect for this time of year.
Here's what I love about this salad.
It's super easy to make
It's warm, hearty, and healthy
I can make this at the beginning of the week and have enough leftovers for lunch every day, which means less cooking in the long run
It has a homemade Apple Cider Vinaigrette that combines all of the flavors of this salad together perfectly
You can actually eat this cold or warm (I prefer warm though)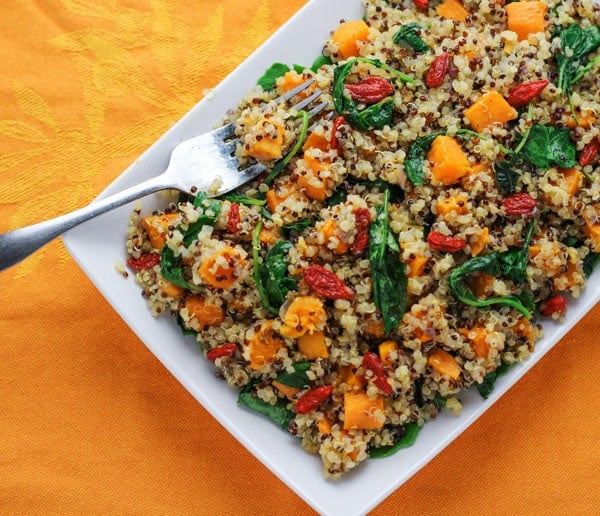 If you try this recipe let me know what you think by leaving a comment below!
Cheers!
More Fall Recipes:
Print
Warm Quinoa Sweet Potato Kale Salad with Goji Berries
This Warm Quinoa Sweet Potato Kale Salad with Goji Berries comes together in about 30 minutes and is so hearty and healthy!
Author:
Prep Time:

10 mins

Cook Time:

20 mins

Total Time:

30 mins

Yield:

4

1

x
Category:

Salad

Cuisine:

Vegetarian
1

cup

Organic Ancient Harvest Royal Bolivian Quinoa (you can use any kind of Quinoa, this is the one I prefer)

2

cups

Water

1

Tbs Coconut Oil

1

large Sweet Potato peeled and diced into

1/2

inch size cubes

1 tsp

ground Nutmeg

1

large Shallot finely chopped

2

large handfuls of Baby Kale

1/4

cup

Goji Berries

1/4

cup

EVOO (extra virgin olive oil)

1/4

cup

Apple Cider Vinegar

1/4

cup

Honey

1/4 tsp

Sea Salt

1/4 tsp

Black Pepper
Instructions
In medium sauce pan add Quinoa and Water, bring to boil, then cover and reduce heat to low and cook for 20 minutes.
In large frying pan add Coconut Oil, Sweet Potato, and Nutmeg.
Saute for about 20 minutes until softened.
In the last 5 minutes of sautéing the potato add in the Shallot and Kale.
In large bowl add cooked Quinoa and cooked Sweet Potato mixture.
Add Goji Berries and mix well.
In small bowl mix together EVOO, Apple Cider Vinegar, Honey, Salt, Pepper, and whisk together until well mixed.
Add this to the salad and mix well.
Enjoy!
Keywords: Warm Quinoa Sweet Potato Kale Salad with Goji Berries, quinoa salad, quinoa sweet potato salad, salad, gluten free, vegetarian
Recipe Card powered by