Ok you guys, I am totally in love with my Cast Iron Skillet! If you've been following the blog lately you may have noticed more skillet recipes. For me using a skillet is so nice because everything cooks in 1 skillet which makes it easier to cook with and there's less cleanup. So today I put together a roundup for 10 Easy Recipes using a Cast Iron Skillet!
So I decided to put together the 10 easiest recipes I've made using a Cast Iron Skillet all in one post as an easy reference for you guys. 🙂
Every skillet recipe in here is with a 9-inch Cast-Iron Skillet.
Recipe: One Skillet Cheesy Chipotle Chicken Broccoli and Rice
I love one skillet recipes. Where you can cook everything in one skillet, it's easy-peasy and just feels like a warm hearty meal – like the kind mom used to make. This Cheesy Chipotle Chicken Broccoli and Rice is so delicious and I think you will agree!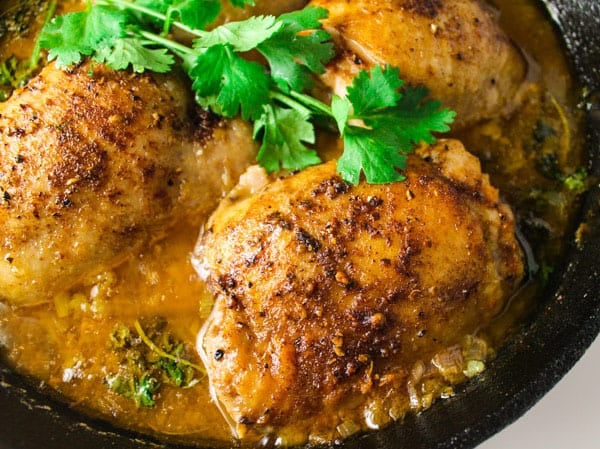 Recipe: Skillet Cilantro Lime Chicken Thighs
There's just something magical about the flavors of Cilantro and Lime. Then combining those flavors with chicken baked in a skillet…Yessss!
Recipe: Easy Skillet Brownies
These brownies are soooo easy to make, and guess what…they're Gluten Free! Yep, I am putting everyone to the test who says Gluten Free baking can't taste good. I Dare you to try this…
Recipe: Skillet Parmesan Chicken
Ok guys, are you ready for a super easy dinner?! This Skillet Parmesan Chicken can be made under 15 minutes! (insert lots of clapping and me doing the happy dance) 🙂
Recipe: Lemon Paprika Chicken Thighs
The key to getting the most flavor out of this dish is to marinade the chicken first. I put together an easy-peasy marinade for you to use that really bring out the best flavor for this dish!
Recipe: 20 Minute Skillet Cornbread (Gluten Free)
Ever since I moved to the the south (Florida), I have fallen in love with southern cooking. I think so far my all time favorite has been the Cornbread. I made a super yummy Gluten Free version that I think you will love too!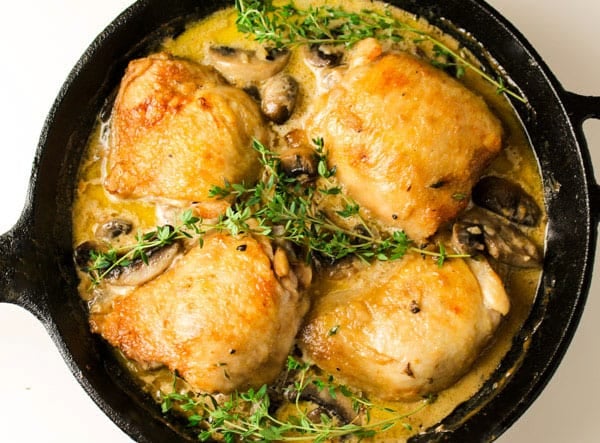 Recipe: Chicken Thighs Marsala
This Chicken Thighs Marsala dish is soooo delicious, you will want to lick the pan. (But please wait until the pan cools first) 🙂
Recipe: Sausage and Red Pepper Frittata
This Sausage and Red Pepper Frittata makes for a great Sunday Brunch, or even dinner. I ate it for both, ha! 🙂
Recipe: Garlic Brown Sugar Chicken Thighs
Dinner can be on the table in about 30 minutes with these Garlic Brown Sugar Chicken Thighs. It's even kid approved (at least that's what my son says)!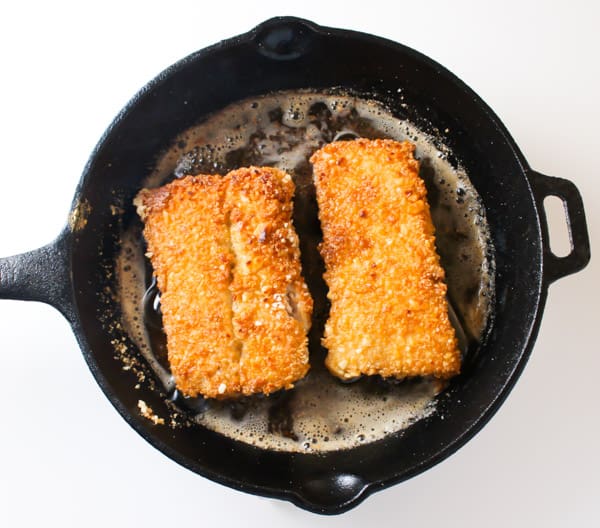 Recipe: Macadamia Crusted Mahi Mahi
Mahi Mahi + Macadamia nuts = complete bliss, and so simple to make!
If you are totally digging the Cast Iron Skillet recipes, don't forget to check out my post on How to Season a Cast Iron Skillet. This is SUPER important to maintain the life of your skillet and also to keep making your food you cook in it taste its best.
*Disclaimer: This post contains Amazon Affiliate Links.
If you like these recipes subscribe to our weekly newsletter and get new recipes sent directly to your inbox! Click Here To Subscribe and Get Our 3 Day Detox Guide As A Bonus!